'When people stop seeing themselves in one another' — local reflections on US Capitol riot
From division to determination: Duluth Mayor Emily Larson, a UMD political scientist, and Minnesota's 2020 Teacher of the Year process the attack on the U.S. Capitol and the political environment which led to it.
The attack on the U.S. Capitol by American citizens last week sent shockwaves pulsing from Washington, D.C., and left no person untouched by its magnitude.
"We shared our feelings of being scared, disappointed, sadness, concern, worry," fourth-grade teacher Qorsho Hassan told the News Tribune, describing one student who wondered what it would have been like to be a congressperson, aide or Capitol Building worker during the assault on the seat of democracy.
Not everyone is so empathetic as Hassan's students.
In Duluth, the historic disturbance came one day after the city itself was referred to in the public record as "a cesspool," by St. Louis County Commissioner Keith Nelson, an Iron Ranger.
"Us versus them is not a strategy I use," Duluth Mayor Emily Larson said. "People who choose division and ugly language intentionally, pitting people against each other — that is much more a reflection on the character of the person offering the opinion than it is for the people they are attempting to disenfranchise."
The News Tribune spoke with Larson and others last week to gauge their reactions to the Capitol insurrection and the political climate that created the maelstrom.
Last fall, Larson herself was subject to Trump supporters' aggression , drawing multiple parades of flag-bearing and engine-revving vehicles into her neighborhood and in front of her home.
"We're seeing the depths of what humanity is capable of when people stop seeing themselves in one another," Larson said.
Hassan has witnessed such depths.
The 2020 Teacher of the Year in Minnesota, Hassan said she was harassed last September while visiting Duluth by a group of young white men in a pickup truck, shouting racial insults and "make America great!"
The experience shattered her peace and safety in that moment, and there's been enduring trauma. Hassan identifies herself as a Muslim American of Somali-descent, and a target of Islamophobia.
"I've questioned my sense of belonging since 9/11," the Burnsville, Minnesota fourth-grade teacher said of the 2001 terrorist attack on the United States. "I've had encounters like what happened in Duluth many times."
Hassan met with her students online Thursday morning to talk about the attack on the U.S. Capitol. One student asked her why President Trump told the rioters he loved them.
"'How can you love violence?' was the question I got," Hassan said, using the moment to explain white advantage to the students and its ability to get away with crimes and destruction in ways other people of different races and ethnicities cannot.
Kathryn Haglin is an assistant professor of political science at the University of Minnesota Duluth. She is an expert in conspiracy. None of the existing literature addresses what happened on Wednesday, she said.
It's an event that will send her entire profession into research and study, not unlike the manner in which scientists dropped everything last year in favor of a COVID-19 vaccine pursuit.
"I felt more galvanized in my importance of teaching students about not taking these sorts of norms and institutions for granted," Haglin said. "Because they can easily be squandered away if we are not careful."
Haglin identified areas of immediate concern in the caustic political rhetoric of the times, and the endorsement of stolen election conspiracy by Trump and other U.S. leaders.
" Most people think conspiracy and misinformation are put out by people on the internet — random people on the 'net easily written off," she said. "But when it's the most prominent leaders of the United States, that's a different situation."
Larson agreed.
"It's horrifying," Larson said of the Capitol unrest. "It is absolutely horrifying to see what humans and humanity are capable of doing when they feel empowered and encouraged to take action based on hate and division."
To combat lies that fuel conspiracy, Hassan offers real history to her students, beginning with the fact that Indigenous people occupied North America prior to European settlers.
She says some people think students are too young to discuss white supremacy, or talk about why Hassan herself would protest for George Floyd, the man killed last spring in Minneapolis police custody. But she called it her "duty" to do so, and said her students receive the material better than some adults.
"Because of an inaccurate history," Hassan said, "we have what happened on Wednesday."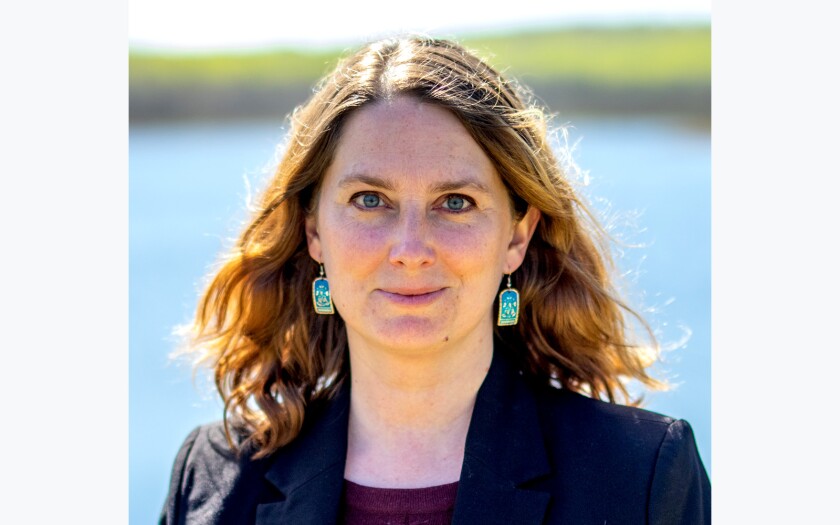 In a reaction to the Capitol upheaval, state Sen. Jen McEwen, DFL-Duluth, joined Sen. Omar Fateh, DFL-Minneapolis, in a letter condemning the violence and calling for Republicans to do the same.
"We are senators for the state of Minnesota, and as such we do not engage in politics at the national level very often," they wrote. "But in moments such as this one we feel we have no choice but to address the issue at hand and take a firm public stand in favor of democracy against fascism."
Hassan said she was proud that Rep. Ilhan Omar, D-Minneapolis, planned to write articles of impeachment for President Trump for his role in fueling the Capitol uprising.
" She is a role model to so many black women, in particular Somali women," Hassan said. "She also just exudes a lot of the leadership I want my students to exude."
It's too soon to know where things go from here. Congress is expected to address impeachment Monday for a president who has failed to concede despite overwhelming evidence throughout the process and review of the Joe Biden-won election.
"I worry a lot about institutions, what this is going to do for people's belief and trust in everything from politics to rule of law," the professor, Haglin, said. "When will people feel like they can believe in the electoral process?"
Larson is not an optimist about the moment.
"This is not going to be an isolated incident in my mind," she said. "They don't just come out one day, go home and forget about it."
She met over land-line conference call with her safety team on the day of the unrest as a wide swath of the city's internet was down and cell towers weren't working well.
Concerned about friends she has in the U.S. Capitol, Larson and the others went to work assessing social media and 911 calls to see if anything was rippling in Duluth or would lead to the city.
Nothing did. The city was safe, but safety is always a concern, Larson said.
There are no Capitol Police in front of City Hall. So when something big happens, immediate conversations are required, she said.
"People feel it emotionally," she said.
She encouraged residents to reach out to each other, and challenge one another to be better than the ugliness.
"Duluth is a beautiful, thriving community filled with people who would open their doors, their hearts and their checkbooks without blinking an eye to make sure people are OK," the mayor said. "We breed generosity, kindness, goodness, integrity and determination. That's who we are."