UMD lab tests strategies against raspberry-devouring pest
Robert Feyen's lanky frame was half in and half out of the small, brightly lit, plastic-enclosed space, his knees on the hard floor, his face peering at a cage-like device inside. "Zing!" The sharp, metallic sound was heard throughout the Univers...
Robert Feyen's lanky frame was half in and half out of the small, brightly lit, plastic-enclosed space, his knees on the hard floor, his face peering at a cage-like device inside.
"Zing!"
The sharp, metallic sound was heard throughout the University of Minnesota Duluth's Motion + Media Across Disciplines Lab, aka the MMAD Lab.
"Ah!" Feyen called out, the satisfaction evident in his voice. "There he went!"
The victim, obliterated electronically, was a spotted wing drosophila fruit fly, scourge of soft berry crops - and especially raspberries - in the Northland.
"We used to have an acre of raspberries," said "Farmer Doug" Hoffbauer, who with his wife, Lois, owns a fruit, vegetable and Christmas tree farm just outside of Duluth. "We plowed it up last year because we couldn't beat the bug."
But it's not just his farm, said Hoffbauer, who sits on the Minnesota Fruit and Vegetable Growers board. Over the past three years, half of the strawberry and raspberry acreage in the state has been sacrificed to the tiny but voracious spotted wing drosophila fruit fly, he said.
Originally from Asia and a mutation of the fruit fly that gathers whenever your bananas are overripe, the flies first were seen in California in 2008 and arrived in Minnesota in 2012, said Jeffrey Hahn, part of the three-member University of Minnesota Extension insects team. They're now nibbling away at raspberries, strawberries, cherries and blueberries in almost every Minnesota county.
Although closely related to other fruit flies, the spotted wing drosophila variety has different tastes. Other fruit flies in Minnesota are interested in rotting, fermenting materials, Hahn said. "These flies are attacking fruit as it's ripening."
How to combat them? Although there are several steps growers can take, the defense ultimately comes down to insecticides, Hahn said. Some of those, he added, are cleared for use in organic production.
Jason and Lucie Amundsen tried that last year on their raspberry crop. They were unimpressed.
"That did not work," said Jason, who with Lucie runs Farm LoLa in the Wrenshall area, the berry farm outgrowth of their Locally Laid egg company. "And we had to shut down."
Spraying sufficiently would be extremely expensive and labor-intensive, the Amundsens say. Thus, Jason Amundsen spent the winter exploring various alternative, more cost-effective tactics. But how to try them out without risking another raspberry crop on what might be a failed experiment?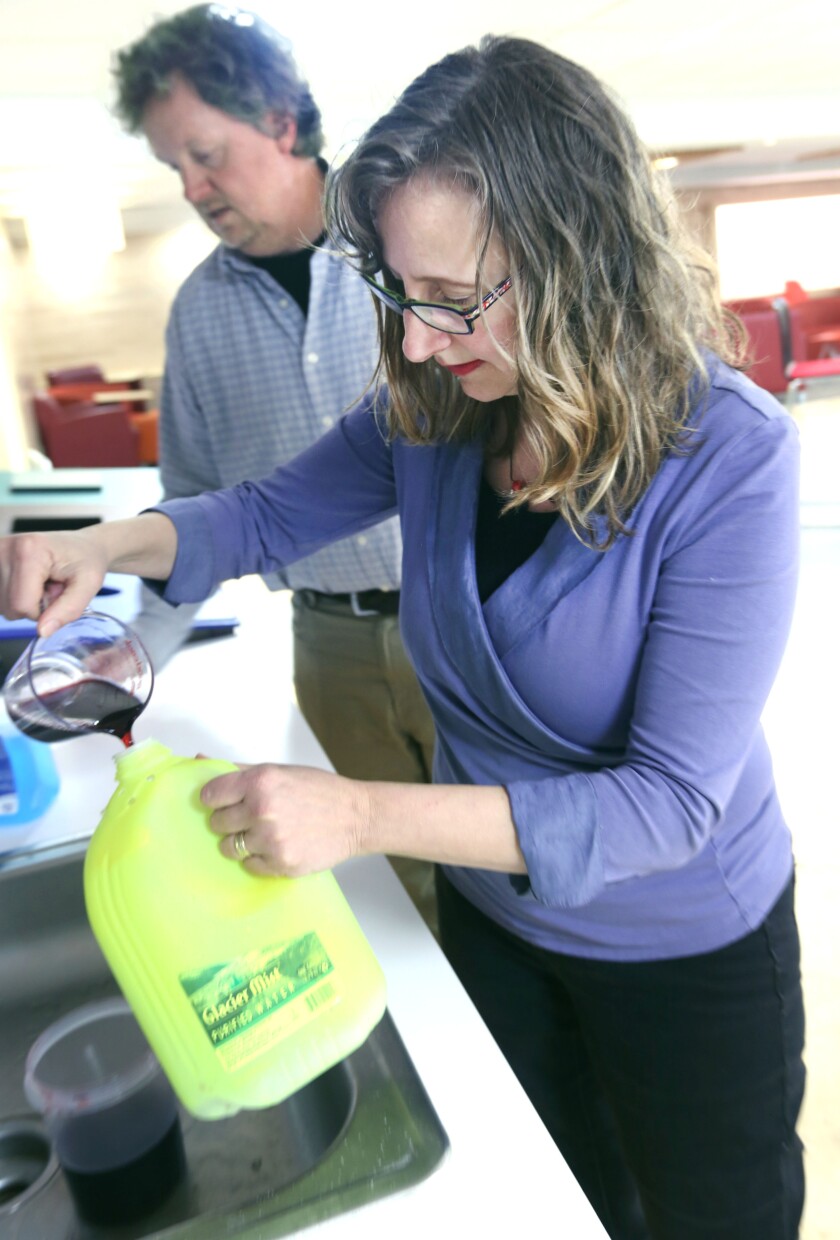 That brings us back to the MMAD Lab and Feyen, an associate professor of mechanical and industrial engineering at UMD. He was one of the five researchers from five disciplines who helped develop the unconventional lab, which has sophisticated video capabilities. In the two years since its grand opening, the lab has been used to study everything from baseball bat velocity to ballet movement.
He and Jason Amundsen have known each other from "a ways back," Feyen said.
With its high-speed cameras to record activity, the MMAD lab would be perfect for the great experiment, Amundsen reasoned.
"I sent (Feyen) an email, saying, 'You want to kill some bugs?' " Amundsen recalled.
The experiment fits with the university's purpose, Feyen said.
"We're a land grant school, right?" he said. "We often forget ... that the mission of the university is not just education of our students but also to help others in terms of how they can be more productive."
Late on Wednesday morning, Feyen was releasing a vial of ticks at a time as Jeremy Uecker of Farm LoLa used a keyboard to activate the camera. Capable of operating as fast as a million frames per second, it was shooting at a pokey 6,000 frames per second for this experiment.
The initial results weren't promising. Although enticed by a plastic cup of raspberries on the floor to pass near the zapper, most of the fruit flies weren't getting zapped.
"This one was less than overwhelming," Feyen said.
That was with a 2,400-volt zapper. A 5,500-volt version tried later in the day wasn't any more effective, Uecker said. A commercial trap designed to drown the fruit flies in a solution wasn't much better, and neither was LoLa Farms' homemade version, which used wine to attract the critters. A second attempt was being tried using yeast; results weren't yet in.
A Dyna Trap, which uses ultraviolet light and a fan to draw insects to their deaths had a kill rate of 15 percent. Preliminary results of all the experimenting failed to reveal a "magic bullet," Uecker said.
If they eventually can find a solution that's affordable and works, it would benefit not only Farm LoLa but others, Amundsen said.
"I'm hopeful for this, because we need more small, diverse farms," he said. "If we can do our bit to make some progress it would be wonderful."
1
/
4:
Bob Feyen, associate professor of mechanical and industrial engineering monitors the computer during the bug zapping experiment Wednesday morning at UMD's Motion and Media Across Disciplines Lab. Bob King / rking@duluthnews.com
2
/
4:
Spotted wing drosophila fruit flies, here held captive inside a glass container, will be used in an experiment at UMD to determine the effectiveness of several different kinds of traps. The flies have been decimating area berry crops. Bob King / rking@duluthnews.com
3
/
4:
Bob Feyen, associate professor in mechanical and industrial engineering at UMD, releases fruit flies above a 2,400 volt bug zapper and a container filled with raspberries. As the flies were lured to the berries, high-speed cameras and high-end sound meters recorded the insects' behavior and the effectiveness of the bug zapper. The fruit flies have been destroying local berry crops and researchers want to find out the best method to reduce their numbers. Bob King / rking@duluthnews.com
4
/
4:
Raspberries are used as a lure to attract spotted wing drosophila fruit flies to the bug zapper during the experiment. Bob King / rking@duluthnews.com