Timeline of JFK's Duluth visit
Tuesday will mark 50 years since President Kennedy visited Duluth two months before his assassination. While Kennedy had made Northland stops as part of campaigning in 1959 and 1960, this was his only visit as president. He spoke at the Universit...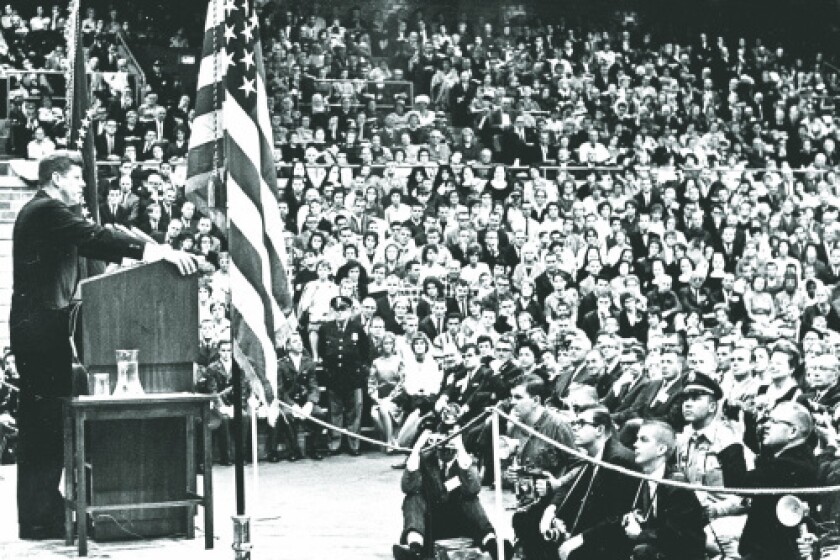 Tuesday will mark 50 years since President Kennedy visited Duluth two months before his assassination. While Kennedy had made Northland stops as part of campaigning in 1959 and 1960, this was his only visit as president. He spoke at the University of Minnesota Duluth as part of a Department of Agriculture tour on conservation and Duluth's "Land and People" conference, an effort to highlight the natural resources of the Great Lakes region. It was the second visit to Minnesota that Kennedy made as president. He attended a mid-term Democratic fundraiser in St. Paul in 1962.
Kennedy had mourned the death of his third child in early August, 40-hour-old Patrick. He also was in the apex of the Civil Rights movement, with the March on Washington on August 28 and the death of four girls in a Birmingham church bombing just 10 days before his Duluth visit. On Sept. 20, Kennedy gave a surprising speech to the United Nations, stating that perhaps the United States and Soviet Russia could forget about the Cold War and work together to put a man on the moon.
But making the biggest news and capturing the country's attention just before the Duluth visit was word out of Aberdeen, S.D., that quintuplets had been born there and were expected to be the first in the country to survive past infancy. Kennedy sent a telegraph congratulating the Fischer family, which had a 50th birthday party for all five quints last weekend.
The Duluth visit marked the third state for Kennedy on the first day of an 11-state tour. It was burnished all the more in the memories of Northlanders by his assassination on Nov. 22, 1963.
Here is a timeline of that visit Sept. 24 and 25, 1963.
Tuesday, 2:46 p.m.
Kennedy arrives at Duluth International Airport on Air Force One. He spent about 15 minutes greeting a crowd estimated at 1,500. His limousine arrived there a day earlier and was prepped for a motorcade later in the afternoon. The greeting crowd was paltry compared to the one Kennedy received three years earlier in the thick of his presidential race, probably because many were planning to line up for the motorcade. More than 3,500 came out to greet the candidate on Oct. 1, 1960.
3 p.m.
Kennedy took an Air Force helicopter to Ashland, where more than 10,000 turned out to hear him speak at the airport. Kennedy was able to see the Apostle Islands from the air, a coup for Wisconsin lawmakers who were seeking to have tourism boosted in the area by having the Apostles protected as a national lakeshore. That designation came in 1970. Kennedy spoke just before 5 p.m. in Ashland. At that time, Wisconsin was an hour ahead of Duluth time. He spoke for about 30 minutes in front of 12,000.
4:49 p.m.
The helicopter returned to the Duluth airport where the Lincoln limousine was standing by for a motorcade to downtown Duluth. It was the same car he would be shot in on Nov. 22 in Dallas. The day was overcast, with intermittent rain and temperatures in the 50s, so Kennedy wasn't allowed to have the top down, which he preferred. The rain had stopped as the helicopter touched down, so he was able to lower his window, allowing him to wave along the motorcade and for those lined up to clearly see him.
4:59 p.m.
Kennedy was joined by Minnesota Gov. Karl Rolvaag in the limo. The Cloquet High School band played to send them on their way as 1,000 greeted Kennedy landing for the second time.
The motorcade route took them to Miller Trunk Highway, down Central Entrance, then to Mesaba Avenue and south on Fourth Avenue West to Superior Street. The car stopped on Central Entrance twice with Kennedy exiting the car -- once near Lowell Elementary School, where he shook hands with children, and once at Arlington Avenue to greet a group of St. Scholastica nuns.
The motorcade was greeted by a crowd estimated at 50,000. National Guard units were activated and lined Superior Street along with state and local police. Guard members also were present at the airport and the entrance to the Hotel Duluth, now Greysolon Plaza, where Kennedy was staying the night.
Kennedy went to a hotel suite on the 14th floor -- completely refurbished for his visit -- to rest before going to UMD for the 7:30 p.m. speech in the Physical Education Building, now Romano Gym.
6:55 p.m.
Kennedy leaves the hotel and is greeted by a throng that has stayed since his arrival.
7:30 p.m.
About 5,200 people packed into the gymnasium to hear Kennedy, who spoke for about 25 minutes. He spoke from a four-page prepared text, but ad-libbed extensively, reports at the time noted. He focused on how the federal government was obligated to help the jobless.
After the speech, he returned to the hotel and spent the night. Before retiring, he greeted hotel workers and thanked them for good service.
Wednesday, 8:47 a.m.
Kennedy shook hands again with some of the 1,000 people at the airport gathered to see him take off for a continuation of his multi-state tour. He went to Grand Forks, N.D., and then Montana.
The system crashed earlier this month, grounding flights across the U.S.