A father of two walked out of Minnesota bar into a wintry night and vanished, starting decades-old mystery
Forum News Service has obtained a police report on Kenneth Edward Tank which sheds new light on the investigation, including theories that Tank became a target of some with ties to organized crime.
Not much has been made public about the former insurance adjuster who vanished into the cold Minnesota winter night in 1971.
But a police report regarding the missing persons case of Kenneth Edward Tank, recently obtained by Forum News Service, sheds new light on the investigation, including theories that Tank became a target of disgruntled customers with ties to organized crime.
Tank was a 28-year-old husband and father to two children when he left Ralph's Corner Bar in Moorhead on the evening of Dec. 2, 1971. His destination was assumed to be his home in nearby Fargo.
Temperatures that night were recorded well below freezing, hovering around 17 degrees. Winds were gusting up to 20 mph across the prairie plains, calling into question the likelihood that he would have survived the blistering cold journey home on foot.
Taxi cab drivers interviewed in the days following his disappearance weren't able to identify Tank as a customer the night he went missing.
His remains were never discovered.
To this day, he's classified as a missing person through the Fargo Police Department. He has, however, been declared legally dead by the courts.
Kenneth Edward Tank was born Sept. 25, 1943. He attended school in Rugby, North Dakota, a town located an hour's drive east of Minot.
Debatably located at North America's geographic center, Tank's experience in the small town of nearly 3,000 residents is illustrated through school yearbook images.
Marriage certificates show Tank was wed to Darlene Johnson. She was just 17 years old at the time. Together, the couple had two children, Deanna and Douglas.
Police reports obtained by Forum News Service state his wife claimed the couple didn't have any marital issues. In fact, she said they hadn't fought in years.
"Mrs. Tank also stated that they get along very well and actually stated that they haven't really had an argument in the last few years. She stated that a lot of people think her husband is very stuck up, although the truth is that he is very shy," the police report states.
The lack of marital distress all but ruled out theories that Tank walked off to start a new life.
Instead, investigators looked for other motives. Did Tank leave town for another reason? Or was he killed?
Trouble in the insurance world
Tank was dropped off at Ralph's Corner Bar at around 10 p.m. on Dec. 2, 1971.
He wasn't a regular at the bar, but his wife told investigators he would go in there from time to time, usually to socialize with his brother-in-law.
At the time he went missing, Tank had just quit his job as an insurance adjuster. The police report states that he quit because he couldn't handle denying insurance requests to customers who deserved to collect money.
Yet, according to Tank's family members, there might have been a different reason he walked away from the insurance world: He felt he and his family were in danger.
A family member who would like to remain anonymous said in an interview with Forum News Service that Tank and his wife were receiving threatening phone calls in the weeks leading up to his disappearance.
The calls became so disturbing that Tank and his wife made plans to move out of state.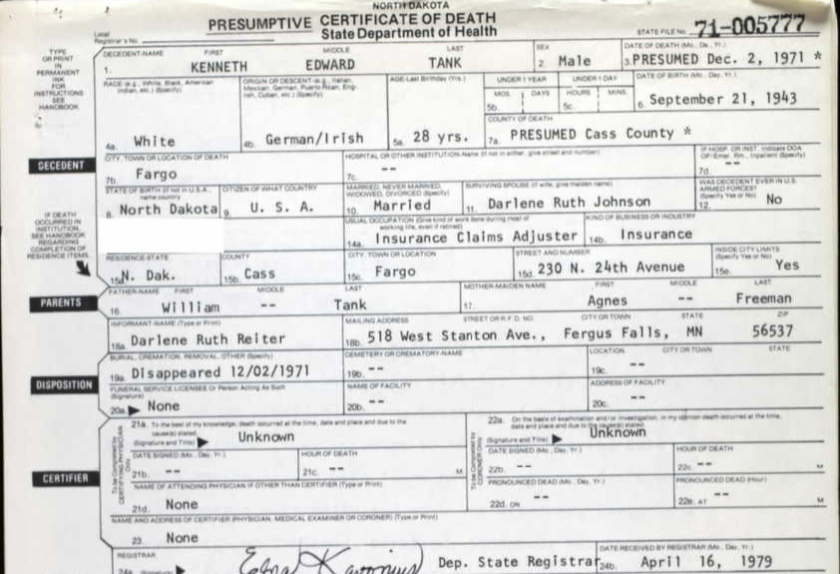 Then, he went missing — and the calls stopped.
Rumors began to swirl that Tank had gotten into trouble with a local motorcycle gang when he refused an insurance claim. The official investigation did not recognize this to be the cause of his disappearance.
Tank did have at least one knife pulled on him while out on the job as an insurance adjuster, according to the police report.
In the years after Tank vanished, multiple tips were called in to the Fargo Police Department. Callers claimed they saw Tank in multiple different locations, including once coming out of a local hotel.
Nothing ever amounted of such claims.
In 1977, a body was found in a hay field in North Dakota. That piqued the curiosity of those close to him. Ultimately, though, it was determined that the body did not belong to Tank.
In 1997, remains were also discovered, but were determined to not belong to Tank.
As of the date of this article's publication, Tank would be 79 years old. He's described as being six feet tall with brown hair and hazel eyes. At the time he went missing, he was 185 pounds.
If you have any information related to the disappearance of Kenneth Edward Tank, please contact the Fargo Police Department at 701-235-4493.