The Great Lakes are freezing over just fine
Lake Superior is nearly half-covered in ice after an Arctic blast of cold air.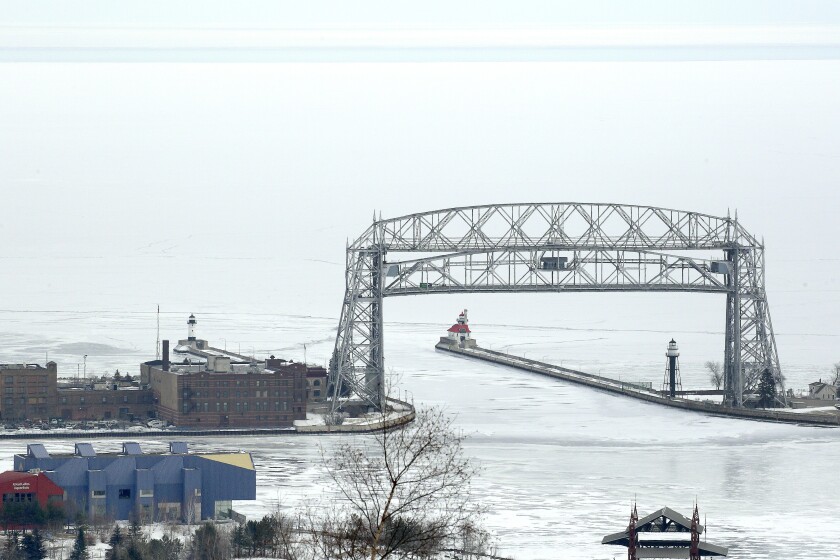 It was just a few weeks ago when some media reports surfaced that there was something wrong with the Great Lakes. The lakes weren't making any ice.
Of course, there was nothing wrong with the lakes; it's just that the weather had been unusually warm in November, December and, most importantly, in January. January in Duluth saw as many days above freezing, seven, as days that dropped below zero. The January average temperature was a whopping 7.7 degrees above normal, according to data from the National Weather Service in Duluth. It simply wasn't cold enough for ice to form.
Flash frozen forward, and what a difference a nearly two-week Arctic blast can make, with temperatures falling to 25 below zero in some areas around Lake Superior and staying below zero for nearly all of a 10-day stretch. February in Duluth has been an astonishing 17 degrees colder than the 30-year normal.
And presto, ice formed.
Through Tuesday, Lake Superior had some ice on about 45% of its surface, compared to just 5% back in January. That's actually more ice than normal for the date. Lake Michigan was considered 30% ice covered Tuesday and shallow Lake Erie is 80% iced.
The Great Lakes Environmental Research Laboratory, a branch of the National Oceanic and Atmospheric Administration, considered the entire Great Lakes 42% ice covered Tuesday, just about average. That's way up from last year at this time when only 14.2% of the lakes was iced over and is a little shy of 51.5% at this time in 2019.
These are just estimates, however, that use satellite technology that can read temperatures at the surface. The estimates sometimes get it wrong on what is very cold water and what is ice, and usually it takes satellite photos, taken on a clear day, to verify the true ice cover. A satellite photo taken Tuesday shows solid white ice formed in Chequamegon Bay and around much of the Apostle Islands area, as well as parts of Thunder Bay and, of course, the Duluth-Superior harbor. It shows less solid ice formed with fissures and gaps for several miles out from the western tip of Lake Superior near Duluth.
Most of the middle of Lake Superior remains wide open, with no ice, which allows wind-blown ice packs to break apart and move around on the lake — including the pack of ice that broke off from Duluth's shore on Feb. 9, stranding 27 ice anglers .
The fact that Great Lakes ice varies widely from year to year depends on one simple factor: air temperature. Even after very warm summers with warm water temperatures, the lakes can't hold onto that heat very long. So it's winter weather patterns and air temperatures that determine how much ice we see.
A warmup expected into next week will probably slow ice production on the lakes but likely won't cause much melting, at least for now.
Apostle Islands ice cave access still closed
The big increase in Lake Superior ice cover could, if it continues, lead to the first access in years to the famous Lake Superior ice caves along Wisconsin's Bayfield Peninsula.
But access onto the ice to see those caves, controlled by the National Park Service at Apostle Islands National Lakeshore, remained closed as of Wednesday due to unsafe ice conditions. Access to the mainland ice caves hasn't been open since 2015 because of low-ice winters in most cases.
Daily updates on the status of ice cave access are available through the Park Service at (715) 779-3398, ext. 3.