Teaching college remotely: Faculty, staff and students share their experiences as they transition into a new normal
The University of Minnesota Duluth and the College of St. Scholastica have both resumed all their classes online and will continue to do so for the rest of the semester.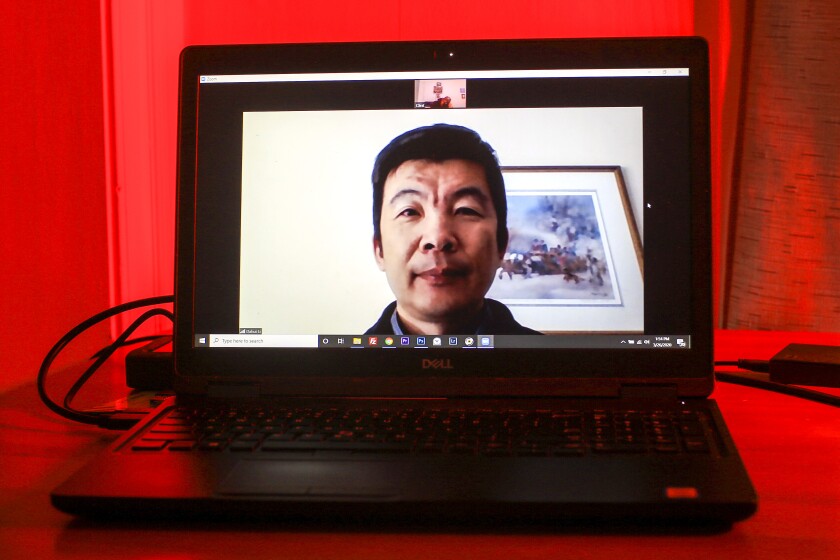 In just a few days, Anne Kruchten, an associate professor of biology at the College of St. Scholastica, spent about 20 hours video recording herself purifying the DNA out of snowflakes.
Those are tasks she had planned for her research class of eight to conduct as they tested a hypothesis: different bacteria can be found in snowflakes depending on where the snowstorm formed. Then COVID-19 reared its head into plans everywhere.
Now CSS and the University of Minnesota Duluth are just two of countless campuses that have resumed classes remotely for the rest of the semester.
With the help of colleague-to-colleague brainstorming sessions, Kruchten figured out how to transition a lab-based microbiology research course into one students will finish from home.
"Nationally, people have worked on delivering biology labs online and there are some models out there, but it's hard," Kruchten said. "You're trying to teach students how to do things with their hands and that's hard to do when they're in their own houses. It can be dangerous if you send them chemicals."
Instead, students will analyze the videos of her conducting the lab work and the data when it comes in.
"So the way I'm setting (the class) up now is actually more like how a regular research lab runs," Kruchten said. "A regular research lab would have these short half-an-hour meetings once a week where everybody talks about what they're doing."
As faculty work to adjust to the new normal, Ryan Sandefer, assistant vice president for academic affairs at CSS, said it's an opportunity to rethink methods of teaching.
"This is the time for innovation. This is the time for experimentation with what you're doing in your classes because this isn't the standard semester any longer," Sandefer said. "What I've been telling faculty is 'Let's focus on learning. What were we hoping students would achieve and what do we need to to do to help get them there this semester?'"
The majority of faculty at CSS have taught online, which has helped to ease the transition for most faculty, Sandefer said. Faculty with less or no experience teaching online have been able to receive one-on-one training from more than 30 faculty members who volunteered to help.
The transition was eased by the fact that the majority of CSS students have access to a computer, Sandefer said.
Emily Bugni, a senior nursing student at CSS, said that in order to graduate, nursing students need to get practice hours in, which isn't currently possible.
"There's not really anything we can do right now to practice," Bugni said. "Us nursing students are kind of in limbo and we're trying to figure out everything. Everything is up in the air."
Still, Bugni said she's impressed with how quickly the college is adapting and sharing information as the circumstances change.
More than anything, Bugni misses not being able to see her friends, the people she's spent the past four years with, and not have them there sitting alongside her during class.
"That's been the hardest part of this by far," Bugni said. "Not knowing when I'm going to see my friends next."
Laurie Anderson, a psychology instructor at CSS, was in the middle of teaching two psychology courses to a group of CSS students in Ireland when the class had to cut the trip short and return home. Now they're all nearing the end of a 14-day precautionary quarantine and last Anderson's heard, all the students are still healthy.
"They basically had to figure out where they would go and self-quarantine," Anderson said. "In case they had been exposed, they didn't want to expose their families."
During the first week of alternative format classes, which started on Monday, Anderson said three of her students were staying at cabins with either no or poor internet connection.
Although changes have to be made in order to move forward with the courses in an online format, Anderson said it's important to maintain the same level of academic rigor as much as possible while recognizing that every student will have a different experience with remote learning.
At the University of Minnesota Duluth, which resumed classes in alternative formats on March 18, Jason Davis, the chief information officer with the information technology systems and services department, said that helping students, faculty and staff transition into working remotely has been easier than his team anticipated.
"The things that we imagined would be insurmountable have not been," Davis said. "I'm actually surprised at how all this is going. People have adapted to working online really quickly."
Still, Davis said the obstacles are not over. For example, faculty still need to figure out how they're going to conduct exams and finals remotely. There are a variety of options to choose from, Davis said, including timed exams online, using a software package that allows the faculty member to see the student's screen or using a lock-down browser.
Dahui Li, a professor of management studies at UMD, said one of the best tools come exam time will be trust.
"Right now they are all at their own place so it's really hard for me to proctor that, but I trust the students," Li said. "I'll make the exam a little more difficult and try to pre-plan some of the scenarios I can think of to minimize plagiarism."
Li, who's familiar with teaching online, said the lack of face-to-face connection with students is proving to be the biggest challenge. To help combat that, he's been conducting class over Zoom. When his internet connection is strong enough he and the students can all see each other.
In his first class after the extended spring break, Li knew he wanted to greet students via Zoom because he wanted them to hear his voice.
"To me, I still would like to be as close as possible to students," Li said. "I assured them all the faculty will be with them to support them."
Students have become more active, participative and willing to help, Li said. Since he teaches computer and information technology classes, Li said he expects students to use the situation to improve their capabilities.
Drew Peterson, a sophomore mechanical engineering student at UMD who enjoys the classroom setting, said he's missing the classroom and being able to talk to professors during their office hours.
"A lot of my professors aren't super technologically inclined so it's been a learning curve for both of us," Peterson said, later adding, "A lot of them are emphasizing that we're going to get through this together. So they're being more realistic with expectations."
Without the structure and routine of being able to go to campus every morning to do his schoolwork without distraction, Peterson said he's struggling to find the same motivation to do his schoolwork while stuck at home.
Helen Mongan-Rallis, an associate professor of education at UMD, is committed to making learning playful given the dire circumstances. So in each of her three classes, she's assigned students to learn a song by a local artist that they will all sing together over Zoom in the upcoming week.
"Singing together and being able to do it online from all sorts of places I think is a really unifying experience," Mongan-Rallis said. "What I'm trying to show my students and frankly, my colleagues is that students can show their learning in many ways and we can teach them in many ways, only one of which is in writing."
Since Mongan-Rallis is teaching her students how to be teachers, she said she wants to model how to be inclusive of all students because what may not be an emergency to everyone may still be an emergency to some.
One way she's done that is asking students to fill out a survey in which students can share anything they wanted her to know about their circumstance while they continue the semester from home.
"I worry a lot about students who have responsibilities at home that are making it very hard for them to attend," Mongan-Rallis said. "And there's the emotional stress, they just can't focus.
Despite the unique challenges she and her students face, Mongan-Rallis, believes her students, who are learning how to be teachers, will finish her courses with a much better experience than they would have otherwise.
"Because what I'm teaching them how to do is suddenly extremely real," Mongan-Rallis said. "What they're learning how to do is actually being used right now."
Neil Witikko, a professor of education and director of the Center for Teaching and Learning at CSS, addressed some of the biggest challenges he sees resulting from an entirely online learning environment.
"If a student can fall through the cracks in a face-to-face environment it just fleets to me that could happen even more in an online environment," Witikko said. "We do some great things at St. Scholastica, but that will force us to think differently."
In addition, Witikko said the reality of online learning means that teachers will have a harder time reading students' body language to gauge how they're doing, especially at a time when they might need it most.
In the face of various challenges, Witikko said he's impressed with the ways in which faculty members are finding new ways that students can show competence.
"People have really had to think creatively and they've done a great job," Witikko said.
The News Tribune's Samantha Erkkila contributed to this report.