Stauber spouse fiery for Trump at campaign rally
During an event Tuesday in Hermantown, Jodi Stauber, wife to U.S. Rep. Pete Stauber, also condemned the Minnesota governor and attacks on policing.
With a pink Republican-sponsored bus promoting "Women for Trump" over his shoulder, U.S. Rep. Pete Stauber ended a rally Tuesday in Hermantown by saying: "Who's going to change the world? It's going to be conservative women that change the world."
Jodi Stauber, maybe.
Once the first woman to serve as command chief of the 148th Fighter Wing in Duluth, the mother of four delivered a fiery speech on behalf of the GOP in front of a few dozen onlookers chanting "four more years" in favor of President Donald Trump.
"We are a military family," Jodi Stauber said. "And our biggest concern as a military family is safety and security."
Stauber said she wakes up every morning grateful Trump supports police, the military and pro-life positions. She said her husband served 23 years with nobility and integrity in the Duluth Police Department.
"Now look at where we're at, where the profession of police has been decimated — it's disgusting," Jodi Stauber said, in reference to protests and defunding efforts underway in the country since the killing of George Floyd while in custody of Minneapolis police in May.
Rep. Stauber, R-Hermantown, has denounced that event, saying nothing he stood for as a police officer happened on the video recording of Floyd's death.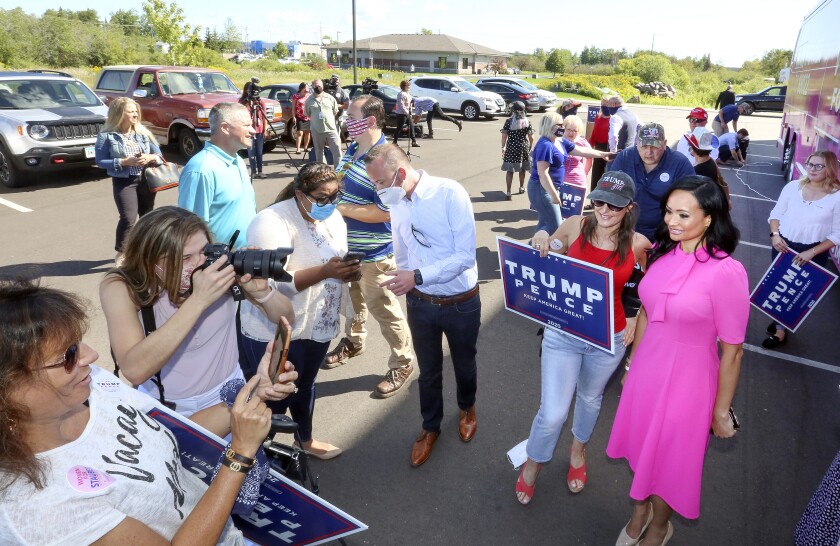 But Jodi Stauber wasn't done. She said of Trump: "I can think of no better president to be in the White House right now. He has our backs. He knows safety and security are paramount to what makes this country great."
Stauber then took on Democratic Minnesota Gov. Tim Walz for a comment made during Twin Cities rioting in May, when he downplayed some capabilities of National Guard soldiers being called on to quell disturbances by saying: "You're going to have 19-year-olds who are cooks in some cases."
"As the former command chief at the 148th, I take offense to that like no other," she said. "That's disgusting, that comment. When I was in Baghdad, Iraq, I was proud to serve with those people, the 19-year-olds even, who stood up, raised their hands and said: 'I'm going to serve this country and do any job you ask me to do, whether that's cleaning latrines, fighting on the front lines, or whether it's cooking meals for people. I'm going to do that job and do it proudly.' Since when is the governor allowed to make that an insult?"
Walz is retired from his own 24-year career in the Army National Guard.
The "Women for Trump" bus was scheduled for two days of campaigning throughout Minnesota, and featured state GOP director Jennifer Carnahan and Trump campaign spokeswoman Katrina Pierson speaking briefly and rallying the crowd.
The Democratic-Farmer-Labor Party issued a response to the bus tour.
"Trump's record has been nothing short of a disaster for Minnesota women," Executive Director Sally Miller said. "From his attacks on health care, to rolling back rules around equal pay, Trump didn't just break his campaign promise to be 'the best' on women's issues, he completely disregarded it."
Miller noted the number of "powerful women" speaking at the Democratic National Convention this week.
"I like that he's no-nonsense," Sylvia Feiock, 53, of Duluth, said of Trump. "He protects the borders, and works for the citizens. He works for the taxpayers. He takes care of the people who live here."
Jeff Dotseth, of Kettle River, is the GOP candidate for state House District 11A, taking on incumbent Rep. Mike Sundin, DFL-Esko. The News Tribune asked Dotseth what he thought about Trump's attempts to attract suburban women voters by repeating he'll keep low-income housing out of the suburbs.
"We need to look beyond the tweet at what he's really trying to say," Dotseth said. "He's got a good heart."
When pressed for an answer, Dotseth said he works in real estate, and that permits and other barriers need to be lifted or reduced in some places to make housing more affordable.
This story was updated at 9:17 a.m. Aug. 19, 2020 to include a DFL response. It was originally posted at 1:32 p.m. Aug. 18, 2020.