St. Louis County Board throws support behind Line 3 replacement
Tuesday's narrow vote in favor of the measure saw an expected split between northern and southern commissioners.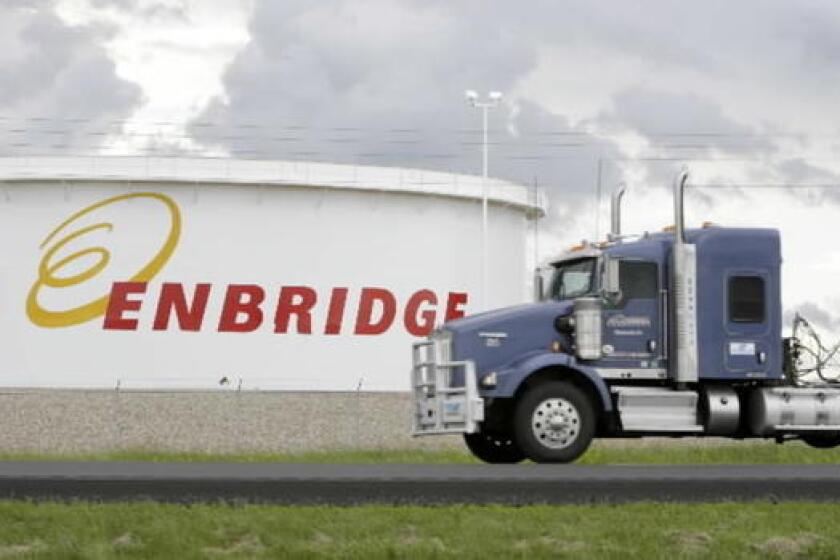 We are part of The Trust Project.
With significantly less fanfare, the St. Louis County Board of Commissioners signed off Tuesday on a resolution of support for the Enbridge Line 3 replacement project.
In a 4-3 vote, the board approved the measure that drew more than an hour of testimony from both supporters and opponents at a meeting last week.
"While it might seem for some of us that this is another symbolic vote, the taxes that you get in every year are very, very real, and the struggles for our school districts are very, very real," Board Chair Mike Jugovich, of Chisholm, said. "They depend on having a project like this and a company like this to make sure they can maintain the existence of their schools."
The resolution won't alter any policy, but it officially lends the county's support to the controversial project that would replace a nearly 1,100-mile crude oil pipeline from Superior to Edmonton, Alberta.
More than 20 miles of Line 3 would be built in St. Louis County. The board resolution states that the project would bring 4,000 union jobs to the region, generating approximately $2.5 million in new tax revenue once it's in operation.
Supporters said the project would be particularly beneficial to communities and school districts in southwestern St. Louis County, with Floodwood Mayor Dave DeNoyer among those who called for the resolution last week.
Opponents have repeatedly cited environmental concerns, a desire to further move to renewable fuels and the impacts a new pipeline would have on Native American communities along the route.
The Walz administration recently announced it would appeal the Minnesota Public Utilities Commission's decision to grant a certificate of need to the project. For the second time, the state Department of Commerce is challenging the approval at the Minnesota Court of Appeals.
Commissioner Keith Nelson, of Fayal Township, questioned whether the county could be exposed to a lawsuit if it did not support the project after accepting hundreds of thousands of dollars to lease land for the pipeline.
"It would probably be inconsistent with what we have done in the past by way of the leases, which are showing an interest on the part of the county," County Attorney Mark Rubin told the board.
Commissioner Frank Jewell, representing central Duluth, said he remains "fully supportive of workers across the county and our school districts." But he noted his opposition to symbolic resolutions of support, arguing the county would not be placed in any legal jeopardy by rejecting the pledge.
"I would be interested to know how many people of color will be working on this," Jewell said. "I will be interested in the kind of work that the labor unions are doing to spread the work beyond just folks on the Iron Range, but to a broader cross section of Native people, African Americans, Mexican Americans and Somali Americans, assuring that we do start to spread the resources to a broader cross section of our community, many of whom have never had those resources pointed at them."
Jugovich responded to that point.
"I know for a fact that the tradespeople don't see colors," he said. "They put everyone to work that is available. Many people are on the bench and they get the call for a project of this magnitude — it becomes all hands on deck. Anyone, regardless of race or gender, will be working because you're going to need that kind of workforce in sheer numbers."
The vote was consistent with most controversial issues before the board. In support were northern commissioners Jugovich, Nelson and Paul McDonald, joined by Hermantown's Keith Musolf. In opposition were Duluth commissioners Jewell, Patrick Boyle and Beth Olson.
Due to an audio issue, this story originally omitted a key word from Mike Jugovich's quote: "I know for a fact that the tradespeople don't see colors." It was updated at 2:27 p.m. Sept. 8.