Schlienz admitted shooting, blamed it on courts
In one of the first calls he made at the St. Louis County Jail, 42-year-old Daniel Schlienz explained to a friend in his hometown of Grand Marais why he shot Cook County Attorney Tim Scannell and Grand Marais resident Gregory Thompson on Dec. 15,...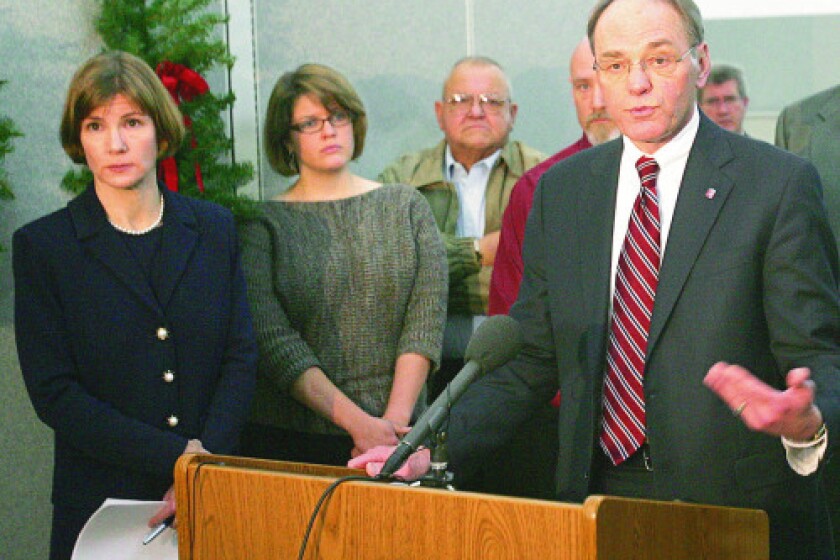 In one of the first calls he made at the St. Louis County Jail, 42-year-old Daniel Schlienz explained to a friend in his hometown of Grand Marais why he shot Cook County Attorney Tim Scannell and Grand Marais resident Gregory Thompson on Dec. 15, blaming it on frustration with the court system.
In the call, which was made on Dec. 17 and obtained by the News Tribune following an open records request, Schlienz expressed no remorse for the shootings other than to say, "I would have done things differently."
When the transcript was read to him, Scannell said Schlienz's account "doesn't fit any of the facts of what actually occurred."
Just before Scannell and Thompson were shot, Schlienz had been convicted of multiple counts of criminal sexual conduct for charges that date back to 2006.
"This past week I really learned how much of a farce this whole, the court system is," Schlienz said. "It is (expletive) up, when they can convict an innocent person of these crimes."
He said after Scannell gave the closing arguments in the trial, he knew he was going to be found guilty.
"He convinced the jury that an innocent person is guilty. It pissed me off. It was a progression of getting pissed off more and more and more all the time. Six years of this," Schlienz said. "He sat there and filled their heads full of lies. It pissed me off. You have no idea. I was so pissed off.
"I snapped," he said.
Schlienz said after the closing arguments, he went home during the jury deliberations and thought about his future.
"The best way to describe it is, it felt like I was in the hangman's noose, and it felt like I was standing there waiting, patiently waiting there for the trap door to open," Schlienz told his friend. "And I just had the worst possible feeling about how it was going to come out.
"So I had a little pistol that I've had stashed for years, and I stuck it in my pocket and I went to the courthouse and I figured well, if the jury comes up with a guilty decision, I'm just going to (expletive) finish myself off right there. Why wait for anything? I would totally rather be dead than sitting in a prison cell."
But instead, Schlienz said that he "flipped out" and was going to confront Scannell "and just confront him. Just have some angry, mean words with him, then walk out and shoot myself.
"But it didn't work out that way. One thing led to another, and the next thing you know, I shot both of them in the legs."
He said his intention wasn't to kill them.
"I know I definitely did not want to kill anybody," he said. "If I wanted to, I would have just done it."
Scannell was shot three times, in the chest, pelvis and leg, Thompson twice in the leg.
Scannell said he believes Schlienz intended to kill him.
"I don't even know how short a period of time it could have been, but he was through the door of the county attorney's office and hadn't even removed his hand from it before he reached out across the counter and shot me right in my heart," Scannell said. "If he's saying he shot me in the leg, that's an obvious lie.
"It was a very intentional, methodical plan to act. He aimed it right at my chest. He couldn't have gotten it any closer without aiming it at my heart. Point-blank range right at my heart," Scannell said.
Scannell, who said the bullet was removed from his thigh last week, said Schlienz's recollection of the shooting was "part and parcel of his whole inability to take responsibility for his actions. He never took any responsibility for any of the things that he did."
He called Schlienz a "longtime predator, perpetrator, rapist and now attempted murderer."
"The real story is the fact that we got this victim to come forward and tell her story, and that we got a conviction," Scannell said. "That's what we should all be talking about right now: that we were able to put a stop to his preying on young girls in our community. And unfortunately, he stole the story with his violence, which just disgusts me."
In his conversation with his friend, Schlienz said that after the shootings, four people tackled him, he was subdued with chemical spray and tased before being taken to jail.
"We wrestled around for quite a while," he said. "I don't know for how long."
When told that people in Grand Marais were supporting him, Schlienz said, "I'm glad to hear it, but it does me no good at all."
He also told his friend that he was "well aware that I won't ever be back home again, and if I do, it won't be for, like, 50 years."
On Dec. 23, a psychiatrist visited Schlienz and determined that he was probably not suicidal, but because of his plans and shooting at the courthouse, "he warrants watching at least until after Christmas."
"He is realizing what he did and the impact he has had on many people's lives, including his own," the psychiatrist wrote. "He is expecting to be in prison for the rest of his life."
Schlienz died on Dec. 27 after becoming sick at the St. Louis County Jail.
The system crashed earlier this month, grounding flights across the U.S.