Police raid Duluth synthetic marijuana shop
Duluth police raided Last Place on Earth in eastern downtown Duluth early Wednesday afternoon, shutting down the business for five hours and removing two vanloads of boxes and 31 guns.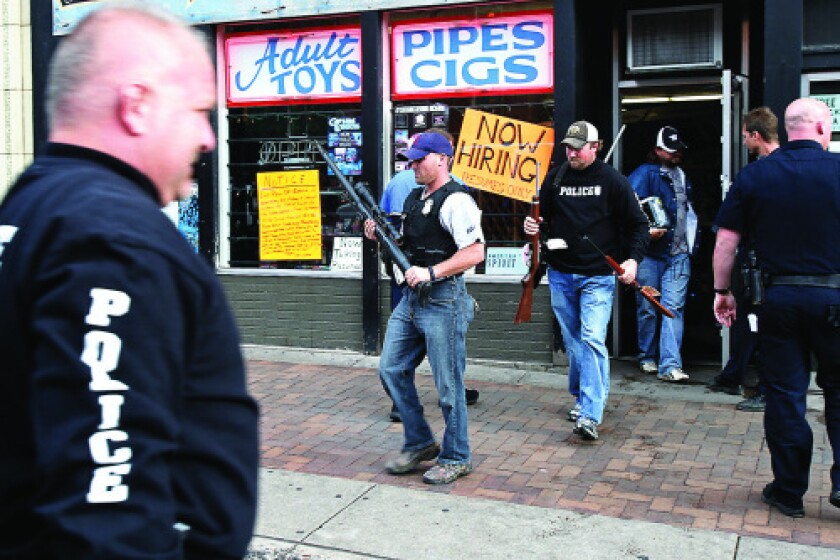 Duluth police raided Last Place on Earth in eastern downtown Duluth early Wednesday afternoon, shutting down the business for five hours and removing two vanloads of boxes and 31 guns.
In a statement, Duluth police said they had executed a search warrant as part of an investigation of the sale of illegal synthetic marijuana, and that no arrests had been made.
Jim Carlson, who owns the shop at 120 E. Superior St., reopened the store just before 6 p.m. but with what he estimated to be $50,000 worth of incense seized off store shelves.
Carlson said the warrant apparently allowed police to seize all his cash, jewelry, video cameras and 31 guns, most of which he said were hunting guns he kept in the store's safe.
Carlson said he stopped stocking so-called bath salts on Sept. 14 and that he believes the incense seized by police "should meet all state and federal guidelines'' for being legal.
Carlson said he was warned by police not to re-stock incense or they would return "every day and that they would come back meaner and arrest me,'' Carlson said.
Carlson said he was especially concerned that police seized his computer.
"This is just a harassment campaign. ... They took my cash, no matter what it came from. They took my hunting guns I kept here for safe keeping,'' Carlson said. "They now have my computer, which has all of my correspondence with my attorney for years ... including on our case that we have going on against the state."
Carlson also claimed that some of the videos seized by police were about to be used as evidence of past police harassment.
Carlson's son, Joey Gellerman, 32, was taken away in handcuffs early in the raid but was back on the sidewalk outside the store later in the afternoon, greeting customers.
"I was told that I was being detained for the sale of fake marijuana," Gellerman said. He said police told him an undercover agent had purchased illegal drugs from him earlier in the day. Gellerman said that was a reference to incense, "the same stuff that we've been selling ever since I worked here."
He has worked at the store about a year and a half, Gellerman said.
He was taken to the St. Louis County Jail and then released, Gellerman said. Police told him they would either issue a warrant later for his arrest or send him a summons by mail.
Attorney Randall Tigue, who represents Carlson and the Last Place on Earth, told the News Tribune that the police's actions "contain the smell of illegality to them."
Tigue said he was told by Carlson that police confiscated all of his cash, including what was in his pockets.
"Even if you concede that they were selling illegal substances, they don't have the right to be seizing money from selling other merchandise," he said. "If the warrant doesn't separate that, it's (a) general warrant and it's illegal."
Tigue also said computers that police seized contained "privileged attorney-client information."
The raid drew a small crowd of onlookers. Several of them taunted police as they removed boxes from the store.
"You're just making the drug dealers happy," one yelled.
"You just want it all for yourselves," another shouted.
Officers largely ignored the catcalls except to ask the onlookers not to block the sidewalk.
Several would-be customers were surprised and disappointed to find the doorway to the store guarded by two police officers who politely informed them the store was closed "for now."
Deb Anderson, 43, said she had driven 2½ hours to Duluth with her husband after finishing her work shift at the Grand Portage Casino only to discover the store shut down. She makes the trip at least once every two weeks. "I had a meeting at work, and we left after work to come down, do this, and go back," she said. "And my husband is beside himself."
Anderson said she had switched from using marijuana to incense.
She spends between $150 and $200 every time she comes, Anderson said, but she doesn't consider that too expensive.
"It's recreational, and besides, I know what I'm getting here. You pay one price and you get the same thing, and when you go somewhere else, it's not. ... (Carlson's) 3-gram bags weigh 3 grams. They don't weigh 1½ or 2.4."
Wendy Clark, 52, of Duluth said she comes every day and buys incense. She has been a Last Place On Earth customer since she was 18, Clark said.
"I used to do street drugs," she said. "I no longer do street drugs. I come down here and I buy a package of 'No Name' (an incense), and that's all I do. It's legal."
Clark said people who are on probation shop at Last Place because incense doesn't come up in urinalysis. "I can't understand why for the last three months that I've been coming here the cops are harassing people," she said.
Last Place on Earth has been the subject of news reports in recent days because of the large crowds of customers it draws daily for purchase of legal designer drugs.
Nearby businesses have complained to city officials and police about the negative effect the shop's long lines of customers are having on commerce.
Mark Fredrickson, who co-owns the ShelDon, an imaging center next door to the Last Place On Earth, said his walk-in business has dropped by $500 to $800 over the past three months due to people buying synthetic drugs and loitering outside his business.
"I don't care what happens inside the store, it's what happens outside the store that affects us," Fredrickson said. "If the inside gets cleaned out and changes are made because of it, then I'm all for (the raid)."
News Tribune investigations editor Brandon Stahl contributed to this report.
The system crashed earlier this month, grounding flights across the U.S.