'Where treatment and justice meet': Beltrami County Drug Court celebrates first-ever graduate
After years of struggling with substance abuse, Wednesday marked an important milestone for Angela Gale as she became the first graduate of Beltrami County Drug Court.
We are part of The Trust Project.
BEMIDJI — After years of struggling with substance abuse, Wednesday marked an important milestone for Angela Gale as she became the first graduate of Beltrami County Drug Court.
Participants and officials of the drug court team and other supporters of the program gathered in the courtroom of Judge John Melbye, a Ninth Judicial District judge for Beltrami County, on March 23 to celebrate Gale's graduation from the community program.
Drug court, which began in Beltrami County in February 2020, is a specialized court that was created as a way for drug offenders to receive treatment in a team-based environment. The program focuses on those who have been charged with felony or gross misdemeanor level controlled substance or other drug-related crimes.
"Today is a big day for Beltrami County, but especially for you, Angela, as we celebrate our first drug court graduate," said Trish Hansen, district supervisor for the Minnesota Department of Corrections. "I'm certain that there were many bumps along the way, just like there were when we wrote this grant, but you hung in there, you kept working the program, and you are here today."
Melbye explained that every drug court participant is given a sobriety coin after completing each of the five phases of the program. Hansen presented Gale with her final graduation coin, engraved with the words, "Change your thinking, change your life — Where treatment and justice meet."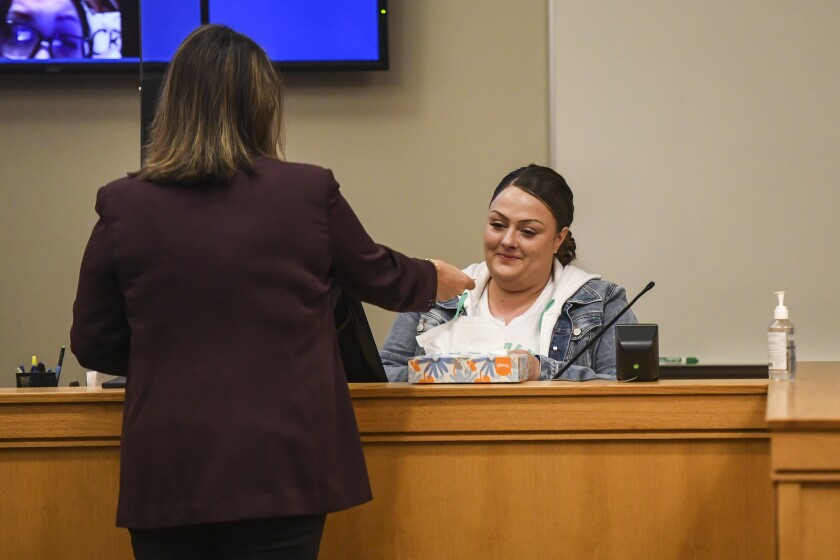 Dan Jones, Gale's probation officer, took a moment to reflect on the years he spent working with her. He recalled a time when Gale approached him and expressed her interest in entering the drug court program.
"I distinctly remember that conversation I had with you right after a relapse at treatment, and you were not in a good spot," Jones described. "I remember the conversation that you and I had at the jail when you reached out to me to discuss drug court, and I was so happy that you did."
Jones stressed to other drug court participants in the courtroom that while making mistakes throughout the course of the program is inevitable, the most important thing is that they stay committed to the process.
"What I can tell everyone here is we don't expect you to be perfect, and by no means were you perfect throughout drug court," Jones said to the drug court participants. "But here's the one thing that I'm so proud of you for — you didn't give up on yourself."
As the member of the drug court team that worked with Gale the most through the duration of the program, he expressed his pride in her hard work.
"I am beyond proud of you," Jones said to Gale as he presented her with a drug court graduation certificate, "and I'm so happy that you are our first graduate of drug court."
During the program, Hansen took a few minutes to discuss the many years it took to get the Beltrami County Drug Court to get the program up and running and the important role it now plays in the community.
She explained how the process began when court officials saw a need in the community for a different approach to help those with drug offenses who struggle with substance use disorders, as drug cases in the area were rising.
"Beltrami County, in 2010, had 73 drug cases filed that year," Hansen said. "Only six years later, we had jumped to 303."
Drug courts had been popping up around the state, a specialized court where drug offenders go through a unique, five-phase program that assists in their recovery using resources, supervision and incentives. Beltrami County officials saw the benefits a drug court could have on the community.
The county first applied for a drug court grant in the spring of 2017, Hansen explained. The efforts were unsuccessful, but officials kept pushing for the program, applying for the grant a second time in 2019.
This time, the grant was awarded, and Melbye opened the Beltrami County Drug Court doors in February 2020. The $500,000 grant is set to run through September 2023, after which the county hopes to apply for other grants or funding to keep the program going.
To Sue Olson, treatment court coordinator for the Beltrami County Drug Court, the program offers a new recovery strategy to people in the community who have drug offenses.
The program, Olson described, is a collaborative effort involving district court, corrections, law enforcement, as well as other local officials and community resources.
Through the drug court, offenders have access to substance use disorder and mental health treatment, as well as increased supervision and accountability.
The overall goal of the program is to help drug offenders "enter into a lifestyle of long-term recovery that will promote recovery, accountability, self-sufficiency, family preservation and public safety," Olson said.
Drug courts fall under the umbrella of treatment courts, which also include DWI courts, veterans treatment courts, mental health courts and more. In 2007, Beltrami County introduced its DWI court.
Like DWI court, drug court is a voluntary program, so the process begins when an offender decides they think the program might be a good fit for them. Then, Olson said, the offender goes through a screening process.
To make sure the hopeful participant is eligible for drug court, the county attorney will make sure certain criteria are met — the offender must be a Beltrami County resident and have a substance use disorder. Each participant, Olson explained, is also evaluated to make sure they have a high risk of re-offending and a high need for treatment.
After being accepted, offenders go through each of the program's five phases, with certain stages that must be reached before moving on to the next phase.
For offenders, drug court offers several resources and even a few perks.
By participating in drug court, offenders have access to substance use disorder and mental health treatment, as well as increased supervision and accountability. Being a part of the program could also result in a reduced sentence or reduced supervision, as well as other benefits that come with sobriety such as improved mental health and the chance to find a job or educational opportunities.
The benefits are plentiful. But, it's not easy work.
"As (participants) come into the program, they have to go through all the phases and do all the work, get into treatment, be highly supervised, do a lot of drug tests and appear in court," Olson explained.
For Olson, the most important benefit of drug court is that it helps participants live a life of sobriety and recovery.
"When we look at where (Gale) was at the start of this program to where she is now, it's leaps and bounds," Olson said. "It's her doing the hard work, but there's a lot of us behind her helping her out."
Gale extended her gratitude for the drug court program, saying the sense of accountability helped her stay sober.
"If it wasn't for this program, and having that support and something to hold me accountable, I don't know if I could have made it," Gale said. "That's why I needed this program so bad."