What got done — and what didn't — during the 2022 Minnesota legislative session
The Minnesota legislative session fizzled to a close on Monday with many top issues left unresolved.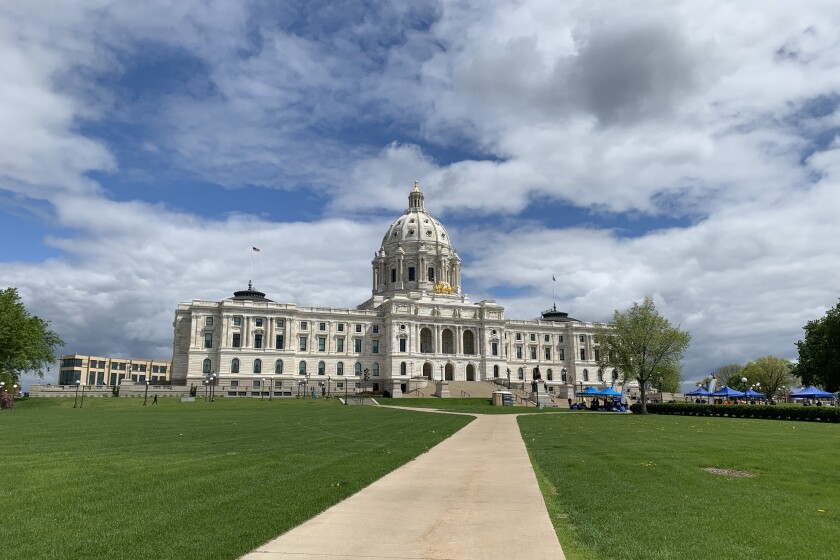 We are part of The Trust Project.
ST. PAUL — Minnesotans won't see state tax cuts or rebate checks this year.
And funding for schools, police agencies and nursing homes will remain stagnant after lawmakers left the Capitol this week with much of their business left undone.
Partisan disagreements stalled out decisions over billions of dollars of new spending in the final hours of the legislative session. That means promised funding boosts for several sectors won't come through this year unless lawmakers return to St. Paul for a special session.
Lawmakers didn't have to do anything this year since they passed a budget in 2021 that runs through next July. But they were expected to approve new spending, a jobs and projects bill known as a bonding bill and a proposal to send money back to Minnesotans since they had a historic $9.2 billion budget surplus.
Legislative leaders and the governor this week discussed a special session to finish up pieces that lawmakers couldn't wrap up before their deadline. But as of Wednesday, May 25, they hadn't reached an agreement about that.
In the meantime, here's a look at where key issues stand after the 2022 legislative session.
Tax cuts or rebate checks
Lawmakers reached a compromise $4 billion deal to eliminate the tax on social security and decrease the lowest income tax bracket, as well as provide additional tax credits, but the bill didn't get a vote in either chamber before the legislative deadline. As a result, Minnesotans won't see a change in their taxes or a rebate check from the state this year.
Tax relief was a top priority for Republicans and they urged Democrats at the Capitol to approve the tax plan even if lawmakers couldn't reach agreements on other spending areas. But Democrats said they wanted to pass spending bills and a tax bill together since legislative leaders and the governor approved a deal that included all of them.
DFL leaders have said lawmakers should return to the Capitol to finish up unfinished spending bills and pass the tax plan. Senate Majority Leader Jeremy Miller, R-Winona, however, has said he isn't interested in a special session and doubted that lawmakers could finish their work in overtime.
Gov. Tim Walz earlier this year proposed paying out $500 in direct payments to taxpayers that earn under a certain threshold, but that plan didn't get included in the tax bill.
Public safety and police recruitment
Both Republicans and Democrats said that reducing violent crime and improving public safety would be a top priority this year. And they laid out different plans to accomplish that.
In the end, they couldn't reach an agreement to boost police recruitment funds or send out money to the communities with the fastest-growing rates of violent crime. The biggest sticking points were around sending funding to nonprofit community violence prevention groups.
Legislative leaders and the governor said lawmakers could spend $450 million more on public safety and judiciary provisions, but negotiators involved in drafting the bill couldn't agree to what should fit into that budget before the deadline.
House Public Safety Committee Chair Carlos Mariani, DFL-St. Paul, on Wednesday, May 25, wrote an open letter to police organizations in the state urging them to press Sen. Warren Limmer, R-Maple Grove, to come back to the table to keep negotiating the bill in the event lawmakers get called back for a special session.
Education and K-12 schools
House Democrats and Senate Republicans failed to find a path to a compromise K-12 school spending plan during the four-month legislative session.
DFL lawmakers prioritized funding for school-based mental health resources for students and teachers, as well as funding to help schools pay the federal cross-subsidy for special education and English language learner programs. The federal government requires public schools to provide special education and English language learner programs but it doesn't fully fund them, so school districts pay for part of that expense from their general fund.
By contrast, Republicans in the Senate put forward a $30 million supplement for schools that would focus on training elementary school teachers in new strategies to teach reading.
Education groups have urged lawmakers to come back into a special session to approve a $1 billion plan for K-12 education.
The Minnesota House approved a $20 million proposal to boost funding for Minnesota's colleges and universities in the final hours of the legislative session but the Senate blocked a vote on that bill.
Long-term care and group homes
Negotiators writing a $1 billion health and human services spending bill left the Capitol without finalizing what should be in the bill.
Republicans and Democrats on the conference committee disagreed about how much money should be sent to help long-term-care facilities, group homes, disability services, personal care attendants and other providers.
Long-term care provider groups said that 450 facilities around the state could close due to caregiver staffing shortages. And disability advocacy groups said that group homes and other disability services providers are also facing difficulties in recruiting and retaining staff that have limited services and spurred group home closures.
The groups have urged lawmakers to return to pass a health and human services bill in a special legislative session.
Unemployment trust fund, payroll tax
Legislative leaders and the governor in April reached a deal to refill the state's unemployment insurance trust fund and counteract a payroll tax hike on employers.
The approval came after a deadline triggered in state law for the tax increases to take effect, so the Department of Employment and Economic Development had to credit back the higher rates to businesses.
After a months-long standoff over refilling the unemployment fund, legislative leaders and the governor agreed to pass the bill since it was paired with $500 million for front-line worker checks and additional parameters for spending federal COVID-19 relief funds.
Checks for front-line workers
The Legislature in April approved a plan to send out $750 checks to front-line workers who stayed on the job during the height of the pandemic. Workers can start applying for those payments in June and could expect to receive them in September.
House Democrats pushed for heftier $1,500 payments for the group of about 667,000 eligible workers, but Republicans rejected that proposal. They ultimately compromised on the $750 checks as a condition of approving the plan to refill the state's unemployment insurance fund.
Eligible employees include health care workers, teachers, meatpackers, corrections officers, first responders, grocery store workers and several others. Those workers have had to work 120 hours between March 15, 2020, and June 30, 2021, and not have drawn down unemployment benefits for more than 20 weeks.
There would also be an income cap of $85,000 for individual filers who did not work directly with COVID-19 patients to be eligible. Those who worked with COVID-19 patients could receive the checks if they make $175,000 or less a year.
Paid family leave, sick and safe time
The Senate and House took up distinct paid family and medical leave bills this year but reach an agreement that could move either forward.
For the first time this year, Republicans introduced a plan to set up paid family leave benefits for Minnesota workers. It focused more on allowing businesses to opt in to the benefit rather than creating a new state program for workers. That measure passed the Senate but not the House.
Democrats at the Capitol for years have encouraged the creation of a state program that would offer up to 12 weeks of partially paid time off for pregnancy, serious health conditions, family care, leave when a family member is called for active military duty and safety leave for domestic abuse situations. Each Minnesotan would contribute about $3 per week to the state program. The amount of pay a beneficiary receives would be based on a sliding scale.
The Senate did not take up that proposal.
Meanwhile, a proposal to create a paid sick and safe time program that would allow workers to accrue up to 48 hours of time off each passed the Minnesota House but did not come up for a vote in the Minnesota Senate.
Bonding bill for local projects
Even-numbered years at the Capitol are typically known as bonding bill years, but this year, lawmakers failed to approve a local jobs and projects plan before closing out the legislative session.
Up until the legislative deadline, heads of the capital investment committees said they were working on a proposal to borrow $1.4 billion to fund state and local projects. But they couldn't complete a bill on time.
Local governments and state agencies ahead of the legislative session put in bids that totaled more than $5.4 billion dollars. And state economists said Minnesota had the capacity to borrow up to $3.5 billion to fund proposed projects. Walz earlier this year requested a $2.7 billion bonding bill.
Trades unions, Greater Minnesota city leaders and others have urged lawmakers to return to St. Paul to approve a bonding bill.
Drought relief and bird flu resources
Both chambers of the Legislature on Thursday, April 7, approved $1 million in emergency support to help the Minnesota Department of Agriculture manage the highly pathogenic avian influenza.
And in the final hours of the legislative session, both chambers approved $18.4 million for drought relief, as well as additional funding to replace seedlings dried out by the drought.
The bill would open up state grants and loans for livestock producers and specialty crop farmers who weren't eligible for crop insurance for their losses. It would also boost funding to the Department of Agriculture's emergency fund and earmark funding for the state Veterinary Diagnostic to buy new equipment.
Growler freed and other liquor changes
Both chambers of the Legislature approved and the governor signed into law a broad liquor bill that would allow breweries that produced up to 150,000 barrels a year to offer growler sales , up from the current 20,000 barrel cap.
That cap prevented the state's six largest craft breweries — Castle Danger, Fulton, Indeed, Lift Bridge, Schell's and Surly — from selling growlers.
Stakeholders including craft beverage producers, wholesalers, liquor retailers and Teamsters met in private for months to hammer out an agreement. And they told lawmakers that the plan had pieces that they could all get behind.
Under the law, smaller and medium-sized breweries will be able to sell four and six-packs from their taprooms. And it would allow micro-distilleries to increase the number of off-sale products they can offer and allow town ball baseball teams to sell alcoholic beverages. Resorts would also have the option to sell beer with an alcohol content higher than 3.2%. But 3.2% will remain the standard for grocery stores and convenience stores.
Follow Dana Ferguson on Twitter @bydanaferguson , call 651-290-0707 or email dferguson@forumcomm.com.
CORRECTION MAY 26: Both chambers approved $18.4 million for drought relief. The amount was wrong in an earlier version of this story; it has been corrected.