'This bill means hope': Minnesota Gov. Walz signs $25M bill for ALS research, caregiver support
Gov. Tim Walz on Wednesday, March 30, signed into law a proposal to fund research to treat, prevent and cure amyotrophic lateral sclerosis, known as ALS.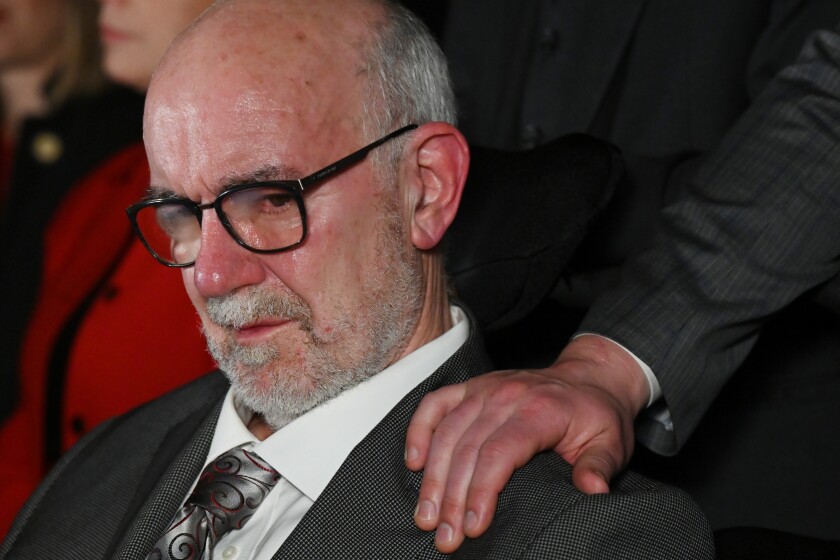 We are part of The Trust Project.
ST. PAUL — State Sen. David Tomassoni looked out across the crowded room and cried with joy.
Along with the usual set of lawmakers and reporters, the crowd included people who'd contracted amyotrophic lateral sclerosis or lost loved ones to the illness.
And like Tomassoni, many of them cried during an emotional afternoon at the Capitol.
After less than a month since introducing a $25 million bill, the Chisholm independent sat beside Gov. Tim Walz on Wednesday, March 30, as Walz signed into law the plan to fund research about the illness and provide extra support for caregivers helping those with ALS.
Tomassoni last year was diagnosed with ALS, and the Iron Ranger has since experienced limited mobility and speech due to the illness. ALS is a progressive disease of the nervous system that gradually spurs a loss of muscle control.
There is no known cure for the illness and roughly 450 Minnesotans are living with the disease at any given time.
"This bill means hope," Tomassoni said through a voice automation program. "This is about making the future better, we can all be proud of that. This is truly a good day."
Tomassoni, former professional athletes and Minnesotans affected by the disease earlier this month called for a Minnesota-led push to find more answers about it. While the illness has been around since 1869, there have been relatively few developments in preventing or treating the disease.
And the call to action from one of their own helped propel the bill through the Legislature.
The Senate and House of Representatives unanimously passed the bill, a rare feat in the divided Statehouse. Lawmakers credited Tomassoni's strong relationships at the Capitol and courage in telling his ALS story in moving it forward.
"This got two committee votes, two floor votes and never got a no vote and that's a pretty remarkable show of bipartisanship," Sen. Tom Bakk, a Cook independent, told a packed room.
The law will direct the funds to the Minnesota Officer of Higher Education to award research grants of up to $400,000 to scientists studying the prevention, treatment, causes and cures of ALS.
Nationally, about $115 million has been earmarked to fund ALS research this year, and senators backing the bill, along with neurologists that see Minnesotans with ALS, said that the $20 million research boost could spur landmark advancements. The plan would also allocate $5 million to support caregiving services for Minnesotans fighting ALS.
A fundraising campaign in 2014 called the Ice Bucket Challenge raised more than $100 million for ALS research and led to significant advancements in detecting the illness, as well as possible treatments. Now, having another $20 million for research could build on that advance, ALS advocates said.
"It is a pretty significant bump," Jennifer Hjelle, executive director of the ALS Association's Minnesota, North Dakota and South Dakota Chapter said. "This will really continue to build on that momentum from the Ice Bucket Challenge."
Walz said the quick passage should be a sign of hope to Minnesotans that lawmakers can work together to get things done in St. Paul.
"You see a bipartisan wide net that was cast to try and attack this issue in a way that hasn't been done in any state before," Walz said before he signed the measure into law. "It shows Minnesotans that we can come together around the common good."
Several incumbent state legislators, particularly in the Senate, edged out competitors with more extreme views on COVID-19, election security and more.
Follow Dana Ferguson on Twitter @bydanaferguson , call 651-290-0707 or email dferguson@forumcomm.com.