Minnesota GOP backs Scott Jensen for governor
Five candidates for governor sought the party endorsement at the GOP state convention in Rochester. By the ninth round of voting, Jensen, a family practice physician and former state senator skeptical of COVID-19 lockdowns and vaccine mandates, bested former congressional candidate Kendall Qualls.
We are part of The Trust Project.
ROCHESTER, Minn. — Gubernatorial candidate Dr. Scott Jensen gained the endorsement of the Minnesota Republican Party at the state party convention in Rochester Saturday, May 14.
Jensen, a Chaska family practice physician and former state senator skeptical of COVID-19 lockdowns and vaccines, bested four other candidates after nine rounds of voting among the more than 2,000 delegates at the convention.
Republican candidates for governor have pledged to honor the endorsement and step aside for the party's favored candidate. Assuming all abide by the agreement, Jensen and running mate former Minnesota Viking Matt Birk can now focus on challenging Democratic-Farmer-Labor Gov. Tim Walz and Lt. Gov. Peggy Flanagan in the November general election.
"Let's go from here and let's send a clear message to Tim Walz: we appreciate that you tried but we're going to give you an early retirement," Jensen said on stage following his endorsement.
As Jensen appealed to delegates throughout the convention Saturday, he criticized Walz for his response to COVID-19, expressed support for gun rights and continued to express his hard-line stance on ensuring the Legislature is the sole body in the state that makes changes to electrons rules.
"I'll shut down government in order to get election security, we are going to have photo ID," he said, drawing cheers from delegates.
Jensen also said he would push to commute the sentence of Brooklyn Center police officer Kim Potter in the shooting death of Daunte Wright within his first month in office.
In a statement following Jensen's endorsement, Minnesota DFL Chair Ken Martin called Jensen "dangerous" and "far-right," for his opposition to abortion in all cases except when a mother's life is threatened, and for his stances on COVID-19 restrictions and vaccines. The DFL also took aim at what they called a "pattern of authoritarian impulses." Jensen suggested this month that Secretary of State Steve Simon should face jail time for the way he runs the state elections system.
"Minnesotans want their leaders to focus on helping working families, but Scott Jensen is only interested in his far-right political agenda," Martin said. "This fall, voters will have a clear choice between Scott Jensen's extremism and Governor Walz's responsible leadership."
Jensen won the support of more than 65% of delegates in the final round of voting, beating businessman and 2020 congressional candidate Kendall Qualls in a convention that grew increasingly contentious as more candidates were eliminated.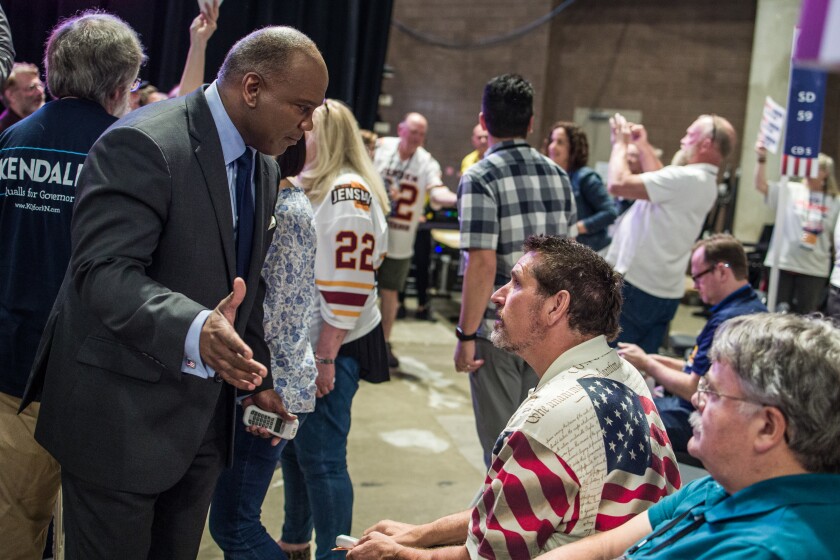 Jensen gained an edge over Qualls after Lexington Mayor Mike Murphy withdrew from the contest and endorsed Jensen, helping him secure victory in the ninth round of voting. Earlier on in the process, it was unclear if Jensen would clinch the endorsement, as he, Murphy and Qualls each had about one-third of the delegates' support.
Three other Republicans were seeking their party's endorsement for governor besides Jensen, Murphy and Qualls: former state Senate Majority Leader Paul Gazelka, former Hennepin County Sheriff Rich Stanek and dermatologist Neil Shah. Stanek did not attend the convention because he is recovering from serious injuries from a car crash.
The final hours of the convention were marked by controversy over Murphy's claim that the Qualls campaign offered him the position of lieutenant governor, but then withdrew the offer. Qualls denied Murphy's claim, saying Murphy instead approached his campaign about becoming a running mate.
With Jensen initially unable to gain the 60% of delegates he needed to gain the endorsement and a 6 p.m. deadline to end the convention, it appeared possible for a moment that the GOP wouldn't endorse a candidate for governor. Many attendees said the endorsement battle between Jensen and Qualls made for one of the most contentious and exciting state GOP conventions in recent years.
"This is the wildest convention I've seen," said Minneapolis delegate Andrew Schmitz, who has been attending Republican state conventions for over a decade.
Qualls did not appear on stage with Jensen when he gained the endorsement, raising questions over whether Jensen could face a continued challenge from his fellow Republican in the August primary. Later, Qualls issued a statement calling Murphy's claim a lie, saying his personal integrity was slandered and that his candidacy was "undermined by backroom politics."
"I want to thank the delegates and alternates to the Republican convention for their time and hard work. I entered the race as an outsider and the only veteran to bring integrity, business experience and bold leadership solutions to Minnesota," Qualls said. "Unfortunately, our efforts did not prevail."
Earlier in the convention, Shah bowed out of the contest to endorse Murphy and called Jensen a "gun grabber." Jensen has attracted criticism from gun rights advocates for his past support of legislation to expand background checks for firearms sales.
Ahead of the fifth round of voting, Jensen said if elected he would back constitutional carry of firearms and a "stand your ground" law in Minnesota. Later, Jensen told reporters it was a mistake to back gun control legislation and that he backed the bill because he was a "rookie" in the legislature.
GOP delegates convened for their convention at the Mayo Civic Center in Rochester Friday and endorsed candidates for attorney general, secretary of state and auditor. For attorney general, they selected Jim Schultz, a 36-year-old attorney new to politics who said he hopes to crack down on crime. While 2018 attorney general candidate and Mike Lindell attorney Doug Wardlow conceded in that endorsement contest, he has not yet said whether he plans to drop out of the primary in that race.
No Republican has won an election for statewide office in Minnesota since 2006.