How Mayo Clinic crashed the party, sharpening the dispute between hospitals and nurses
Hospitals say legislative bills would create an "existential crisis" for systems. Nurses say they need more say in staffing.
ROCHESTER — These are the facts: There is a severe nursing shortage, and the crisis is harming Minnesota hospitals' ability to deliver care to patients.
On that point, leaders of Minnesota hospitals and the nurses union agree. On everything else, there is wide and discordant disagreement, particularly on how to solve it.
And the disagreement, simmering for months in the Minnesota Legislature, reached a boiling point when two bills — the Keeping Nurses at the Bedside Act and a proposed Health Care Affordability Board — supported by the Minnesota Nurses Association was on the verge of passage.
That's when Mayo Clinic crashed the party, threatening to pull back on billions of dollars in planned investment, including what insiders claim are plans for a third hospital in Rochester. All hell broke loose. The stakes, already high, suddenly soared.
The views of hospital CEOs and nurses are so divergent on the impact of these two bills that in some areas they seem irreconcilable.
In a nutshell, nurses want greater say in staffing decisions to improve working conditions and stem the tide of nurses leaving the profession due to burnout. So horrible are working conditions that a large number of nurses leave the profession two years after entering it, said Mary Turner, president of the Minnesota Nurses Association.
"We have this drastic nursing shortage," she said. "It's not that we don't have the nurses. It's the horrible, horrible staffing conditions."
Hospital CEOs say the ideas supported by the nurses union to fix the problem would make the problem worse. More than 50% of Minnesota hospitals and health systems lost money last year. A mandate to hire more nurses and temp workers would push already financially strained hospitals toward a tipping point, forcing them to shut down units and curb services.
"The broad concern is that if these bills pass as written, nonprofit health care in Minnesota will be damaged forever," said Dr. Rahul Koranne, president of the Minnesota Hospital Association. "And the folks who will suffer are the patients."
Mayo Clinic is an outlier in the current hospital crisis. Unlike many nonprofits, it generated positive income last year. But like many hospitals, it saw an increase in staffing costs.
But Mayo's last-minute threat, throwing a wrench in the legislative process, has embittered and infuriated nurses and legislators who supported the legislation. And it raises questions about why Mayo, the state's biggest private employer, waited so long to get its point across. Could Mayo have weighed in earlier? Could it have helped avoid this train wreck?
"We have legislators in both the House and Senate that are just furious about Mayo swooping in at the last minute, kind of giving these ultimatums to the state," Turner said. "You either give us a big carve-out, kill the bill, or we take our multibillion-dollar project to Florida."
Koranne makes clear he is not speaking for Mayo when he warns about the grim condition of hospitals. Mayo, he said, can talk for itself.
"No matter if it's a tiny hospital up in Hallock, Minnesota, or a giant hospital in the Twin Cities or up in Duluth or everyone in between, the math doesn't work," he said about how the bills would impact nonprofits.
Mandating hospitals that are already "hanging by a financial thread" to hire more nurses would force local hospitals to start shutting down units and closing services, Korrane said. He argues that it would lead to a 15% reduction in hospital care across the state and impact 70,000 patients.
"The word that has been repeatedly used — and I completely agree with it — this is an existential crisis," he said. "And we want all the state leaders to understand that. Because if these bills pass, services are going to start getting shut down."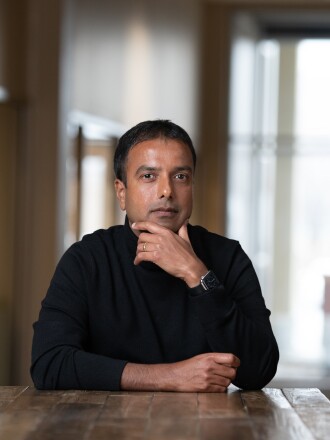 Korrane said that one of the biggest issues hospitals have with the bill that addresses nurse staffing is that a nurse could refuse to provide care to a patient "for any reason." The bill states that health care facilities are prohibited from taking action against a nurse if he or she believes that accepting an additional patient may "create an unnecessary danger to a patient's life, health or safety."
Moreover, disagreements between a nurse and hospital executive or a nurse leader would go to an arbitration process under the bill. Korrane said that hospitals are "completely opposed" to that provision, because it would take decision-making about patient care out of the hands of hospital professionals.
Adding to the problem, Korrane said, is the Health Care Affordability Board. The board would be tasked with setting health care spending growth targets for the state and recommend policy and market reforms that would slow the rate of growth in health care costs.
While the KNABA would essentially require hospitals to hire more nurses and increase their costs, the second bill would add a level of government oversight to spending that will "judge hospitals" on their costs.
"These two bills are directly asking for two different things, and they're happening at the same time," Koranne said. "And for hospitals trying to survive, it's going to be hard."
"We think decisions around patient care need to be made inside the walls of a hospital because they are so fluid, not outside in the legal process." Korrane said.
He said patient care depends on the collective decision-making of a care team that includes surgeons, physical therapists, nurses and social workers, but the effect of the bill would be to put the "spotlight" on just one professional of the care team.
Turner, president of the Minnesota Nurses Association, said the notion that nurses would somehow be invested with veto-authority over a hospital unit mischaracterizes the effect of the bill. What it does is it gives nurses 35% of input in staffing committees.
"That's all we're asking for," Turner said. "All we're asking for is a voice at the table. We're not asking to tell him how to run the hospital."
Turner says she doesn't know where hospitals came up with a figure that 70,000 patients would be denied care if the bedside bill passed, but she considers it made-up.
"We would never do that," Turner said, challenging the idea that nurses deny care in emergency departments. "That's not what this is about. We just want to be heard. How that translates into us stopping patients from coming into the hospital (is a mystery to me). But that is the narrative that they have spun this whole legislative session."
Turner said the whole thrust of KNABA is to get trained professionals to return to nursing. The legislation was created by 70 nurses who were asked: What would it take to get nurses to come back to the bedside? One workforce survey of 2,400 nurses who had left their jobs over staffing, she said, indicated they would return if they could have a say in staffing and conditions got better.
Under the bill, Minnesota hospitals would also receive a public grade reflecting data on patient care and whether they follow the staffing plans agreed to by the committees. Turner said the grade would bring transparency to hospitals. Ten years ago, the public wasn't aware of today's nursing shortage, but they are now because many spend hours in emergency rooms.
"The public wasn't aware of it a decade ago, but now they are because they are experiencing it," she said. "They deserve that transparency, but I know that they're against that, too."
Turner said KNABA supporters have tried to be flexible on the notion of an arbitrator or mediator resolving staffing disputes. But one sign that the status quo is no longer acceptable is the rise of adverse events due to understaffing. They are up 33%, she said.
"Let's think about this logically," she said. "This business that they just want to be able to treat patients even as nurses get less and less. You might as well not even go into the hospital because if I'm number 12 patient, you can bet your sweet boots, I'm not going to get any care."
Korrane doesn't dispute the crisis that nurses are experiencing. "Exhaustion is real. Stress and burnout are real," he said. He said the one provision in the bill that hospitals support is increasing scholarships and loan forgiveness for aspiring nurses. But instead of appropriating $5 million, as the bill does, it should be $50 million or $100 million.
Korrane said Minnesota used to be a state that placed trust in its hospitals and health care systems. Hospitals were at the frontlines during the COVID-19 virus, and Minnesota fared better than other states during the three years of the pandemic. But once COVID stabilized, something happened.
"Now it's regulations, mandates, and all the stuff we talked about. What happened to the trust that the Legislature and the state leadership placed in hospitals during COVID, when we were on the frontlines. This year, it does not feel like that," Korrane said.