Deadline looms as Minnesota lawmakers scramble to finish business at the Capitol
Lawmakers had just hours left to finish $8 billion in spending and tax plans before a midnight deadline and several large bills had not yet been wrapped up.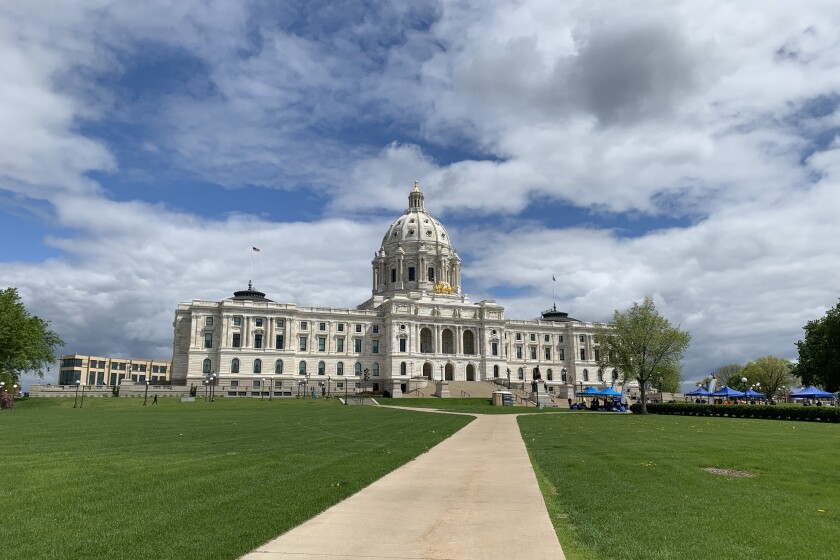 We are part of The Trust Project.
ST. PAUL — Plans to spend almost $4 billion for public schools, long-term care facilities, police agencies and other government services and pass a $3.9 billion tax package remained in limbo Sunday, May 22, as lawmakers entered the final hours of the Minnesota legislative session.
Legislators returned Sunday for the last day that they could vote on policy at the Capitol and as the clock ticked down, legislative leaders split on whether they could finish their work before midnight.
As of Sunday late evening, the largest spending plans for K-12 education, public safety and judiciary, health and human services and transportation remained stuck in negotiations between the Republican-led Senate and the Democratic-Farmer-Labor-led House of Representatives. And several other spending bills had not yet come up for a vote in the Legislature.
Senate Majority Leader Jeremy Miller, R-Winona, said lawmakers should try to push forward ahead of the 11:59 p.m. deadline. Issues were close to resolution, he said, and if negotiators could finish their plans in the early afternoon, there would be enough time to get them formatted and ready for action.
"The time to get serious is right now," Miller said on the Senate floor. "We're making progress. The challenge is (that) time is short."
Miller spent the afternoon and evening in closed negotiations with House Speaker Melissa Hortman, DFL-Brooklyn Park, and Gov. Tim Walz. The three said they were attempting to reach agreements on the supplemental budget bills that were stuck. Miller held out hope that lawmakers could pass a tax bill and multiple supplemental budget bills Sunday night but others raised doubts as the day slipped away.
Early in the day, Hortman told MPR News that she asked Gov. Tim Walz to call a short special session so that lawmakers could wrap up negotiations on the outstanding spending bills and then return to St. Paul to pass them. Walz had previously said he wouldn't call the Legislature back for overtime work and didn't immediately comment on how he would act.
House Majority Leader Ryan Winkler, DFL-Golden Valley, on Sunday evening said many of the bills would fall away if lawmakers didn't get additional time to take them up.
"We're going to keep trying to wrap up agreements on bills but there's no agreement yet on how we would process them," Winkler said. "If we're going to do them, it will be in a special session."
Miller rejected the call for a special session and said lawmakers should finish up their work Sunday.
"We are not interested in a special session. Whatever we can get done today, we'll get done," Miller told reporters.
The Legislature approved and the governor last year signed into law a budget that runs through next year, so lawmakers don't have to do anything this year. Typically, in even-numbered years lawmakers pass a borrowing bill to fund state and local projects and a supplemental budget.
Legislative leaders said they were getting close to a final bonding bill on Sunday afternoon, but that had not been made public as of 10:40 p.m.
A 'long shot' to get done on time
Legislative leaders and the governor on Monday presented a broad agreement to pass a $4 billion tax bill and $4 billion in new spending to several areas funded by state government using the state's historic budget surplus. But they left the details of where the money should go to legislative committee leads.
In the days since, several committees have deadlocked on the best way to spend those funds. And that could sink the entire framework — at least for now.
Hortman has said that that chamber would wait to vote on the tax bill until the spending proposals move through the Capitol. With the deadline approaching, the clock could run out before many of those bills reach the floor.
Senate Minority Leader Melisa López Franzen, DFL-Edina, on Sunday urged the Senate GOP to take up all spending bills before they close out the legislative session.
"The global agreement outlined tax relief, funding for our students and schools, funding for long-term care and seniors, public safety investments and a job-creating bonding bill," she said. "We cannot do one without doing them all. I urge my Republican colleagues to live up the agreement they made."
Lawmakers negotiating the spending bills late Sunday morning said that they were still working toward agreements that could send additional funds out to schools, nursing homes, disability services providers and others. But they weren't sure they could bridge the divides in ideas put forth by Democrats and Republicans within a matter of hours.
"I'm an optimist, but it's a long shot," Sen. Jim Abeler, R-Anoka, told reporters. Abeler is working with fellow legislators to write a $1 billion health and human services spending plan.
A day prior, leads of the tax conference committee announced their plan to fully eliminate the tax on Social Security, drop the state's lowest income tax bracket and boost other tax credits. They called on other committee leaders to finish up their work Sunday so that the full tax and spending package could make it across the finish line before their deadline.
"We came to a compromise and were able to get a historic tax bill, now we have to compromise on spending bills and move forward," Rep. Paul Marquart, DFL-Dilworth, said. "I would just hate to see this tax bill slip away."
Both the House and Senate approved funding bills for agriculture, broadband and drought relief, mental health supports, as well as veterans affairs, ahead of their deadline. Those bills move next to the governor for his signature.
Several incumbent state legislators, particularly in the Senate, edged out competitors with more extreme views on COVID-19, election security and more.
Follow Dana Ferguson on Twitter @bydanaferguson , call 651-290-0707 or email dferguson@forumcomm.com.