'Marquee' days mark interchange progress in Duluth
Ground improvements, creek-merging and steel placement among latest Twin Ports Interchange developments.
DULUTH — One of the defining design features of the new interstate project through Lincoln Park is the elimination of elevated sections of freeway.
Once rejected due to soft soils and a high water table along the St. Louis River Estuary, building the freeway at grade is now doable thanks to ground improvements driven deep into the earth.
"See those pink flags," said Pete Marthaler, noting rows of tiny survey flags punched into the ground. "We're going to put one on each one of those."
Marthaler is the Minnesota Department of Transportation's major projects manager in charge of the $343 million Twin Ports Interchange reconstruction project.
Last week, he showed the ground improvement work in action as heavy machines augered holes averaging 80 feet into the ground, until reaching what Marthaler called "geotechnically competent layers down below."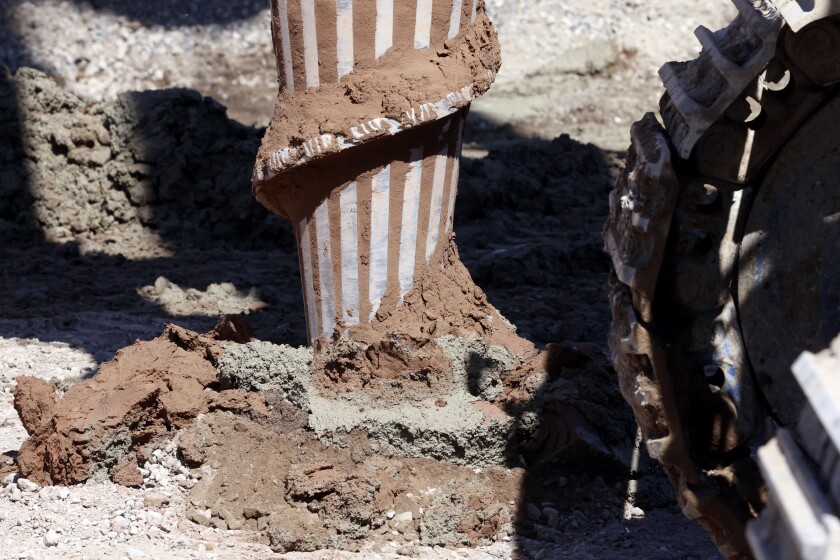 "(The operator) can stop when we've got soil hard enough down below that will restrain the columns from (further) settlement," Marthaler explained.
As the stem of the oversize bit is retracted, it injects grout into the 16-inch holes. The grout is a mixture of cement and sand, minus the gravel found in concrete. Crews average 20-40 columns a day. To date, the project features more than 45,000 feet of the load-bearing columns, which are fitted with a 36-inch concrete cap after a few days of curing.
"We need 180,000 feet," Marthaler said. "We've only got, like, 130,000 to go."
All told, roughly 2,200 columns will be featured on the project.
It's an expensive venture, but in the long run it'll be more cost-effective than maintaining miles worth of elevated roadway, which are considered bridges and require regular inspection and maintenance.
On the day the News Tribune visited, the sun was out, myriad cranes were moving and the vast workspace was populated with contractors doing tasks such as building concrete forms and moving riprap with an excavator to build a new creek bed.
"We issue a pay estimate to the contractor every two weeks and we're averaging $2-3 million every two weeks for labor, materials, fuel, equipment — everything," Marthaler said.
It's an indicator of what a massive project it is to rebuild and reconnect Interstate 35 with I-535, over the Blatnik Bridge, and U.S. Highway 53 through the Piedmont neighborhood.
"Three-million would be an enormous rural bridge," Marthaler said by comparison.
The first girders arrived on the project in April and are visible on what will be southbound I-35's flyover ramp to the Blatnik Bridge. Fabricated in Eau Claire, Wisconsin, the girders are 100% American steel designed to oxidize and provide their own protective surface for the finished girder. Marthaler compared the steel to that used on the high-mast electrical poles and lights found throughout the Twin Ports.
"That was a marquee day," he said of the arrival of girders over the Bong Bridge farther south on I-35. "There was some sense of completion as we're progressing forward."
A four-year project ticketed to wrap up in summer 2024, the interchange work features lots of retaining walls and steel piling to help segregate the new roadway from the neighboring BNSF railyard.
Marthaler led the tour to Coffee and Miller creeks, which are less than two weeks from being merged into both a newly built four-chamber culvert and new outlet into the river.
An excavator operator was busy building an open creek bed near the new outlet — "armoring" the creek bed with riprap.
"The (Department of Natural Resources) helped us design it," Marthaler said, noting a mixture of bigger and smaller rocks used to create "velocity breaks," so that spawning fish can take refuge behind larger rocks and build up energy to swim farther upstream.
The culvert, one of the largest pieces of work on the entire project, is nearly buried now, having been entirely fabricated on site using concrete forms.
"People will drive past that big box culvert and won't even know it's there," Marthaler said. "That's $25 million worth of work covered up by dirt."
Later this year, the current four lanes of I-35 will be shifted to what is now the open construction site. Once built, the new permanent lanes of I-35 will be at ground level and side by side, separated by a concrete barrier wall.
"All four (new) lanes will be active this fall," Marthaler said, allowing contractors to take down the rest of the old freeway and remove freeway traffic off of the temporary Lower Michigan street bypass.
Marthaler explained where different on- and off-ramps would be and when those would come online — the final ones opening in fall 2023. He could see things that were only partial abutments and half-built walls.
"I live here; it's my job," Marthaler said. "Spatial visualization is something an engineer has to be very good at."
Piers with slanted tops revealed clever details to come like banked turns, he explained.
The massive culvert will carry Miller and Coffee creeks underneath the I-35 roadway and out into the St. Louis River.
A final word on ground improvements: railroads have been using ground improvements for decades, employing steel and timber piles to fortify track in rural wetland-type areas.
"It's very labor-intensive and it's not cheap," Marthaler said, "but it's a long-term fix."
To finish bringing the roadway to grade will require the ground improvements to be covered with layers of construction fabric called "geogrid," and gravel anywhere from 2-3 feet thick.
"That becomes the platform we're able to build the whole roadway on top of," Marthaler said. "Once we build our (platform) that gives us free rein to build anything we need on top of it."