Long lost, now found: WWII Marine killed in Pacific finally coming home to Duluth
On a sunny afternoon this spring, around a table in her Duluth home overlooking Lake Superior, Mary Hagen, her son Jay Hagen, and Mary's companion, Lou Schindler, looked at a stack of old black-and-white photos.
On a sunny afternoon this spring, around a table in her Duluth home overlooking Lake Superior, Mary Hagen, her son Jay Hagen, and Mary's companion, Lou Schindler, looked at a stack of old black-and-white photos.
"Oh, he was so cute," Mary said.
She was looking at a photo of her brother, U.S. Marine Sgt. James Joseph Hubert.
"He went by Jim. I think he went by Jim," she said. "I mean, my sister always referred to him as Jim - 'my brother Jim.'"
Hubert had enlisted in the Marine Corps in 1940. He had already left for training when Mary was born in February 1941. They would never meet.
After Pearl Harbor was attacked on Dec. 7 that year, the U.S. entered World War II, and Hubert shipped out to the Pacific Theater. He fought in the Battle of Guadalcanal before serving in the Battle of Tarawa, a U.S. offensive on a small atoll. He was killed in action on Nov. 21, 1943. His body remained there, unidentified, for decades. But thanks to a nonprofit group's determination, DNA testing, and the government's repatriation efforts, Hubert's remains will find their final resting place back in Duluth.
- - -
The Battle of Tarawa saw thousands of casualties in a 72-hour period, and many were buried on the battlefield. Hubert was buried on a sandy coral beach on the island of Betio.
After the war, efforts were made to recover all soldiers' bodies, but fewer than half were recovered, according to information provided by the Hagen family. On Betio, all accounted graves were reinterred to the National Memorial Cemetery of the Pacific in Honolulu, often referred to as "The Punchbowl." But Hubert's remains were not among those found, and the military designated him to be "non-recoverable."
"My mother said a few things, but I was so young," said Mary, who was 2 when her brother died. "And then my mother died when I was 8, so I didn't really know too much."
"The one thing I remember, when my mother was still alive, was when the Purple Heart came," Mary said. "I don't remember how old I was, but I was probably no more than 4 or 5. I just remember her opening that up, and basically going down on the floor and crying."
Mary and James had another sibling, Elizabeth, who died in 1997.
"I think most of the stories were from my sister," Mary said, recalling that her brother and sister had a birthday two days apart. "She always told me, 'We shared the birthday cake.'"
Pointing to a photograph of a young boy holding a cake, Jay said, "I think that's what this one - it's Jimmy - the best I can read it says 'Happy Birthday Jimmy and Betty.'"
- - -
For the past 74 years, Hubert, or Uncle Jimmy, has remained a part of his family's life through such stories and photographs. The circumstances of his death and final resting place became a classification handed down by the government. But in 2015, History Flight, a nonprofit dedicated to recovering American soldiers lost in war and repatriating their remains on U.S. soil, recovered the remains of 35 Marines from an unmarked burial trench on Betio. Hubert was among them, recovered with various personal belongings: a compass, a jackknife, boots - and his still-legible dog tag.
Before this discovery, the Hagen family made some efforts to find Hubert's grave, mostly based on a photograph of a grave marker. In 2001, Mary traveled to Hawaii to visit that grave.
"We had such conflicting reports," Mary said. "Lou and I went to Hawaii because I carried around this picture (of the grave marker), and we were told he was buried in the Punchbowl. ... So when we got to Hawaii, I was walking all over that cemetery looking for my brother with no luck whatsoever."
Mary said they inquired with cemetery officials, who told her that her brother was considered missing in action, and his name was inscribed on a marble wall with all the others considered MIA.
"I said that's really unusual, because I thought he was buried; I have a picture." she said. "But we knew nothing about this being a missing grave - that he was in a missing grave. ... There were no bodies in there. But somebody put up crosses as a memorial."
Jay said with more research, he learned that the marker was from what was called a "beautification act," where attempts were made to reinter known graves on the island in one place, but eventually included markers for all known lost in the battle. Photos of the markers were sent to all the fallens' families.
- - -
Mary said she was contacted by History Flight concerning the remains found on Tarawa in 2015, and they inquired as to whether she would submit to DNA testing. She agreed.
While that did raise hope that her brother had been found, Jay added it was only two years prior that they were contacted by the Army about DNA samples regarding another relative lost in World War II, first cousin Rodney Owen. Mary and Jay both submitted samples.
"We never heard another word," she said.
There was no further clarification, Jay said, just another request for DNA samples. Mary added that all three of her living cousins also submitted samples. All were a match - for James Joseph Hubert.
Then no word was heard again until May 2016; Mary said a list was made of family members to contact, and she was not included. The family theorizes that records were unclear because of her mother's death. The Hagen family still has not heard about Owen's remains, but Jay thinks he found him in The Punchbowl.
"I don't know ... if the Army is still looking for him," he said. "I'm gonna tell them, I found him."
- - -
The U.S. government's Defense POW/MIA Accounting Agency will be paying for Hubert's reinterment. The family's options included any military cemetery, including Arlington National Cemetery. Because family members will be visiting from England this July, they're planning a ceremony for then. And they've chosen a location close to home.
"He's going to be coming home after all these years," Mary said, describing the event as bittersweet. "We will bring him back to Duluth and bury him where his mother is - my mother. There are a lot of other relatives that are also in Calvary Cemetery. We can honor them all."
TO PAY RESPECTS
Marine Sgt. James Joseph Hubert will be reinterred at the Soldiers Rest at Calvary Cemetery, 4820 Howard Gnesen Road, Duluth, on July 15 at 11 a.m. All are welcome to pay their respects.
For more information please contact Dougherty Funeral Home in Duluth, (218) 727-3555, Jay Hagen at hayjagen@aol.com , or Lou Schindler at lschind36@aol.com .
1
/
8:
Mary Hagen of Duluth holds a photo of her brother Marine Sgt. James Joseph Hubert, a World War II vet who died in battle in the South Pacific Island of Tarawa. DNA testing identified his long-lost remains that will be brought home to be buried this summer. Bob King / rking@duluthnews.com
2
/
8:
Mary Hagen talks about the discovery of the remains of her brother, World War II veteran Marine Sgt. James Joseph Hubert. Bob King / rking@duluthnews.com
3
/
8:
Marine Sgt. James Joseph Hubert is seen here before heading off to serve in the Pacific during World War II. Photo courtesy of Mary Hagen
4
/
8:
James Joseph Hubert and his cousin Virginia (Sutton) Watson. Photo courtesy of Mary Hagen
5
/
8:
Among many items recovered from Marine Sergeant James Joseph Hubert's remains was his dog tag. In the background is the Purple Heart he received. Bob King / rking@duluthnews.com
6
/
8:
Jay Hagen and his mother, Mary Hagen, talk about how their DNA samples were used to help identify the remains of Marine Sgt. James Joseph Hubert, Mary's brother who served in the Pacific during World War II. Bob King / rking@duluthnews.com
7
/
8:
Among Marine Sgt. James Joseph Hubert's remains was this rusted pocketknife with the folded blades still visible through the plastic bag. Bob King / rking@duluthnews.com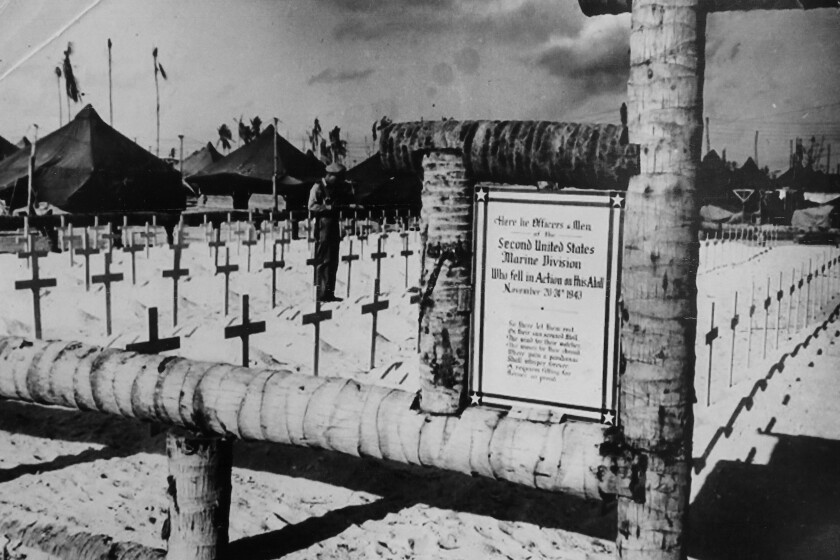 8
/
8:
This cemetery is for soldiers in the Second U.S. Marine Division who died in battle on Tarawa Atoll during World War II. Markers were placed for all the Marines who lost their lives, whether their remains were found or not. Photo courtesy of Mary Hagen