Weekly Wave: Nimble journalists pivot toward breaking news
It takes a room full of talented and nimble journalists to make our pages and website come alive with a mixture of stories and photos.
We are part of The Trust Project.
DULUTH — Last week I wrote about the joys of a variety-filled news cycle. That's the view from the editor's chair, but it takes a room full of talented and nimble journalists to make our pages and website come alive with a mixture of stories and photos.
That's especially true when they must pivot on a dime from one story to another. News Tribune reporter Laura Butterbrodt experienced that Wednesday while covering a rally for striking nurses. A fire broke out in a nearby building and just like that, Laura was covering breaking news. Reporter Peter Passi and digital producer Dan Williamson were headed to another assignment at the same time, but saw the smoke and drove toward the fire.
Back in the newsroom, reporter Jimmy Lovrien was writing a story on deadline, but changed course and helped craft the fire story from the reports and content we were receiving from the field.
All of them were on different assignments but deftly shifted to covering the fire before returning to their regularly scheduled deadlines. Passi followed up that initial fire story with a second-day account of a nurse who rushed into the building to help evacuate people living there.
As an editor, it's gratifying to work with journalists who so quickly and easily drop what they are doing to cover breaking news and provide essential information to our readers.
I hope you all have a great weekend and enjoy their work as much as I do.
Here are some DNT highlights from the past week:
Football coaches obsess over details, no matter how small or seemingly insignificant. They know all too well that a game's outcome often hinges on pigskin minutiae.
For instance, you can't have your kicker stuck wearing the wrong pair of shoes when it's time for an extra point or field goal attempt. So the well-oiled football machine at Northwestern High School in Maple, Wisconsin, found a solution to a shoe-switching conundrum for running back Tanner Kaufman when he goes from breaking tackles to splitting the uprights.
Student manager Adeline Pooler helps Kaufman switch from his football cleats to a square-toe shoe as much of a throwback at the one-bar facemask.
Credit eagle-eyed photographer Jed Carlson for catching this shoe swapping during a recent game and pitching the story to the DNT sports department.
It's a fun feature and a break from the Xs and Os.
You can read sports scribe Jamey Malcomb's story here (and catch photos from Carlson and a video from Dan Williamson).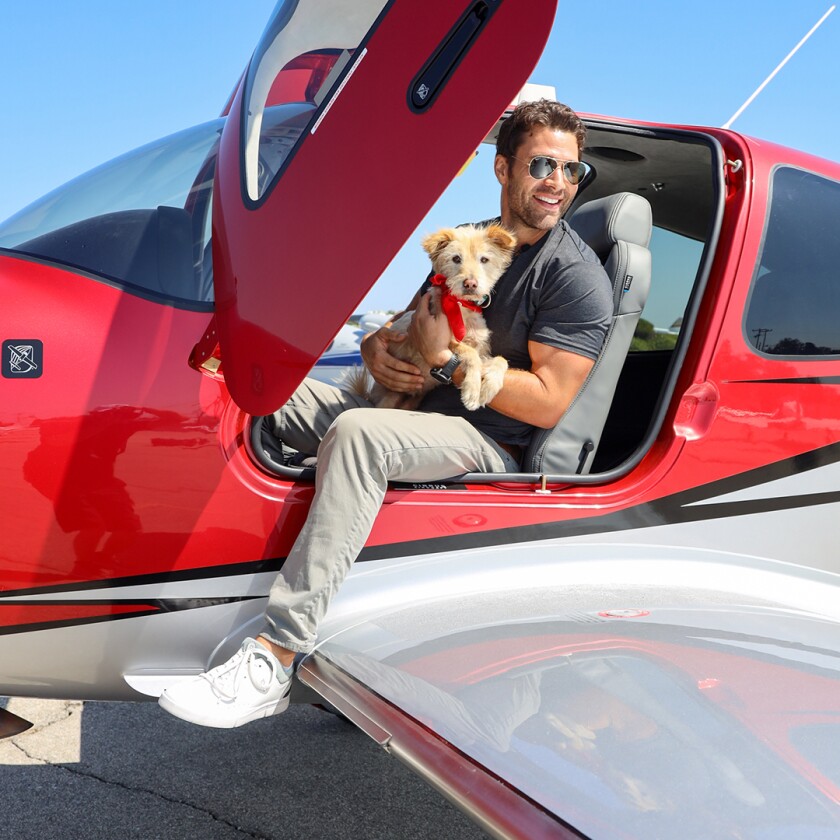 We'll do anything for our fur-bearing friends, including flying an airplane to rescue a dog from an animal shelter and delivering it to a good, loving home.
DNT news reporter Peter Passi has written countless stories about Duluth-based Cirrus Aircraft over the years, but this one is unique. Cirrus supports a rescue program called Pilots N Paws that "has saved more than 200,000 animals to date, and counting."
These pooch pilots have brightened the lives of many families and spared the lives of many dogs.
The dogs do have one small complaint, however. They're not allowed to stick their heads out the windows of the aircraft during the trips.
Hop aboard and take flight with Passi and rover here.
It sounds like the front end of a joke: A woman carrying a raccoon walks into a bar. …
But apparently the good denizens of the Maddock Bar in Maddock, North Dakota, took in a little show and tell recently while sipping their gin and tonics and listening to Garth Brooks' standards on the corner jukebox.
According to the Fargo Forum, a woman decided to take her raccoon to the bar. Talk about friends in low places.
Problem is, as cute as those little bandits are, they are a rabies threat, really aren't great at bar banter and can't hold their liquor.
It's also illegal to own a critter like that in North Dakota.
Bar management immediately followed protocol and the woman and her raccoon were booted faster than R2-D2 and C3PO from the "Star Wars" cantina.
To review, rescuing animals with Cirrus aircraft — good. Bringing your wild pet to a bar — frowned upon.
You can read more about "Rocky the Raccoon" (so nicknamed by the bar patrons) here.
Here are a few more stories from the past week I thought you may enjoy:

Editor's note: Weekly Wave is a newsletter that I publish every Friday morning. Please consider subscribing — it's free — and hits your inbox just once a week. You can sign up here.