University of Minnesota Duluth grad hopes to bring stories to life
Maren Friemann's theater work puts her near, but not in, the spotlight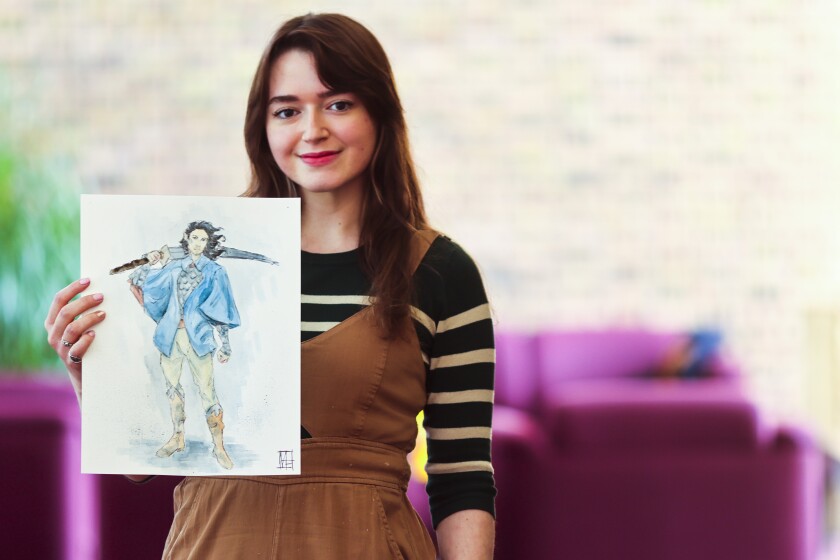 DULUTH — Maren Friemann holds up a pencil sketch of a figure resting a sword casually across his shoulders, fleshed out with layers of watercolor and ink. It only took her about two hours to finish as an exercise in her stage rendering techniques class, but it was more than 20 years in the making.
Friemann, 22, has turned a penchant for doodling in school notebooks into a fledgling career as an artist. She's set to be one of about 2,400 students scheduled to graduate from the University of Minnesota Duluth at the Duluth Entertainment Convention Center on Saturday. She hopes to end up designing sets and other theatrical accoutrements in the Minneapolis-St. Paul theater scene this fall.
"The thing that's most interesting to me about art," Friemann said, "is the way art brings stories to life."
That's partly why she likes illustration and animation, but, in the theater, actors can use and manipulate her work onstage.
"It's very real," Friemann said. She's tried her hand at acting, too, but found she prefers to design and build a world rather than inhabit it.
For "Firebringer," a musical comedy UMD students presented this spring about the discovery of fire, Friemann designed and built Snarl, a large saber-toothed tiger puppet made out of cardboard and hot glue that needed five people to operate.
Watching Snarl enter a scene felt like she was doing the same, Friemann said: Actors were manipulating the puppet's eyes and mouth, but she built the tiger and pored over its details. The puppet's eyes glowed green, and shining a pair of glowing dots onto the wall suggests that Snarl is lurking in the background, foreshadowing his sudden, violent introduction.
"Firebringer" audiences gasped when Friemann's Snarl burst through a screen onto the stage, she recalled, and they chuckled when an "Almighty Duck'' dramatically descended into a waiting actor's hands to deliver a blessing.
"Nobody knows who I am. I can sit in the back row and I get to witness them witness this," Friemann said with a laugh. "It's pretty cool."
The degree she's set to receive this weekend, though, is a bachelor of arts in education studies, a relic of her pre-pandemic plan to be a geography teacher. Friemann said she was drawn to geography because it touches so many other fields, including environmental studies, city design and agriculture. She worried, though, that a teaching career wouldn't leave enough room for her artwork, so to speak.
"The thing that I enjoyed the most was the idea of getting to give back to the community, which is something that I still really want to do," Friemann said of her former career path. "But I realized that I was feeling burnt out about teaching before I had even truly become a teacher."
Last fall, she switched from a teaching degree to an education studies one, and is set to graduate with four minors attached to it: theater, art, international studies, and environment, sustainability and geography.
Friemann isn't particularly picky about her career possibilities. The Guthrie Theater in downtown Minneapolis is an obvious idea, but the metro area is peppered with smaller venues.
"I'm not sure, exactly, where in the Cities I'm going to be," she said. "I am honestly curious about puppet theater after working on 'Firebringer,' so that's a potential. But, honestly, anywhere where I could do maybe some tech work or design work would be pretty cool."
You can reach Joe Bowen at 218-720-4172 or jbowen@duluthnews.com .