Tough contract negotiations linger over US Steel's Keetac celebration
United Steelworkers held a demonstration outside the mine, where company and state officials touted the planned $150 million DR-grade pellet plant.
We are part of The Trust Project.
KEEWATIN, Minn. — Top U.S. Steel officials descended on the Keetac iron ore mine and pellet processing plant Wednesday to celebrate starting construction on a $150 million direct-reduced-grade iron pellet plant.
But the event, attended by Gov. Tim Walz and many of his commissioners, was overshadowed by the Pittsburgh-based company's tense contract negotiations with the United Steelworkers, which represents employees at the company's Minntac and Keetac iron ore mines and pellet plants in Mountain Iron and Keewatin, respectively.
John Arbogast, USW District 11 staff representative, said the union was invited to participate in Wednesday's event but chose not to.
"It's sad U.S. Steel planned this celebration when we're in the middle of a contract war. … I would love to be there. We all would. This is very exciting news for the Iron Range," Arbogast said of the DR-grade plant. "This is huge."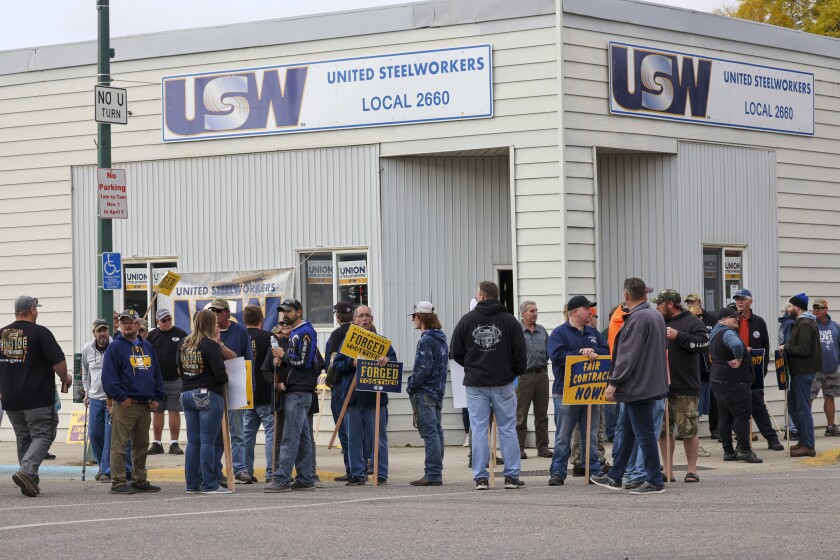 Instead, union members gathered at the intersection outside the union hall in downtown Keewatin and along the road to Keetac, with some signs reading "FDB" — or "Fair Deal Burritt."
U.S Steel CEO Dave Burritt would not speak with the press after Wednesday's event.
But through a spokesperson, the company said in a statement: "We appreciate our employees' dedication and respect their right to assemble. We continue to bargain with the USW in good faith and remain optimistic that we will reach an agreement that is best for all."
A sign of the tense negotiations, U.S. Steel last week filed a complaint with the National Labor Relations Board alleging USW was failing to bargain.
In a text updating members on negotiations, USW called the charges "frivolous."
Union Local presidents are headed to Pittsburgh to resume negotiations Thursday. The current contract has been extended since Aug. 30.
Another rally is planned for Saturday in Virginia. USW members and supporters are gathering at 10 a.m. at the east end of Chestnut Street East near the intersection with the Mesabi Trail before marching to Veterans Memorial Park, 403 First St. N., for a picnic and speakers.
The other iron mining company on the Iron Range, Cleveland-Cliffs, has already wrapped up negotiations with USW. Workers at two of its three USW-represented mines in Minnesota ratified their new contract last week with the third expected to vote on it this month.
The contract with Cliffs is being held up by USW as the example for U.S. Steel to follow, and Arbogast said union negotiations are pushing for what's in the Cliffs contract: a 20% raise over the contract's four-year term and $4 billion in USW-represented facilities during the contract.
But currently, the proposal by U.S. Steel is a 14% raise over four years and $1 billion in facility upgrades over that time period.
The Cliffs contract also got a sixth week of vacation, parental leave for both parents, recognition of Juneteenth as a holiday and language for victims of domestic abuse.
Additionally, Arbogast said U.S. Steel's health care would take Mayo Clinic and Essentia Health, the region's major health care provider, out of network.
"We are so far apart from where Cliffs is, with our pattern that's been established … we're not even close, we're miles apart on wages, pensions, health care, holidays … we got to get what Cliffs got," Arbogast said.
Keetac truck drivers Debra Wilson and Sam Sampsell, both single mothers, said a fair contract was important, especially after years of 12-hour shifts, overnight shifts and forced overtime.
"I think this is the hardest I've ever worked in my life," Sampsell said. "But it's also the most beneficial at the same time, and I think that's a hard thing to have at risk."
"We've worked our butts off," Wilson said.
After Wednesday's event, Gov. Tim Walz visited the USW members in Keewatin. He told the News Tribune the negotiation "process has to play out," but he said he told Burritt the USW is "the world's best workforce."
"The process is working," Walz said. "They're collectively bargaining for a good contract. I think certainly Dave (Burritt) knows that your workforce is your gold up here. And so I fully expect they'll get a good contract."
Construction has already started on the facility, which is expected to be operational in late 2023 and the first pellets produced in 2024, the company said.
Keetac has traditionally produced pellets for blast furnaces, but DR-grade pellets — with less silica and more iron — can serve as feedstock when making direct-reduced iron or hot-briquetted iron, which in turn supply electric arc furnaces making steel.
Electric furnaces are becoming more common in the steelmaking industry and use less carbon than blast furnaces.
Burritt said it "takes down the carbon footprint and creates jobs through feast and famine."
When the steel industry slumps, Keetac has long been the first U.S. Steel facility on the Iron Range to close and the last to reopen when it improves.
But the hope is that the new plant will help reduce those idlings and keep Keetac's approximately 400 employees working.
"When we build this facility, what this does is it levels out those peaks and valleys," Burritt said.
It's a hope shared by the union.
"The fact that Keetac is going to be technologically moving into the next century, this will secure Keetac's future where they won't have to be a swing facility and live by the up and downs," Arbogast said.