Teen sentenced to 12 years for Duluth shooting death
Family members sought justice for Juamada Anderson Jr., but also showed compassion for his young killer.
DULUTH — Patrick Wilson Battees Jr. was not granted the mercy he requested from a judge Wednesday. But the 19-year-old did receive a show of compassion from the family of the man he killed nearly two years ago.
"Even though you took a loved one from us, we're not wishing that you do life in prison," said LaVenda Vann, aunt of Juamada Keller Anderson Jr. "We just want you to seek help in prison and get the help you need. We know you were Juamada's best friend and we know it wasn't intentional."
Battees, appearing for sentencing two months after his murder conviction, was emotional as he turned to the woman seated a few chairs away and responded: "I'm sorry."
"I know you are," Vann replied.
Judge David Johnson rejected Battees' motion for a below-guideline prison term, but also declined to impose the highest allowable sentence requested by a prosecutor. He sent Battees to prison for the 12 ½ years recommended by state guidelines.
"I don't believe you deserved to be in the situation you were in," the judge told Battees, "but also you took it to a level you did not need to."
A Duluth jury in January found Battees guilty of unintentional second-degree murder and reckless discharge of a firearm in the Central Hillside neighborhood killing of his friend. The panel apparently rejected his self-defense claim, but did acquit him of a more-serious intentional second-degree murder charge.
It was undisputed that Battees shot into a crowd on the 100 block of East Third Street on the evening of May 22, 2021, accidentally killing Anderson, 22. The entire incident was captured on surveillance video and played to the jury.
Defense attorney J.D. Schmid noted that two other men, Markus Seville Morris and Laurel Larice Ladd, were the initial aggressors, physically confronting Battees as he casually conversed with Anderson on a relative's front porch. He argued that his client had little choice but to shoot out of fear for his life when he saw Ladd pass a handgun to Morris.
"I've often thought about what I'd do if I were in Mr. Battee's shoes in that situation," Schmid told the court. "And I know that I would've shot. I know that."
Schmid argued the appropriate sentence was one akin to first-degree manslaughter: just over seven years in prison.
"If he could go back in time, he would trade places with Mr. Anderson," he said. "Dying that day would have been better than living the rest of his life with the pain of knowing that he killed one of his best friends."
But St. Louis County prosecutor Nichole Carter sought the top-guideline term of 15 years, saying the case was not "any less serious than the typical felony murder." She noted Battees was the first to shoot, doing so into a crowd gathered on a public street at 7 p.m.
"What Mr. Battees did caused endangerment for several people — not just Mr. Anderson," Carter said. "Several people witnessed it. Several people were put in harm's way as a result of his actions."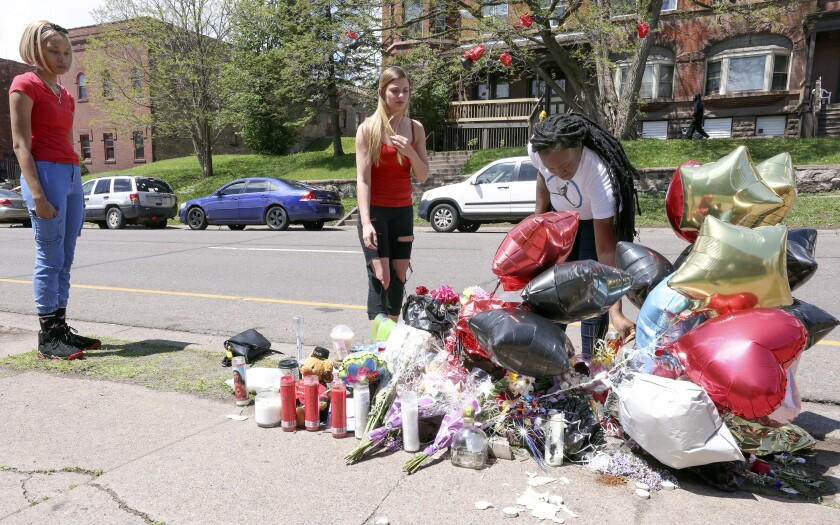 Juamada Anderson Sr. said he and his son were "inseparable" and lamented that he would never witness life events like graduating college or getting married. The father said the family has been "lost without him," enduring nightmares and mental health challenges.
"All I can ask for now is that my son gets the justice he needs," Anderson Sr. wrote in a letter that was read to the court. "I truly believe Patrick Battees is a danger to himself and others. I think if he is released back into society any time soon that he will continue down the path he was on."
Battees, 17 at the time of the murder, will still be a young man when he comes out of prison. With credit for time served and good behavior, he could be on supervised release by the time he is 26.
Vann, who was asked to speak on behalf of Anderson's mother and two siblings, expressed optimism that there is still time for him to turn his life around.
"We don't wish you any ill feelings," she said. "We hope you can go to school (in prison), get some degrees and come out a better man."
Battees again apologized, saying: "I'm sorry for hurting your family. If I could take it back I would. I'm really sorry for what I did."
Johnson acknowledged the "absolute nightmare" that Anderson's family has endured and said it has been a difficult case to handle. The judge earlier heard contested proceedings that resulted in Battees being certified to stand trial as an adult, and he said defense attorneys presented a strong case to the jury — leading to 10 hours of deliberations.
The judge, while acknowledging that Battees didn't start the fight, said one critical fact stood out after countless viewings of the shooting video.
"It occurred to me that Mr. Battees never flinched," Johnson said. "He didn't flinch. He wasn't shot at. He shot first. I believe the jury saw that, too."
Johnson earlier denied a motion to overturn the verdict, which Schmid described as "inconsistent." The judge said it was apparent the panel had rejected Battees' self-defense claim but also did not believe he acted with an intent to kill anyone.
Morris, Ladd and two other shooters, Tyrone Deshun Childs Sr., and Eddie Ezra Conyers Jr., also have been charged in connection with the case. Morris on Wednesday became the final defendant to plead guilty.