State to spend $240 million to help rid Duluth, other cities of lead lines
Gov. Tim Walz said communities such as Duluth will need financial assistance to afford the steep cost of replacing water pipes that pose a clear public health risk.
DULUTH — Local authorities were already planning to spend more than $5 million to replace lead water service lines this year.
But Gov. Tim Walz's visit Thursday to tout the state's recent legislative appropriation of $240 million to help communities bear the cost of replacing lead components in their water systems buoyed hopes that Duluth won't have to go it alone financially.
The bill would help cover a significant chunk of the approximately $1 billion it will take to replace an estimated 100,000 remaining lead-containing service lines in the state.
"We know, and the science is very clear on this and has been for some time: No amount of lead exposure is good, at all. It's a heavy metal that sits in the central nervous system," Walz said, suggesting that the cost of inaction is greater than that of removing lead from water systems.
"When we did a study with the Minnesota Department of Health in 2019, it's estimated that at a minimum, the cost of lead poisoning in decreased mental acuity, the cost that goes into dealing with behavioral and health outcomes is about $4 billion," he said.
Walz contrasted that with the $800 million-$1 billion it likely will cost the state to replace lead lines over the next decade.
"To do nothing will cost us $4 billion, and it will harm countless Minnesotans. This is just good stuff," he said. "Not to mention … all these projects are going to be done with union labor at a prevailing wage by skilled professionals."
Walz estimated the replacement work will keep about 4,500 workers busy for the next decade.
"The fact of the matter is, we all know that lead lines are bad for you, and they should be replaced," LIUNA (Laborers' International Union of North America) Local 1091 Duluth business manager Dan Olson said. "We have the opportunity to do it, and we want to be partners in it with LIUNA and all organized labor."
I know that we are ahead of other communities, in terms of how we are mapping and how we are learning about this and how we are strategizing around funding. But I also know we have a lot to learn.
Duluth Mayor Emily Larson
Walz toured an East Hillside neighborhood Thursday afternoon, where the city launched a $1.3 million pilot project last year to replace lead service lines along a six-block section of East Eighth Street. As part of that effort, the city agreed to use federal pandemic-relief funds to cover the replacement costs for private lines that would normally be considered the financial responsibility of homeowners. The anticipated cost is estimated to be an average of about $16,000 per residence.
State grants and loans should help to ease the city's financial burden.
State funds will be used to do the same, shielding residents from that hefty financial burden.
While work approaches completion on East Eighth Street, Duluth is looking to pick up the pace, with four projects involving a total of more than 600 homes in its Lincoln Park and Gary-New Duluth neighborhoods scheduled over the next couple years at a total estimated cost of about $10 million.
Yet, the scope of the problem is far larger, due largely to the relatively old age of Duluth's housing inventory.
Mayor Emily Larson said the city continues its efforts to identify every lead water service in Duluth, but predicted it may need to replace up to 9,000 individual lines. So far, she said the city has located about 6,500 local lead service lines, including one that delivers water to her own East Hillside home.
"This is something we have been working on," Larson said. "I know that we are ahead of other communities, in terms of how we are mapping and how we are learning about this and how we are strategizing around funding. But I also know we have a lot to learn."
State Sen. Jen McEwen introduced a bill to fund the replacement of lead water-service lines in Minnseota. President Joe Biden's infrastructure plan proposes doing the same nationwide.
Larson also acknowledged there is no quick fix for Duluth. The city faces obvious financial constraints as well as the challenge of scaling up work to match the immensity of the task at hand.
Walz said he aims to replace all lead water pipes in the state within a decade, and Jim Benning, director of public works and utilities, noted that could be an ambitious goal for the city. Duluth officials estimate it could cost more than $100 million for the city alone to reach the finish line.
In the meantime, Larson encourages people to request and use city-provided filtered water pitchers while waiting for lead lines to be replaced. She said her family filters its drinking water with such a pitcher and has seen its lead exposure levels cut in half.
John Maruska, an engineering technician for the city, said Duluth will continue to work from neighborhood to neighborhood, contacting residents by mail and making arrangements to access basements when replacement efforts begin.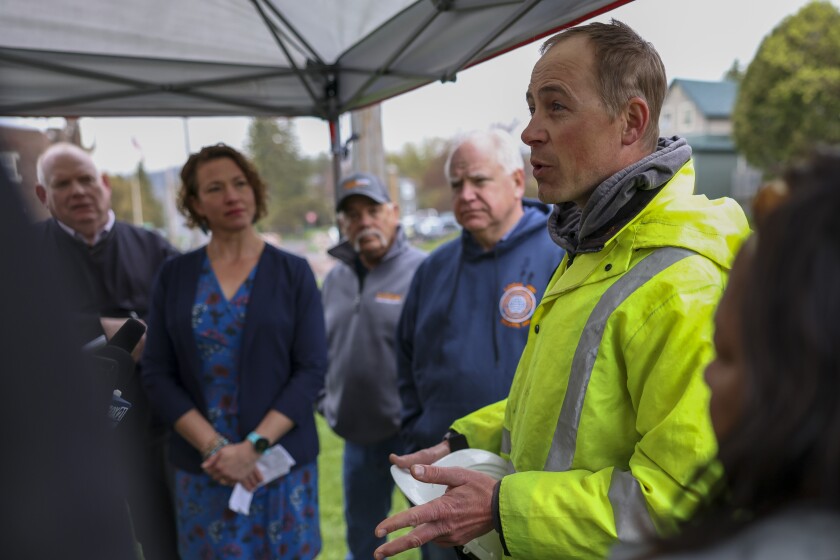 He said about a 2- by 2-foot section of basement floor will be removed. Then, two holes will be dug: one at the water main and another near the sidewalk at the valve for each residence. A crew then uses directional drilling equipment to connect all three openings so that a new piece of plastic water line can be pulled through.
Maruska said contractors will work to minimize the disruption of private property, but in areas where the geology is difficult to navigate with a drill, some trenching of yards may be necessary. Water service is typically returned to homes the same day.
In the interim, Maruska neighbors have generally been amenable to sharing a common line.
The $240 million recently allocated will be just the first tranche of funding required to rid Minnesota of lead water lines, but Walz pledged: "We will be the first state to get this done. Even though Michigan's really racing for it, because of course Flint showed us what happens when you don't."
Walz noted the Legislature demonstrated strong resolve for efforts to remove lead from the state's water systems, recognizing the need to protect public health, and only two lawmakers failed to support the allocation.
The filing period closed Tuesday. Absentee voting for local races will begin June 23.