St. Louis County declares victory over veteran homelessness
More than 100 veterans have been placed into permanent housing since 2014, and any future instances can be addressed rapidly, said city, county and state officials celebrating Thursday.
We are part of The Trust Project.
DULUTH — On a day that required organizers to set up chairs both indoors and outdoors — because skies both threatened rain and promised sunshine — city, county and state officials declared an end to veteran homelessness in St. Louis County, while committing to a battle they said would likely never end.
Gov. Tim Walz and functionaries throughout local government and veterans agencies came together by the dozens to declare victory in front of the Civic Center fountain in downtown Duluth on Tuesday.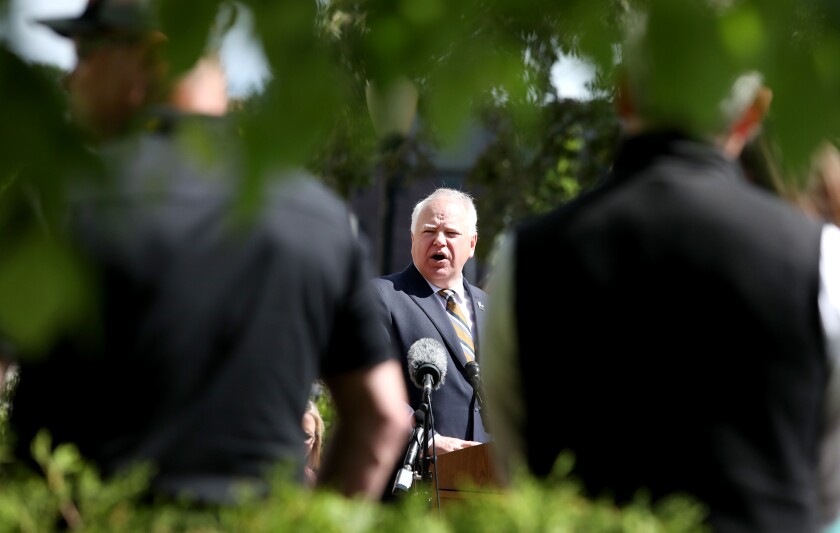 "We are here," said St. Louis County's Courtney Cochran, who moderated the event and serves as a coordinator for homeless services. "We have gotten to the point where we can effectively declare we have ended veterans homelessness in St. Louis County."
Duluth Mayor Emily Larson weighed in, representing the city's role as part of a widespread "continuum of care" anchored by St. Louis County and the Duluth office of the Minnesota Assistance Council for Veterans.
"These wins are very hard fought — as is the service of people who have served our country," Larson said. "So, it's a terrific match."
Officially, the county has housed 109 veterans since a federal declaration in 2014 to end veterans homelessness, according to figures provided by the Minnesota Department of Veterans Affairs.
St. Louis County is the 85th county of 87 total in the state to make its declaration. The state's two largest counties, Hennepin and Ramsey, remain works in progress as Walz tries to lead Minnesota to become the fourth state in the nation to declare its ability to address a veteran's homelessness within 90 days of a report.
"This isn't just about a physical place," Walz said. "This is about prevention, and all of the wrap-around services that make that happen."
Walz called the Minnesota Assistance Council for Veterans the most effective organization he's ever worked with, and said the regionalized program for targeting specific people can work across other populations struggling with homelessness.
"We've got a model that is replicable," Walz said.
Walz and others returned to a theme that people who served their country won't be left behind when it comes to being housed and cared for.
"If you're willing to serve us," Walz said, "we're not going to leave anyone behind."
Officials were careful to say that homelessness hadn't been eradicated among military service veterans.
"We know this declaration does not mean veterans will not experience homelessness in St. Louis County," Cochran said. "It means we have systems in place to rapidly help any veterans who want that help."
Eight veterans remain on a registry of local veterans in need of homes that's revisited every two weeks, said Paul Pedersen, a Duluth-based case manager for Minnesota Assistance Council for Veterans.
"We're doing this one veteran at a time," Pedersen said.
He described veterans in need as generally prideful and also self-sufficient in ways that can make it difficult for them to seek help. The regional outlets that work together to lift up veterans don't do it alone. The veterans "carry their own sack," Pedersen said, meaning they help themselves as much as anyone.
Dan Couture is a social worker at the Twin Ports VA Clinic in Superior. He was singled out during the ceremony as a key figure locally, responsible for 20 vouchers for housing — all of which are filled and being used by veterans for as long as they need it, he said.
A bus tour last week highlighted new depths to the unsheltered living crisis in the Northland, while also offering hope in the form of cutting-edge solutions and a five-year plan to add housing capacity.
"I have immediate access to vouchers to be able to have veterans apply that toward housing," Couture said, explaining how veterans can move to the front of a subsidized housing line and avoid the roughly two-year wait for public housing.
"They appreciate having a roof over their head," Couture added. "It definitely provides some dignity to people who have been literally homeless, living on the street, to get into permanent housing."
Officials said they were confident they were up to date in identifying every veteran in need of help they could find in the county, and called on the community to raise their hands for others who remain isolated.
"We need landlords, too," said Pedersen, calling for housing units to be made available for veterans. "This may be a celebration today, but it's also a call to order."
St. Louis County Board Chair Paul McDonald spoke about the difficulty in identifying people in need across such a widespread county with lots of former service members.
"I am particularly appreciative of our team's effort to ensure we can serve any veteran experiencing homelessness no matter where they are within the large geographic space that is St. Louis County," McDonald said. "Likewise, I want to encourage our veterans to contact any of the four Veterans Service Offices in our county, as they are there to serve you."
Any veteran — or anyone concerned about a veteran — who is experiencing homelessness or at risk, can get connected to resources by calling 1-888-546-5838 or United Way 211, or by contacting the St. Louis County Veterans Service Office.