Sold-out All Pints North brewery festival fills Bayfront Festival Park
The 10th Minnesota Craft Brewers Guild festival sold about 4,500 tickets and had more than 100 Minnesota breweries and brew pubs in attendance.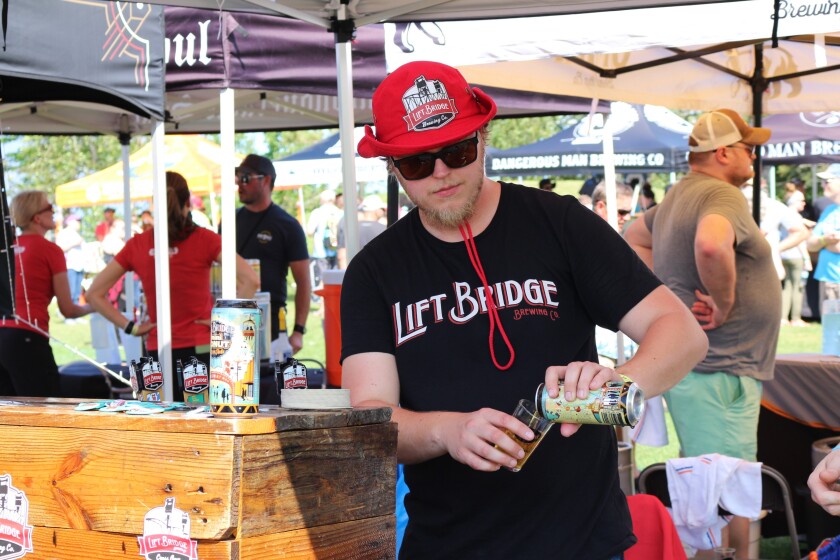 We are part of The Trust Project.
DULUTH — Bayfront Festival Park was filled with beer, people, beer, pretzel necklaces and more beer on Saturday during the sold-out All Pints North brewery festival from the Minnesota Craft Brewers Guild. More than 100 Minnesota breweries, cideries and brew pubs were pouring drinks on the warm July afternoon.
Michael Gill, head brewer at Lake Monster Brewing from St. Paul, said All Pints North is a festival that brings the nerdy side out of beer enthusiasts across Minnesota.
"A lot of other festivals, people kind of come out to party," Gill said. "This festival, while there is a sense of enthusiasm and partying, there's much more of a sense of appreciation for the craft beer. I get more questions about ingredients and I get more opportunities to nerd out with home brewers, and that's something that's a little bit different than many of the other festivals."
About 4,500 tickets were sold for the event, which also had local vendors and food trucks present. Minneapolis cover band Viva Knievel provided live music during the festival.
For Shay Powers and Jamie Snyder of Duluth, All Pints North has become a tradition for them to attend together. Snyder said she enjoys visiting the "classics," including Fulton of Minneapolis and Castle Danger Brewery of Two Harbors, while Powers' favorite brewery is Cold Spring's Third Street Brewhouse.
"The Island City Mrs. Sippi (fruit beer) was super good," Powers said of her favorite she'd tried so far at the festival this year. Island City Brewing Co. is from Winona.
Donny Narow of Chisago City said he was looking forward to supporting his local brewery, Uncommon Loon, but enjoyed trying new beers —especially Ben's Minnesota Martini lager from Alloy Brewing Company in Coon Rapids.
Hastings' Spiral Brewery sales representative Joel Stricker said this was his first time serving at All Pints North, and it was fun to experience the contrast in weather to the Winter Beer Dabbler festival held at the Minnesota State Fairgrounds in February. He was looking forward to promoting Spiral's Downward Spiral IPA and seasonal Hollywood Hills hefeweizen to new people during all Pints North.
"It's great weather, it's great music, we've got food trucks hanging out — great all around," Sean Ferguson of Duluth said of the Saturday afternoon festivities.