Silver Bay aims to become next North Shore destination
City and business leaders have big plans to bring housing, vacation rentals, shopping and dining amenities to a long-underutilized Lake Superior shoreline.
We are part of The Trust Project.
SILVER BAY — John Anderson has owned a parcel of lakefront property here for 17 years.
For the Twin Cities-based builder, it's long been a dream to bring development to the northeastern edge of the city — a company town that has never quite embraced its prime location along Lake Superior, halfway between Duluth and Grand Marais.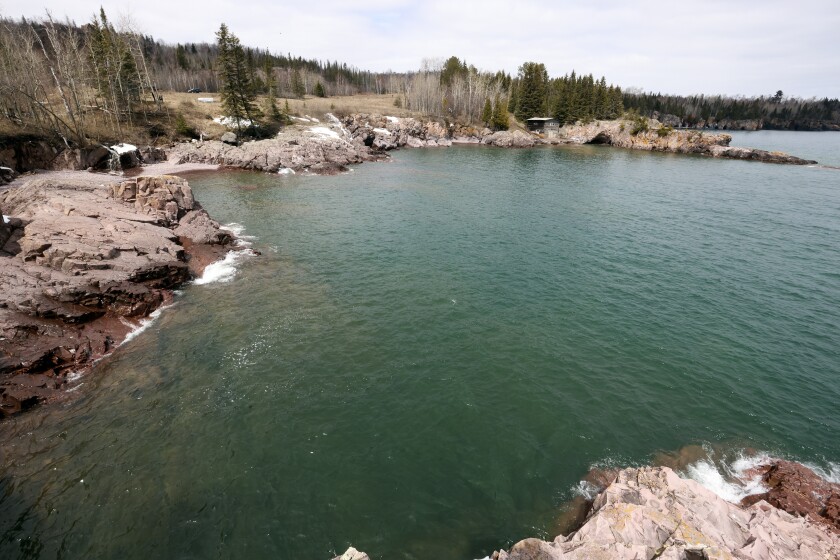 But plans have kicked into high gear over the past two years — in large part due to an ambitious vision rolled out by city leaders — and Anderson is now thinking bigger than ever.
Over the next five years, he hopes to bring some 50 homes and rental units to the site, along with event and wellness centers and a mini-storage facility, all under the banner of " Boathouse Bay ." And that's just the first development of several envisioned by officials to reinvigorate the city of 1,857.
"This is as good as it gets right here," Anderson said on a recent visit, looking out at an undisturbed lakeshore. "We get to build a whole 'nother kind of small city here. That's the exciting thing about this."
For the city, the project is expected to be a major step in unlocking the long-unrealized potential of a waterfront business park first envisioned roughly 30 years ago, as leaders seek to grow the local tax base and reinvent Silver Bay as a destination for residents and tourists alike.
"We're proud of being a small town and we are proud of being a small company town," City Administrator Lana Fralich said. "But we also recognize that we have things to offer and that people want to be here."
From industrial to recreational
Silver Bay is a relatively new city, incorporated in 1954 to support the taconite-processing plant that still dominates the area's economy.
It's unique as far as the North Shore goes — the residential area built up a hill, away from the lake, without conveniently located gift shops, restaurants and scenic areas to entice visitors heading up Minnesota Highway 61.
The city has long owned most of the undeveloped property that sits to the north of the mine property and Black Beach, with its original intention to establish an industrial park, said David Drown, the city's economic development director. But aside from a failed aquaponics venture, little has ever transpired on the site.
Officials said things started to change when the city took control of Black Beach, privately owned property that was never technically open to the public. A campground was added in 2020, receiving overwhelming demand amid the onset of the COVID-19 pandemic, and a mini-golf course and adventure park have joined the fold.
That prompted city officials to take another look at the industrial park, establishing an advisory board to draw up plans for a new vision of the waterfront area. Along with the Boathouse Bay project, the plan envisions a large nature preserve with recreational trails, additional resort rentals and a village-style shopping and dining complex.
"It no longer envisions industrial development of any kind," Drown said. "It recognizes and values this as a place for visitors to come and play."
Boathouse Bay coming soon
Anderson hopes to break ground on Boathouse Bay in late May or early June and complete the first phase of the nearly $20 million development by the end of the year.
The project, taking its name from an old boathouse located on neighboring property, will feature a "rustic modern" design along approximately 500 feet of lakeshore.
Once completed, the area nearest the lake will feature 24 villas in 12 buildings. They will be sold to private owners, who in turn can opt to place them into a rental pool.
Further back will be 18 bungalows, which Anderson will own and make available for rent through a management company. Also planned is a lot with seven single-family homes.
Eventually, Anderson intends to construct the event and wellness centers and more than 100 units of commercial storage, which he said will serve as a buffer between the highway and housing development.
"We've crafted this all to fit into the existing wetlands that are here," Anderson noted. "We don't have to ask for variances to do our building. We're not coming in here and clear-cutting everything. We're selectively intersecting all this stuff."
Anderson said he was inspired to "think bigger" by city officials, who agreed to sell him additional land for $1, contingent upon the completion of the project within five years. Silver Bay also is extending its municipal sewer and water lines to the business park, and the developer said he's excited by the prospect of additional projects in the area.
"People are going to start to see that Silver Bay really has their act together," Anderson said. "I think that one of the things that's really undersold in Silver Bay is its amenities. They have their own golf course. They've got their hockey rink. They've got a first-class marina down here. They've got a grocery store. There's a drugstore. This is like a little gem. It's a beautiful community."
The Iron Range Resources and Rehabilitation Board recently chipped in more than $900,000 in grant funding to support the expansion of city infrastructure.
"This is a huge project from a housing perspective," said community development representative Chris Ismil. "And it also sits within the city limits of Silver Bay, so that's a tax base piece we look at. We know from a tourist perspective, folks drive by the entrance of Silver Bay to head up to Lutsen or Grand Marais, and this is continued development at the doorstep of Silver Bay to allow folks to enter their city and spend dollars within their city."
City invests in infrastructure
Silver Bay is planning to spend approximately $2 million on infrastructure expansion to support and encourage development in the business park, Drown said.
It's a big number for a small city, but officials say they see potential for the area to really take off in the coming years.
"If things work out according to schedule, before the end of the decade all of this public investment will be paid off using tax increments generated by this new housing development, and it will go back on the tax rolls," Drown said. "Best estimate right now, we're looking at property tax revenue collectively totaling about $400,000 a year (from Boathouse Bay alone). To put that in perspective, the city's total levy is somewhere around $1.5 million, so this represents a significant boost in property base."
The development director said the city is still looking for a suitor to build a proposed resort to the north of Boathouse Bay, which would first require the annexation and purchase of land outside city limits. Even trickier will be the planned Fisherman's Village area to the south, which would require roughly 15-20 businesses to come together and occupy a clustered space.
"But we're heartened that we're getting some preliminary interest, particularly with business folks, who are saying, 'Yeah, we'd like a presence in Silver Bay,'" Drown said. "The world is discovering Silver Bay and the rest of the North Shore, and this is an opportunity, so it seems to be the right concept at the right time."
Drown, a longtime financial and economic consultant around the state, took on a "basically pro bono" role with the city in early 2021, having moved from his Minneapolis home to his North Shore cabin amid the pandemic and civil unrest of 2020.
Fralich, the city administrator, said Drown has been instrumental in reshaping the city's vision, along with the elected members of the City Council.
"We are a mining town, and obviously the threat of a shutdown is always here," she said. "So we want to look at what we can do to diversify our community for future sustainability."
More housing, downtown improvements sought
Meanwhile, the city is aiming to spur housing construction with a cash incentive plan that will give 10% back to anyone who agrees to build a new unit in Silver Bay this year — increasing to 15% if the owner makes it their primary residence.
Drown said it's a dire need in the city, where most units are "small, cheap homes that were built by the mine 70 years ago."
"It's, to my knowledge, the most aggressive housing development proposal I've ever seen," Drown said, "and I've been working as a consultant for 30 years."
Elsewhere, the city is playing developer for approximately 40 residential lots on 100 acres of land it owns near the municipal golf course. Drown said those lots are available at market-rate prices and will also serve to boost property tax revenues.
"What we may see is new homes built out there, freeing up homes in our central residential areas that are affordable enough for workforce housing," he said.
Also on the horizon is a deep look at Silver Bay's downtown business district, housing stock, recreational services and how an expanded tourism sector can interact with the existing residential area. The Minnesota Design Team, a volunteer group of architects, planners and other professionals, has agreed to visit the city May 20-21 to hear community feedback and help flesh out a vision for the future.
Officials said they hope that process can alleviate any fears that the city is moving too aggressively toward a tourism-based industry.
"There's a lot of variable components that kind of have to work together and align the stars," Fralich said. "We love our natural resources around here, and we don't necessarily want to be overdeveloped and lose that quality of life. But we also want to do good, planned development. So we need to take the time to make sure we're doing the things that make sense for our community and that people can come enjoy them here."
"The part that is not resolved is not going to be resolved ever," the victim's daughter said after the sentencing. "He's obviously not going to admit to this at all, whatsoever."