Operation K-9 returns to Superior
The event will include demonstrations, family activities and a meet-and-greet with K-9 officers from throughout the Northland.
We are part of The Trust Project.
SUPERIOR — Where most Superior Police Officers store their stop strips, vests and fire extinguisher in the rear of the vehicle, Officer Tyler Rude stores toys. Lots of toys. Dog toys.
On Monday, Aug. 1, the collection included rubber balls, tug toys, a heavy-duty Kong and two new yellow rubber balls with a rope attached for distance throwing — ready for duty if Rude's K-9 partner Radik chewed the rope off his current toy.
The 2-year-old German shepherd/Malinois mix is a handful, Rude said. Radik is not a fan of early mornings, and he has been known to chew up sprinklers and hoses. But he has a keen nose, a love of toys, a drive to work and a social personality. The pair have gotten comfortable with each other and found their stride, Rude said.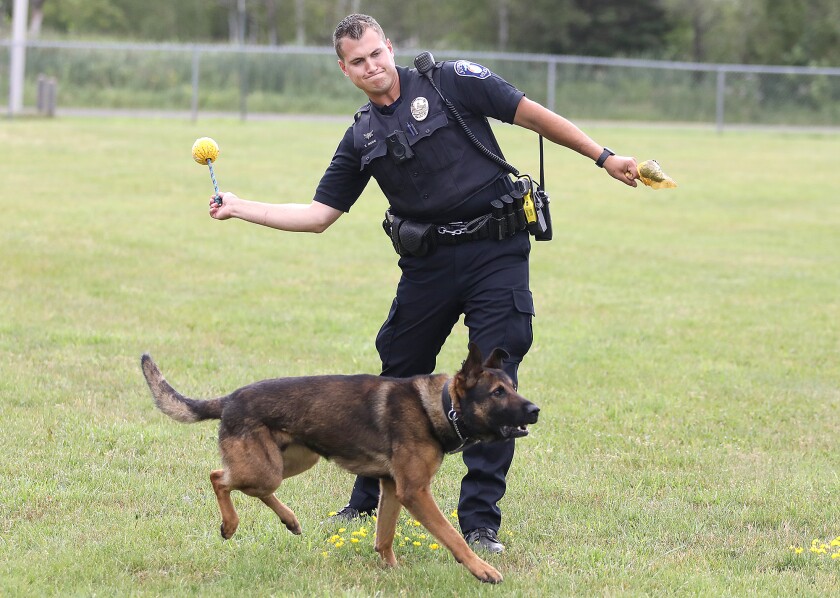 In April, they traveled to Stillwater, Minnesota, for narcotics certification. A dual-purpose K-9, Radik is trained in narcotics detection and patrol work. Of the 55 dogs being certified, Radik received a perfect score and placed fourth for speed.
"That kind of caught me by surprise, because all I wanted to do was certify and pass," said Rude, who chalked it up to beginner's luck.
What has been his proudest moment working with Radik?
"Quite honestly, probably just the relationship that he and I have developed, you know. Like I said, it's kind of a bond that's unmatched with any other person or any other dog, really," Rude said.
That bond will be on display during Operation K-9, which takes place from 4-7:30 p.m. Aug. 11 at Ole Haugsrud Field on the University of Wisconsin-Superior campus. The annual event is organized by the nonprofit Amsoil Northland Law Enforcement K-9 Foundation .
Visitors can expect K-9 demonstrations, a display of law enforcement vehicles and family-friendly activities, including a bouncy house. Food, refreshments and souvenirs will be available for sale, and a silent auction will be held.
Funds raised from the event support the K-9 units of the Douglas County Sheriff's Office, Superior Police Department, Duluth Police Department, Hermantown Police Department and St. Louis County Sheriff's Office. One new item for purchase this year will be a 16-month calendar featuring the area K-9 teams. It's the second time the nonprofit has compiled a calendar.
"That was a labor of love," said Robbin Champaigne, president of the K-9 Foundation board.
She was prompted to get involved with the nonprofit after attending the first Operation K-9 event.
"We are so blessed to have the officers and these four-legged officers, these K-9s, in our agencies helping to keep the streets safe," Champaigne said, and she loves being able to support them. "My heart just fills with pride when I watch them; they're so amazing."
Thirteen of the 15 area K-9 teams will give demonstrations of their abilities Aug. 11. That includes two new four-legged officers, Maverick, a single-purpose drug dog with the Duluth Police Department, and Thor, a dual-purpose dog with the St. Louis County Sheriff's Office. The demonstrations are designed to take visitors on a journey that shows how the training the dogs receive translates into real-life scenarios.
"It's magnificent to watch the dogs, but it's even more magnificent to understand the journey and the why as to, you know, why they're so valuable in our communities," Champaigne said.
Nine of the K-9 teams are expected to take part in a meet-and-greet following the demonstrations. People can meet the K-9s, get their picture taken with the dogs and receive a copy of their trading cards.
Radik and Officer Rude will participate in a number of demonstrations, including obedience, a bite series with recall and a surprise scenario, as well as the meet-and-greet.
"It's important, I think, for the taxpayer, the public to see what the dogs are capable of, but also to see that they're friendly, too," Rude said.
For Radik, the prize for each successful demonstration is a Kong or a rubber ball, with or without a rope.
"To the dogs, this is just a game to them," Champaigne said.
Visit the Amsoil Northland Law Enforcement K-9 Foundation website or Facebook page for more information.