Nonprofit shooting range for veterans, people with disabilities to open in Aitkin County
Forgotten Heroes Ranges and Retreat in McGregor aims to provide a sense of camaraderie, dignity and hope to veterans and individuals with disabilities.
We are part of The Trust Project.
MCGREGOR — A new, fully handicap-accessible rifle, pistol and archery range designed for veterans and individuals with disabilities will soon be available in north-central Minnesota.
The project is headed by Forgotten Heroes Ranges and Retreat , a nonprofit formed in memory of Chuck Evancevich, a nine-year Air Force veteran who spent the final 12 years of his life in a wheelchair after being diagnosed with primary progressive multiple sclerosis.
The public is welcome to attend the groundbreaking ceremony for the range at 2 p.m. Sunday at 23796 450th St.
A memorial tree will also be planted in honor of Army National Guard Staff Sgt. Adam Sheda . In 2007, Adam returned home from an 18-month deployment to Iraq. A week later he was shot and killed in Duluth. The tree is being donated by his father, Navy veteran Tony Sheda, 80, of Wrenshall.
"Bret has gone above and beyond," said Tony. "Sometimes it's hard for veterans to talk, but when we get among each other we know we're among a brotherhood. We can get together at his retreat and have a lot of fun. I always had this idea of planting a tree for a veteran that you can always come and visit, meditate, and the tree can grow and grow."
An active athlete and avid outdoorsman prior to becoming disabled, Chuck graduated from the Air Force Academy where he played hockey for four years and went on to serve as a program manager during peacetime. The Minnesota Twins and Cincinnati Reds recruited him for pitching, and he was pursued by football and hockey teams as well, said Chuck's widow and vice president of Forgotten Heroes Ranges and Retreat, Brenda Evancevich, of Babbitt.
"He went from being very active in his community and coaching sports, until he was diagnosed with MS and ended up needing 24-hour care. The VA wanted to put him in a nursing home, so I walked away from my job to take care of him full time," Brenda said.
At the time, Brenda worked for Minntac in Mountain Iron where she befriended coworker Bret Sample, a retired Army veteran from McGregor. Sample served 17 years as a weapons specialist, finishing the remainder of his 21 years of service as a recruiter. A cancer survivor and disabled veteran with post-traumatic stress disorder himself, Sample became a good friend of the Evancevich family.
"Life as Chuck knew it was a struggle," said Brenda. "I thought I was empathetic toward the handicapped, but I had no idea at how inaccessible this world was until my husband went into a wheelchair."
Forgotten Heroes Ranges and Retreat President Sample added, "Once they go in a chair, they're done. They can't go out and enjoy every day like we can. To get out in the woods or on a boat was a feat."
Still, Chuck found peace while partaking in outdoor activities. During the last three years of Chuck's life, Brenda's brother, Allan Porisch, moved in with the couple and began building tools to enable Chuck to continue his favorite activities, like hunting and fishing.
"My brother built things for Chuck's wheelchair that would hold his gun. We'd strap his wheelchair to the truck bed, take 2-by-8 wood sheets and lay them back to back to get him out into the woods to a clearing. Then we'd put up the pop-up blind around us and go hunting," Brenda said. "Chuck looked forward to it every single time."
Chuck dreamed of having a handicapped-accessible hunting retreat so disabled veterans like himself could still get outside and enjoy nature, Brenda said. After his death in 2020, family and friends set out to make his dream a reality — a retreat with the addition of the shooting range made just for disabled individuals and veterans.
Forgotten Heroes Ranges and Retreat was formed to empower disabled veterans and individuals who are no longer able to actively participate in outdoor activities due to their limitations by giving them the ability to use ranges for rifles, pistols and archery that are free and accessible, while providing an opportunity for fellowship and camaraderie.
The organization aims to provide a sense of dignity and hope to those struggling with disabilities, Brenda said. Priority will be given to all disabled veterans, anyone who is handicapped, law enforcement, first responders and all their families and caretakers.
"Suicide rates among veterans is high, and for those in wheelchairs is higher yet. If we save one life it is worth every dime," said Sample.
Sample purchased 35 acres and signed the land over to Forgotten Heroes Ranges and Retreat. After over 9,000 volunteer hours and more than a dozen 40-yard dumpsters, the site of the former dump is 95% cleared, Sample said.
With building permits obtained, the next step of the project is to dig ponds to build berms and create shooting lanes for the range. Forgotten Heroes Ranges and Retreat has been working closely with Aitkin County Planning and Zoning, the Minnesota Department of Natural Resources, and National Rifle Association for design input and specifications, Sample said.
"It has been a trying time. It's been a lot of struggles and learning, but it's getting there," Sample said. "This may be a hard time to do it because of politics and the cost of everything. But this is not about politics. This isn't about hate. This is about love. This is about humans helping humans."
From area businesses donating equipment and employee volunteer hours, to restaurants selling merchandise and hosting spaghetti feeds to raise funds, to neighbors helping clean up the land — Sample said people are coming out of the woodwork in support of the cause.
"The outpour of community support has been humbling," Brenda added. "This is everybody's. I know what we're doing is the right thing when everyone takes ownership."
Sample also teaches permit to carry classes, and all proceeds are donated to Forgotten Heroes Range and Retreat. So far, over $40,000 in donations have been raised for the project, in addition to a $20,000 vehicle, Sample said.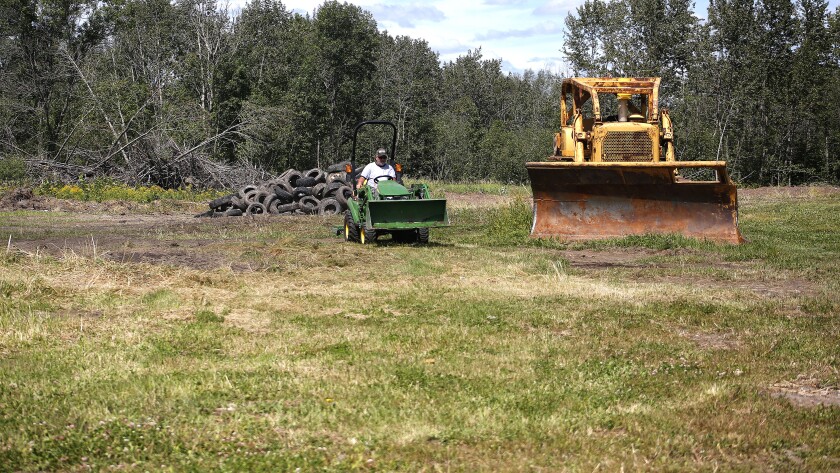 Sample continues to give presentations to fire departments, VFWs, Lions Clubs, private donors, businesses and veterans organizations to raise funds, in addition to applying for grants from the DNR, Minnesota Department of Employment and Economic Development, Aitkin County, NRA, Blandin Foundation and the Legacy Fund.
The addition of a community and veteran's center is anticipated to begin construction in spring 2023, where AA and Al-Anon meetings, suicide prevention services and grief support can take place, free of charge.
To complete Chuck's dream, eventually Forgotten Heroes Ranges and and Retreat plans to add a lodge where people with disabilities and their caretakers can stay.
"True heroes are also the spouses and children of our veterans in wheelchairs. Their lives change, too," Sample said. "Wouldn't it be cool if veterans had a place they could come, while the families go for a cruise on the lake, go to the golf course or to the mall, knowing their loved ones are in good hands? They need a break, too."
According to the Centers for Disease Control and Prevention, 26% of adults in the United States have some sort of disability. Sample recognizes an untapped and overlooked tourism market, and sees Forgotten Heroes Ranges and Retreat as a win for the small, rural community in that aspect as well.
"We can't turn back even if we tried," Sample said.