Isle Royale fire '100% contained' as trails, campsites reopen
The 6-acre fire was detected Aug. 13.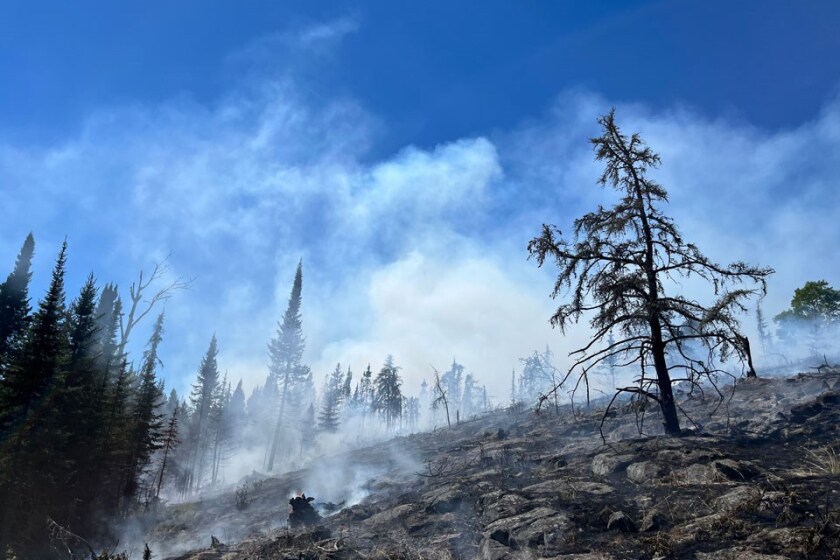 We are part of The Trust Project.
ISLE ROYALE, Mich. — Nine days after it was detected, a wildfire burning in Isle Royale National Park is "100% contained."
In an update Monday afternoon, the National Park Service said a wildland crew of 10 returned to Minnesota on Sunday after suppressing the 6-acre Mt. Franklin Fire.
The park service also reopened the trails, campgrounds and docks that had been closed since the fire was detected. Some cross-country camping zones remain closed.
"Hazards may still exist," the park service said. "If hiking through the burn area, stay on the trail for your safety. Rock cairns are in place on the Mount Franklin Trail to guide hikers through the burn area."
The fire had burned on the northeast side of the island near the innermost tip of Tobin Harbor and the intersection of Tobin Harbor Trail and Mt. Franklin Trail.
Favorable weather conditions last week allowed crews to slow the spread of the fire.
The park service said the cause of the fire is under investigation and is asking the public for information on an illegal fire and associated camp on the Mt. Franklin Trail on Aug. 12 and 13.
Tips can be called or texted to 888-653-0009, emailed to nps_isb@nps.gov and also submitted at go.nps.gov/SubmitATip.
Last year, a lightning strike on the northeastern end of the island caused a fire that ended up burning an estimated 335 acres.