Grant to help Duluth residents fight blight
Lincoln Park and Central Hillside neighbors will direct funds to small projects of their choosing.
We are part of The Trust Project.
DULUTH — A $100,000 grant to fund a program called "Love Your Block" should help the city step up its efforts to fight blight.
The two-year program will be staffed and coordinated by a fellow position at an annual cost of $30,000 and a AmeriCorps Vista member. The remaining $40,000 will be offered in the form of mini-grants of up to $1,500 apiece to be spent in Duluth's Lincoln Park and Central Hillside neighborhoods.
Duluth Deputy Chief of Life Safety Jon Otis said those areas were selected because they historically have generated more complaints about blight and public dumping than other parts of town. He noted that many residents of the same neighborhoods are also of modest means.
"It's intended to be a volunteer, citizen-led initiative," Otis said.
He explained that the program is meant to empower residents and provide them with the means to make their neighborhoods nicer places to live.
"The residents often know their neighborhoods better than the city does, and this program gives them the power to deal with some of these issues so that it doesn't fall on the city to then respond," Otis said, explaining that unaddressed problems often result in complaints.
Otis said the small grants offered through the program could be used for a multitude of projects, such as disposal costs for a neighborhood cleanup, an improvement of a blighted building, paint to cover over graffiti or the fuel needed to trim an overgrown lot.
He said the program doesn't prescribe remedies for local blight, instead relying on residents to offer solutions.
"The only caveat is that it has to deal with blight," Otis said.
Duluth will begin offering blight mini-grants come May.
The city is one of just eight in the nation to receive grants in the latest round of funding. The funding flows through an organization called Cities of Service, an offshoot of Johns Hopkins University, with financial support from Bloomberg Philanthropies.
Otis said the results of the two-year grant will be closely tracked, and if they prove as encouraging as he hopes they will be, perhaps the city will see fit to continue the effort.
"The real work will be to fund the program for the long term," he said. Otis noted that many other Duluth neighborhoods experience blight, as well, and could benefit greatly from the relatively modest assistance the Love My Block program provides.
Other resources are also being brought to bear to address blight in the city. Otis said Duluth recently received a Community Development Block Grant to hire a specialist who will focus on dealing with the challenge of vacant buildings — properties that often fall into disrepair and that can attract nuisance activities, including some that pose a threat to public health.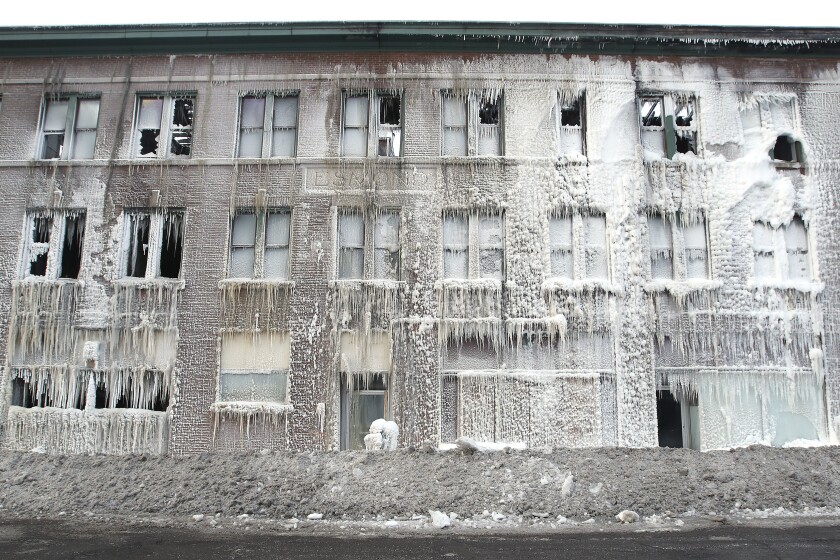 He said the problem can't be easily solved and will require efforts along multiple fronts.
"We're going to be looking at solutions to illegal dumping, too," Otis said.
"But what I'm most excited about here is the volunteer initiative and the neighbor-led, the citizen engagement component. We can think we know what the community needs, but until the community tells us what they need and turns that into action, it's just words," he said.
"So, it's a way for us to support what the community says it needs."
How to apply for 'Love Your Block'
Beginning in May, the city will accept applications for mini-grants to address blight in Duluth's Lincoln Park and Central Hillside neighborhoods at duluthmn.gov/love-your-block/love-your-block-mini-grants.
A spate of recent fires underscores the danger of leaving empty, condemned buildings to linger on the scene.
The fire is not expected to significantly delay the construction of a new apartment building on the site of the former Seaway Hotel.