Estimated size of Isle Royale fire reduced
Investigators want information about an illegal fire on the Mt. Franklin Trail.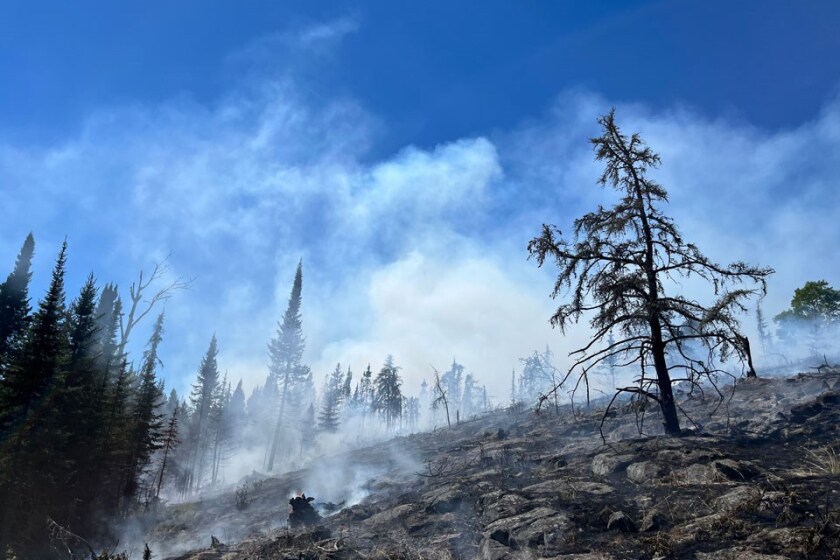 We are part of The Trust Project.
ISLE ROYALE, Mich. — The estimated size of a wildfire burning in Isle Royale National Park has been reduced, and some campgrounds and a trail have reopened.
Investigators are now looking for information on an illegal campfire near where the wildfire started. The fire is burning on the northeast side of the island near the innermost tip of Tobin Harbor and the intersection of Tobin Harbor Trail and Mt. Franklin Trail.
The Mt. Franklin Fire was detected in Saturday afternoon and is an estimated 6 acres, down from initial reports of 11 acres, the National Park Service said in a release Tuesday.
The park service is trying to suppress the fire. On Sunday, a fire crew of 10 joined park service fire personnel and park rangers on the island. An aircraft also dumped an estimated 4,000 gallons on the blaze Saturday evening.
"Over the past two days, favorable weather conditions slowed the spread of the Mt. Franklin Fire, allowing firefighters to lay hose line around the fire's perimeter," the park service said. "While significant progress suppressing the fire has occurred, the fire is not yet considered contained."
The park service said the cause of the fire is under investigation and is asking the public for information on an illegal fire and associated camp on the Mt. Franklin Trail on Friday evening and Saturday morning.
"If you have information that could help, please submit a tip," the park service said. "You don't have to tell us who you are, but please tell us what you know."
Tips can be called or texted to 888-653-0009, emailed to nps_isb@nps.gov and submitted at go.nps.gov/SubmitATip.
Some trails are reopening, the park service said Tuesday. The Rock Harbor Trail between Daisy Farm Campground and Rock Harbor "allowing for continuous trail access between eastern and western areas of Isle Royale," the park service said. Three Mile Campground has reopened and Lane Cove Campground is open to water access.
The following trails and campsites remain closed:

Greenstone Ridge Trail between the Ojibway Trail junction to the Tobin Harbor/Duncan Bay Portage.
Lane Cove Trail.
Mt. Franklin Trail.
Tobin Harbor Trail between the Mt. Franklin Trail and Suzy's Cave Trail.
Cross-Country Camping Zones: 8, 8A, 9A, 10, 11, 12, 33, 36.