Effort made to rebrand Duluth's tool library
Infusion of new tools and a renewed commitment from One Roof Community Housing has the nonprofit agency soliciting new groups of users.
We are part of The Trust Project.
DULUTH — Witness to the relaunching of the city's tool lending library earlier this year, Lyndsey Andersen wasted little time summoning the most-used item.
"So far, the orbital sander has been the most popular," said Andersen, an administrative associate for One Roof Community Housing.
One Roof has operated the tool lending library since 2012. Late last year, a $5,000 grant from The Northland Foundation allowed One Roof to replenish the tool supply for the first time.
With the arrival of spring and a host of new tools purchased locally from Acme Tools, the tool library at 12 E. Fourth St. figures to be as busy as it's been in some time.
"I expect activity will increase now that the weather is getting nicer," Andersen said.
City Councilor Noah Hobbs is One Roof's director of strategy and policy. He believes the tool lending library has the potential to be of One Roof's most popular offerings. But historically, the tool library has operated on modest word-of-mouth among do-it-yourselfers. Until now, One Roof has been happy to get up to eight users a week.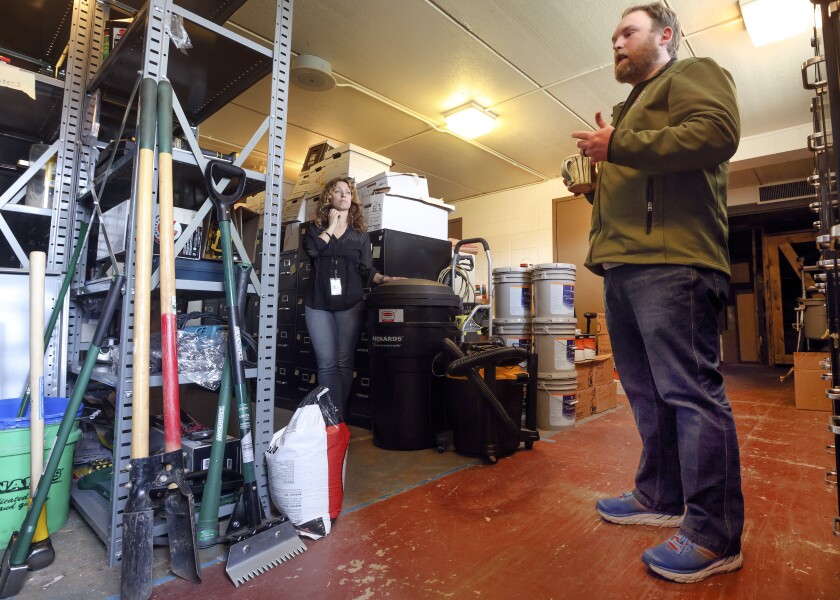 "It is free and open to all residents," Hobbs said of the tool lending library. "It's almost been seen as a club — if you knew about it, you knew about it. We're making an effort to have everybody know about it and how they can come in and benefit from the service."
A tool can be on loan for a week, and extended another week provided there's not a waiting list for the tool.
"It's the same concept — the same way you check out a book, you can check out a hand tool or power tool," Hobbs said.
He and Andersen led the way to the basement-level shelving that houses the library of tools. Relaunched in February, the tool-lending library features tubs of screwdrivers and hammers, scores of new tools, multiples of popular items, such as pressure washers, and even things like shop vacuums and disposal canisters.
"You don't necessarily always need a 32-gallon garbage can sitting around the house," Hobbs said. "Not everyone has a garage or the space they need to store tools. We'll provide the space and the tools for Duluth and the surrounding area."
New with the relaunched tool library are first-time efforts at keeping the program sustainable.
When making an online reservation, users are asked if they'd like to make a free-will donation. Also, users of tools that feature bits, belts, blades or sandpaper are asked to contribute to a voluntary blade fee.
"Any average project that the DIYer would take on, they should be able to find the tool they need here," Hobbs said. "We've added a donation component this time around to have ongoing sustainability, so that our tools are in proper working order and we're able to continue to add to the inventory as needed and not have to think about it once every 10 years. We want to think about it on an ongoing basis."
Andersen takes tool reservations and makes appointments for drop-off and pickup with customers. One Roof hasn't opened its doors throughout the pandemic and remains appointment-only. Unlike when it first started, tool borrowers are not allowed to peruse the collection of tools. Instead, the full inventory is listed on the website and in program literature.
Users of the library have to sign a one-time borrower agreement that's kept on file along with some basic information about the person and a copy of their driver's license or state identification card.
"We have a tile saw," Andersen said. "We have drywall tools, a miter saw — there are a lot of interior tools. We probably have more interior than exterior."
Users needn't be anxious about breaking tools. So long as the tools were used safely and appropriately, One Roof is understanding of wear and tear. Particularly since Hobbs figured the library tools would get more of a workout than the average household tools.
"That's tools, right?" Hobbs said of breakage. "We are making an effort to replenish and refresh on an annual basis."
There are no auto repair tools to speak of in the library, and Hobbs suggested that was a possibility for a future addition to the collection.
"Now that we've broken 45 degrees, people are going to think about fixing things, some DIY projects," Hobbs said. "This is the time of year, we'll start really kicking off."
To visit the tool-lending library, go to 1roofhousing.org/homeowners/tool-lending-library . Interested users can also reserve a tool by calling 218-727-5372 or emailing info@1roofhousing.org .
State, local agencies tab accessory dwelling units of 800 square feet or less as solution for homelessness.
Lacking union guarantees, the $36 million project failed to move the County Board to act, but the city says it will forge ahead.
Districts north and south will feature seven seats up for election in November. What are these boards and why are they important?
Reconstruction of the Garfield Avenue interchange and Highway 53 ramps will dovetail with ongoing reconstruction, ending years of potential delays.