Duluth reexamines licensing for electric scooters
Residents are learning how to integrate electric bikes and scooters, introduced to Duluth in 2019, into city life. In response, the city is reevaluating policies around micro mobility options.
We are part of The Trust Project.
DULUTH — During the City Council meeting Monday night, resident Blaise Taylor described an incident where he was "clipped" by an electric scooter while walking on a sidewalk between First and Second avenues east.
The person operating the scooter brushed off the incident and sped off without stopping, according to Taylor.
In front of the councilors, he asked: "Is there some way we can slow this down?"
The city has an ordinance in place that prohibits electric scooters from operating on sidewalks. Instead, users are supposed to ride on roads and bike lanes.
Due to recent complaints, however, the council plans to take a closer look at policies that would change standards each company would have to comply with in order to attain a license.
A new fleet of electric scooters took the streets of Duluth last weekend, and the owners of Leaf Rides say riders have been enthusiastic.
"One thing we are exploring for next season is putting a cap on the amount of scooters that a company can have in Duluth," according to Noah Hobbs, city councilor at large.
In popular areas like downtown, Canal Park and the Lakewalk, safety concerns as a result of increased traffic density — both on foot and road — are one issue many residents are attributing to scooters.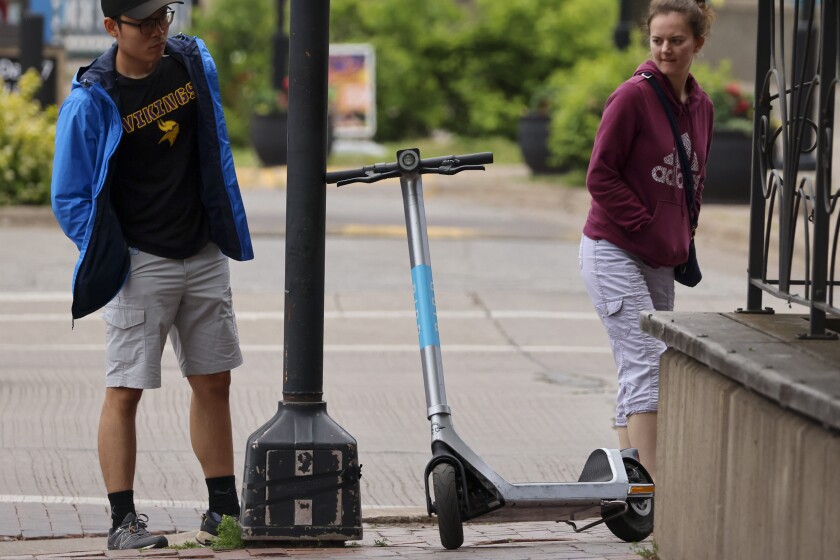 "There is nowhere for them to go," said resident Alice Tibbetts, who has witnessed several riders using sidewalks illegally. "They go where they think they won't crash, and I don't blame them."
Rather than ban the scooters, like many cities have done, Tibbetts said there needs to be advocacy for more bike lanes and infrastructure that is able to accommodate new modes of transportation.
In addition to the lack of space for the scooters in the city's infrastructure, residents are concerned about operators obeying traffic and safety regulations included in the city ordinance and their user contracts.
Duluth resident Amy Merchant said in a phone interview she experienced "tourists" riding scooters directly in the road, rather than in the bike lane.
"They forget that actual people live here," she said. "They think since they're on vacation there are no consequences."
The police department is responsible for enforcing the city ordinance. So far this summer, it hasn't given any citations or received any complaints about the scooters and their operators.
Leaf scooters have been on the streets of Duluth since summer 2019, but this is the first full summer that Bird scooters will have been in the city.
Hobbs said the congestion on streets, walking paths and roads in addition to the increase in safety concerns is likely a result of the newer franchise.
Bird brought in almost three times as many scooters as its local competitor, Leaf, which has over 100 scooters in its fleet.
Leaf co-founder Latisha Irvin said the company's numbers were down from last year, but it has received more complaints. The concerns she and Jed Irvin, her husband and Leaf co-founder, have received are a result of scooters being left on sidewalks.
Such behavior creates accessibility issues for those who experience difficulties walking. Leaf scooters must be docked in specific locations or else users will receive an extra charge.
"It has been the best decision ever. My boys go everywhere in town on the bike."
Meanwhile, Bird users are not required to dock in a specific location, yet the company does require users to abide by local regulations.
"We want to get the word out that we are local and we do things a little differently," Irvine said.
According to Hobbs, because policy changes can't be made mid-season, the council will start having "in-depth" discussions about what next summer would look like for electric scooters and bikes within the next 45-60 days.
"It is a testament to the fact that we don't have a lot of infrastructure for people riding micro mobility (a term used to describe small electric vehicles that can't reach high speeds)," Hobbs said.
Bird representatives could not be reached for comment.