Duluth Public Schools to consider fresh purchase agreement for Central High School
School Board members are set to meet in a closed session Monday to consider a "Central on the Hill PA."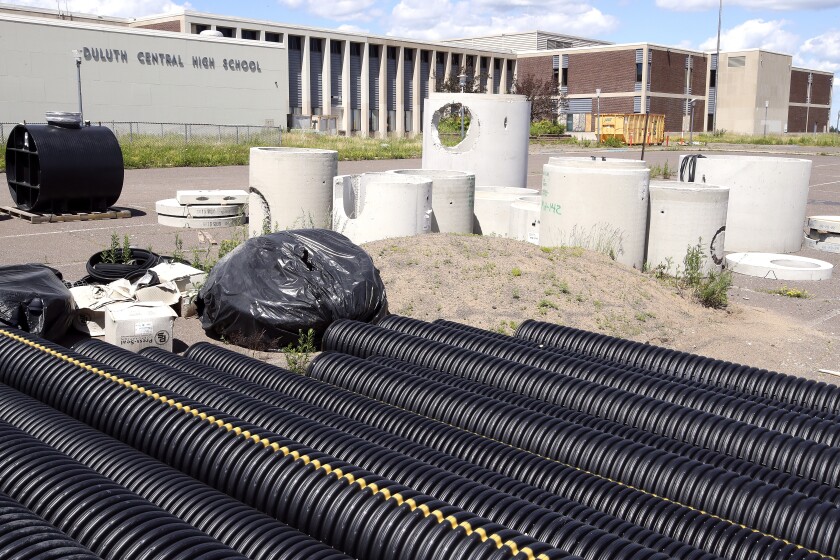 We are part of The Trust Project.
DULUTH — Duluth Public Schools officials are set to consider a purchase agreement for Central High School next week.
Details are scarce, but school board members are scheduled to meet behind closed doors at 4 p.m. Monday at the district's temporary headquarters on Rice Lake Road to consider a "Central on the Hill PA." The abbreviation is short for a purchase agreement, Superintendent John Magas clarified.
"Hypothetically," Magas said of next week's meeting, "we could have a purchase agreement we need to consider and then have it sent back. It could possibly be that there is a purchase agreement that would be agreed upon and then eventually voted on. It could be that there's just an interest in purchase of a location, and somebody's wanting to talk about a purchase agreement."
Minnesota law allows school boards and other governing bodies to go into a nonpublic, "closed" session to craft or consider offers or counteroffers for the purchase or sale of property.
The district was in a similar spot a little more than a year ago. On July 12, 2021 , board members also met in closed session to consider selling Central. The next day , they met in a public, "open" session to approve a $7.4 million sale to St. Louis Park-based Saturday Properties. That deal, though, ultimately fell through in March 2022.
The building, which sits on about 50 acres at 800 E. Central Entrance, is currently listed for $7.9 million .
Greg Follmer, the listing agent, said last month that they hoped to close a sale by the end of the year, and that one of three potential buyers had risen to the top of the district's list of suitors. Follmer did not return a News Tribune request for comment on Thursday afternoon.
The school, often called "New" Central, was first opened in 1971. School officials closed it in 2011 as part of the controversial "Red Plan" that reworked the district's facilities.
A sale, though, would only cover a portion of the property: district leaders are holding on to about 22 acres of land on which they're working to build a new administration building and bus garage. A former industrial arts building on the site is also set to be a new building for Duluth Public Schools facilities and maintenance personnel.
Workers are currently removing asbestos and other hazards from the Central building itself. A development agreement struck between the city and the district calls for the building to be demolished by June 30, 2023, but workers there expect to begin by early November.