Duluth police address recent gun violence, roll out changes to call response
The department has already seen 20 incidents involving intentional or accidental gunfire this year, Chief Mike Tusken said.
We are part of The Trust Project.
DULUTH — Operating with a 22-officer shortage, the Duluth Police Department is changing some practices in order to focus on higher-priority calls.
Most notably, officers will spend less time collecting and exchanging information at the scene of motor vehicle crashes that don't result in injury, Chief Mike Tusken said at a Wednesday news conference. Other steps include online reporting and phone responses for certain incidents that don't require a physical presence.
Tusken discussed the changes while also addressing a recent spate of gun violence in the city, including multiple reports of gunfire this month and an accidental shooting at a downtown bar over the weekend.
"I don't want to make people believe that we're in a crisis by any means," Tusken said. "But when we're in a position where we have staff shortages, we have to look for better efficiencies and effectiveness. ... The most important response we have, of all the things we do, is to respond to 911 calls for service. We have to be able and ready to respond in a timely manner to the people who are calling for our help."
It wasn't so long ago that Duluth saw hundreds of applicants for open positions. But now the city is having to offer big pay and benefit boosts to avert critical shortages.
Tusken said the department has responded to six calls related to gunfire in June alone, with a total of 20 such incidents so far this year. That's roughly the average total for an entire year, though on pace with the record-setting 2020, which saw 41 shootings or shots-fired reports.
Among recent incidents:

A gun was dropped on the floor at Aces on First, 113 W. First St., at bar closing Sunday morning. A bystander then tried to pick up the weapon, accidentally shooting another person in the foot.
A contractor working near the 2600 block of West Third Street on Friday heard a shot and then witnessed a person running to a car and fleeing the scene.
A fight on a Duluth Transit Authority bus Saturday night led to shots fired after parties disembarked on the 400 block of East Seventh St.
Investigators have suspects in the DTA incident, Tusken said, but continue to seek additional information and potential witnesses in each of those cases.
St. Louis County Attorney Kim Maki said her office has an "aggressive stance" toward gun crimes, seeking significant bail and not offering any plea deals or agreeing to departures from sentencing guidelines. A prosecutor is on call around-the-clock to assist police and ensure cases are conducted in a manner that will hold up in court, she added.
"Few crimes pose a greater risk to our communities and to our law enforcement officers who protect us than firearm offenses," Maki said.
Tusken said police have also seen an uptick in accidental gunfire incidents this year, a few resulting in minor injuries as a result of unsafe cleaning, holstering or playing around with a firearm. Noting Duluth police have already seized 20 guns from the street this year, Tusken encouraged owners to keep them secured when not in use.
"We know that in America there's over 400 million guns," he said. "There's more guns than there are people in this country. Unfortunately, one of the very unfortunate parts about gun violence is that people who shouldn't have guns, (who are) prohibited, are getting guns because they're stolen from people who are law-abiding citizens."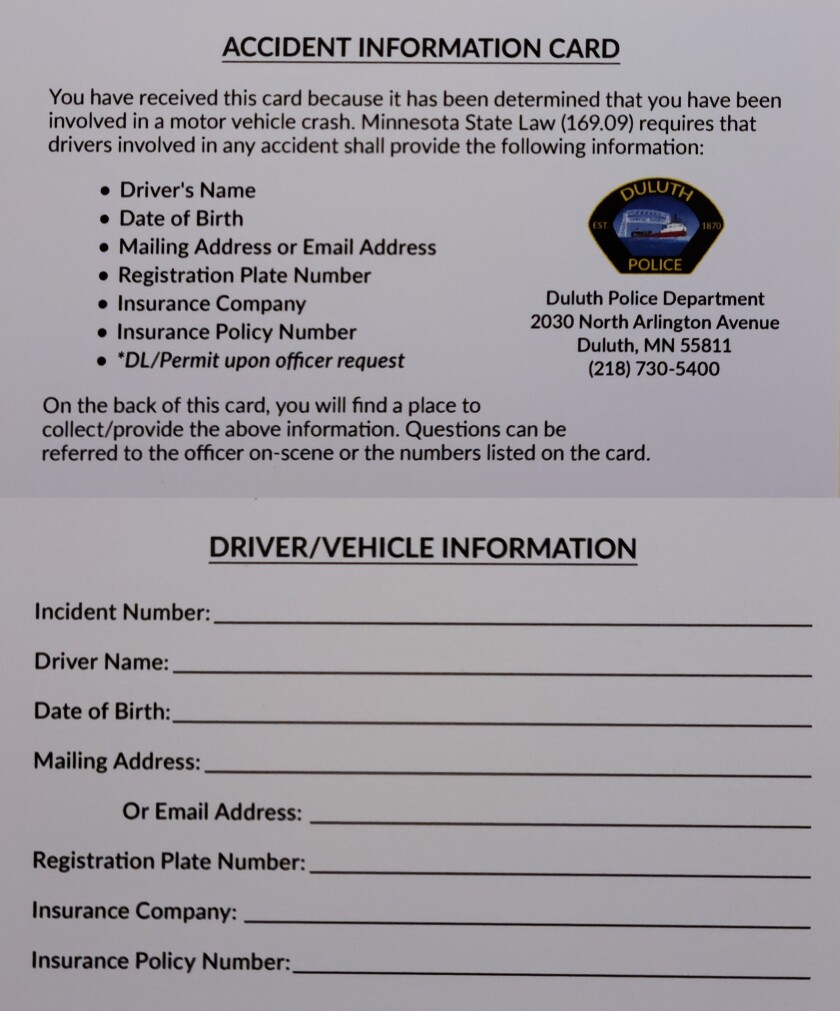 As for freeing up officers, Tusken said a typical response to a minor crash could take 30-60 minutes for an officer. Instead of collecting and exchanging names, addresses, phone numbers, insurance and other details, officers will now simply be able to show up and verify names and insurance before providing the involved parties with cards that allow for the exchange of information.
The department also is encouraging e-reporting of certain offenses, including property damage or graffiti, vehicle prowls, theft, fraud or scams, by visiting duluthmn.gov/police/report-a-crime/e-report-a-crime. In some cases, Tusken said, responses will be handled via phone by officers who are on light duty and unable to work the streets due to injury or illness.
The agency also has doubled its staff of community service officers — generally law enforcement students or recent graduates — from six to 12, allowing them to handle certain tasks like property collection and traffic control that don't necessitate a response from licensed officers.
The "trusted, steady leader" of the department since 2016, Tusken said he hopes to inspire a new generation of law enforcement officers at Fond du Lac Tribal and Community College.
The department on Tuesday and Wednesday was conducting interviews with 21 finalists who emerged from a recent application process. Tusken said he hopes to hire 10 or 12 new recruits — the biggest class the agency can reasonably accommodate — before likely conducting another search later this year.
Tusken, who is retiring later this summer to lead the law enforcement program at Fond du Lac Tribal and Community College in Cloquet, acknowledged it has been a tumultuous era for police recruitment and staffing but said he's starting to see encouraging signs.
"There's been some really, really bright shiny stars and people who we know are going to really fit our organization well," he said.