Duluth mall remains closed after roof cave-in
It's unclear when the Miller Hill Mall will reopen. Essentia Health, which has a sizable presence there, plans to keep its mall services closed through Thursday.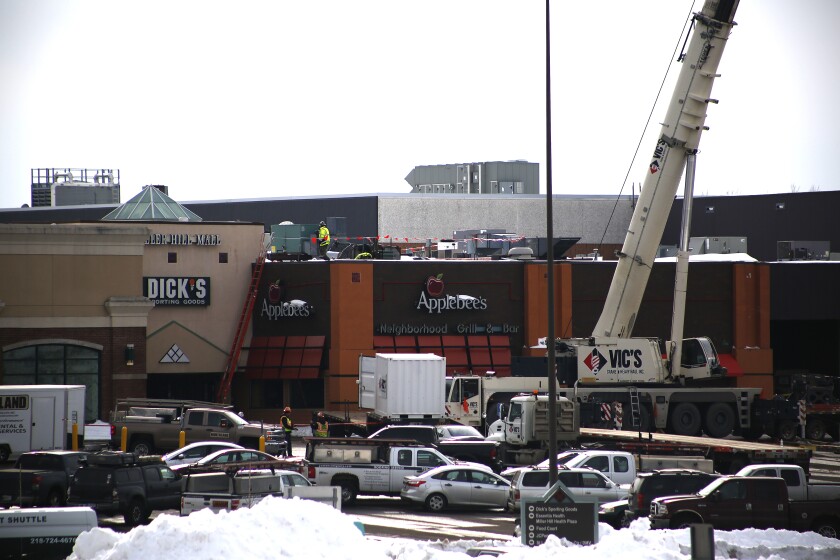 DULUTH — Art in the Alley wasn't set to open for another hour when the Miller Hill Mall's roof collapsed Tuesday morning, sending an estimated 80 tons of snow into a common area there and prompting mall administrators to close the entire building until at least Friday.
"We made it through Superior Street reconstruction. … I've had cancer twice. We survived the pandemic. Need I say more?" Tami Edmunds, who owns the clothing and jewelry store with her husband, Dan, told the News Tribune on Wednesday. "It's just another day in the life of being a small business owner. You get what you get and you make lemons out of lemonade."
Brock Hedegaard, an associate professor of civil engineering at the University of Minnesota Duluth, estimated the snow that had fallen into the mall weighed about 160,000 pounds.
The cave-in and resulting temporary closure are extremely serious, Edmunds said, but she expects her business to be fine. She said mall staff are doing the best they can and that she hopes the collapse is handled quickly. Crews spent hours Wednesday working on the mall's roof.
Art in the Alley plans to remain at the mall, Edmunds added. The business has had a location there for nine years, and it's been in operation for 15.
"People don't think of the mall as being local, in a sense," Dan Edmunds said. "There's locally owned … businesses in that mall, and there's a lot of … local people, all local people, that work there."
The Edmunds are focusing on Art in the Alley's online store while their physical one is closed. They can't ship some items, though, because they don't have access to the store while the mall is closed.
One of the largest tenants at the mall is Essentia Health, which maintains a pharmacy, a fitness center and other services there. The health care system plans to keep those mall locations closed Thursday, it announced Wednesday evening. Essentia workers are trying to reschedule appointments or move them to other Essentia facilities in the meantime.
City administrators ordered the building vacated the day of the collapse. Before it can be occupied again, mall administrators must shore up the mall's structure, remove debris and snow, and temporarily enclose the area exposed to the elements, according to Kelli Latuska, city spokesperson.
Duluth also requires mall administrators to commission a structural analysis of the roof and submit a report of "corrective measures," as well as restore fire alarms, sprinklers and other safety systems there. City inspectors are also set to verify that those systems have been properly restored.
Steve and Janeil Crist, who own Beyond the Barn, an equestrian supply company that has since branched out into clothing with western and cowboy aesthetics, headed to the mall Wednesday to let staff there inspect their store for damage.
"It just shows their concern," Steve Crist said. "They're quickly inspecting stores. …. Ours isn't even close to the damaged area, but they're checking them all to make sure."
Formerly based in Superior as Diamond Royal Tack, the Crists moved their business to Miller Hill Mall about five years ago. Their daughter, Amanda, manages it.
Steve Crist said their business can get by for a little bit. A longer closure would, naturally, make it tougher.
"But we know there's nothing we can do about it," he said. "We just put one foot in front of the other and we just keep going."
Like the Edmunds family, Crist said he and his wife plan to stay at the mall.
Miller Hill Mall is owned by Simon Property Group. Megan Reuer, the mall's director of marketing and business development, did not return a News Tribune request for comment Wednesday afternoon.