Duluth firefighter's trail altercation: A 'gross overreaction' or 'reasonable response'?
That is the question a judge will answer with her verdict, which is expected in the coming days.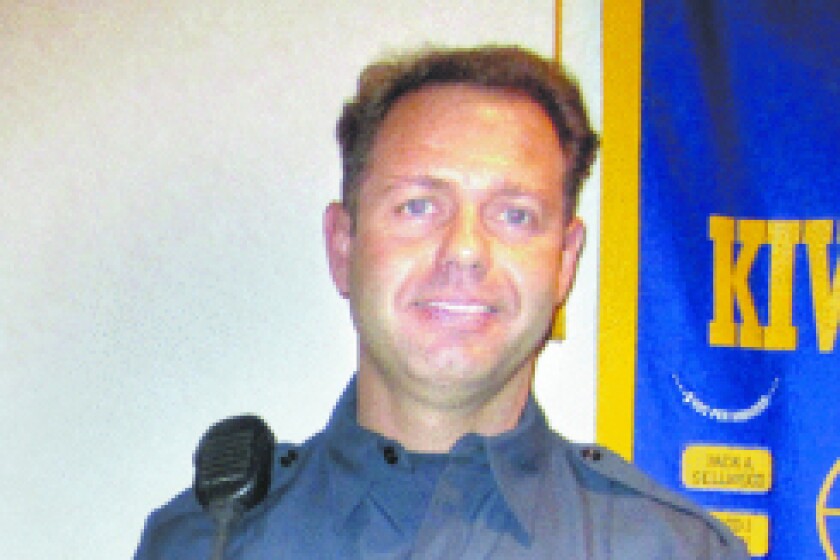 We are part of The Trust Project.
DULUTH — Nearly two years after an altercation along a western Duluth trail, a verdict is imminent in the felony assault trial of the city's former Firefighter of the Year.
Judge Theresa Neo on Monday took the matter of Conrad John Sunde IV under advisement. By rule, she has until next Monday to issue a ruling either convicting or acquitting Sunde of third-degree assault of 65-year-old Mary Modec.
Neo heard accounts of the incident from both Sunde and Modec at a one-day bench trial in early April. Sunde, 50, of Proctor, had gone through a full jury selection process before deciding to proceed with the judge as the sole fact-finder.
It is undisputed that Sunde struck Modec with his bicycle and broke her nose following a brief verbal dispute over his three off-leash dogs along the Duluth Traverse Trail System on the morning of July 10, 2020. But some of the finer details remained in dispute as attorneys submitted closing arguments in recent weeks, and Neo must determine whether Sunde has a valid self-defense claim.
Conflicting accounts emerge from testimony
A frequent jogger on the trails near her Norton Park home, Modec testified that she asked Sunde to leash his dogs, as required by city code, after one began barking at her during an encounter on parallel trails that morning.
Sunde responded by profanely insulting her, Modec said, so she began reaching for her phone in a backpack with the intent of taking a photograph. She testified that Sunde then charged at her from a distance of approximately 20-25 feet, striking her in the chest with his bike and knocking her to the ground.
Mary Modec said she was "attacked" by the man she confronted over his off-leash dogs. Conrad Sunde said he only acted in self-defense to avoid being pepper-sprayed.
Suddenly, Modec testified, Sunde was on top of her and pushing her face into the gravel while forcing the phone from her hand, throwing it down a nearby ravine before he left the scene. She told the court that her glasses were broken and that she later went to the emergency room for treatment of a nasal fracture and many cuts, scrapes and bruises.
But Sunde, a 21-year veteran of the Duluth Fire Department and a U.S. Marine Corps veteran, testified that the incident occurred in a space of only 5-10 feet. He admitted that his dogs were not properly leashed and acknowledged he commented to Modec that "maybe you should be on a leash."
Rather than her phone, Sunde told the court that he believed he saw Modec reaching for a small canister of pepper spray hanging from her neck, saying it was an "instantaneous" reaction to put his bike in between them to prevent himself and his dogs from being hit with the chemical irritant.
The firefighter suggested that it was his bike tire that broke Modec's nose, flatly denying the assertion that he shoved her face into the ground. He also claimed that her phone had fallen to the ground and that he tossed it into the woods only to divert her attention while he left the scene.
Prosecutor: Sunde had chance to leave
St. Louis County prosecutor Nate Stumme argued that the incident was a "gross overreaction" by a longtime Duluth firefighter who was more than capable of resolving the dispute without violence.
Stumme said Modec has been able to "clearly and consistently" recall the circumstances and noted that even Sunde conceded Modec never had the pepper spray in a position to deploy.
"In the end, even if Mr. Sunde is believed, the threat he faced amounted to a 65-year-old woman standing on a trial with her hand on a small canister of chemical irritant held against her body on a lanyard around her neck who had neither threatened its use nor put it in a position to deploy," the prosecutor wrote in his closing argument. "That is the threat he faced if his entire testimony is believed and Ms. Modec's testimony is set aside.
"Mr. Sunde's reaction to the threat he described was unreasonable, unnecessary and disproportionate. It was without any attempt to seek avenues of retreat. Mr. Sunde does not dispute the evidence that he is responsible for breaking Ms. Modec's nose. Whether the court finds Ms. Modec's testimony credible or Mr. Sunde's, both versions attribute the broken nose and the rest of the injuries to Mr. Sunde's intentional and unnecessary behavior."
Stumme said Sunde was "far angrier than he admits," leaving Modec without any means of communication to seek help after throwing her phone into the woods. He suggested the attack was motivated by the firefighter's desire to avoid being photographed with his dogs off-leash.
"It strains credulity to accept that a physically fit, award-winning veteran firefighter, trained in rescue, medical first response and close-quarter combat would not have been able to find possible retreat from the person of Mary Modec standing stationary on a trail in the open woods," the prosecutor wrote.
Defense: Decide case on law, not sympathy
Defense attorneys David Keegan and Mikkel Long offered a much different perspective, claiming their client offered a consistent and reliable account backed by physical evidence.
Contrary to Stumme's argument, the lawyers said key details of Modec's account have changed over the course of nearly two years, arguing that the traumatic nature of the incident may have impaired her recollection. The cited examples where she reportedly gave conflicting statements on whether she was struck with an open palm or closed fist, and whether Sunde threw the bike at her or charged with it from a significant distance.
The defense suggested Sunde's account has been consistent from the beginning, noting that he stated his fear of the pepper spray from the beginning, when he voluntarily went to a police station hours after the incident.
"It is clear that Mr. Sunde did not intend to hurt Ms. Modec," Keegan and Long wrote. "He agrees that her injuries were unfortunate. However, they were a byproduct of a single, instantaneous strike response which ultimately was, in fact, successful in keeping him and his dogs from being maced. It was a reasonable response."
The defense attorneys noted that Sunde's self-defense assertion is an affirmative defense — meaning the prosecution bears of the burden of disproving his argument beyond a reasonable doubt.
"While we are all sympathetic to Ms. Modec and her injuries, cases cannot be decided on sympathy or passion," they wrote. "A not guilty verdict does not mean that Ms. Modec is a bad person or that she's not worthy. It does not diminish her in any way as a human being. It does not mean that she is not entitled to the protections of the law. All of her civil remedies remain at hand.
"This acquittal is based on the overall unreliability of the state's presentation, not the quality of the individual. A not guilty verdict is solely and exclusively a determination that the state has not proven beyond a reasonable doubt that Mr. Sunde was not acting in self-defense. That is the proper verdict here."
Police consider it an isolated incident as both parties are known to each other.