Duluth Hillside fire claims two lives, as property sustains third fatal blaze
Two firefighters were injured while working to rescue tenants.
DULUTH — Two tenants died Saturday as a result of a fire in an 8-plex apartment building at 631 E. Third St. The names of the deceased have not yet been released, pending notification of family members.
The Duluth Fire Department was called to the scene at about 6 a.m. Saturday, and firefighters arrived within about three minutes of dispatch, encountering smoke and quickly advancing flames, said Deputy Chief of Operations Mike Consie.
"Our crews established water and took offensive tactics so they could make rescue. We had crews trying to suppress the fire, while we had crews working on rescuing," he said.
Consie did not have details about exactly how many people were in the building at the time of the call but said a number of tenants were rescued by firefighters, and others were able to make their way out of the building on their own. One woman was rescued from a second-story window, using a ladder truck and was taken to a local hospital for treatment, where she was pronounced dead late Saturday afternoon.
During a subsequent rescue attempt in the same unit, firefighters were forced to evacuate when the interior "flashed over," or was fully engulfed in flame, according to a release issued by the fire department Saturday evening. The subject of that second rescue attempt was found dead at the scene.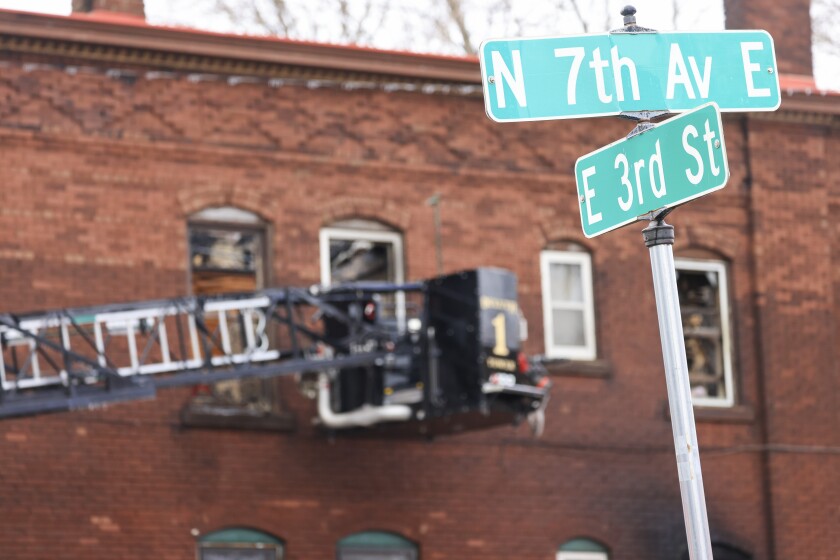 Two firefighters sustained burns while working to save people from the building. Consie said they were taken to urgent care, where they were treated and released.
"Our crews worked tirelessly to make sure that everyone was accounted for. We're still compiling all that data. So, I don't have all the specific numbers for you," Consie said at a Saturday afternoon news conference.
Crews rescued several cats from the building, but some succumbed to the fire and smoke. Again, Consie said he lacked specific details as to the number of animals involved.
The cause of the fire remains under investigation, and a state fire marshal is working the case, as it involves fatalities.
The address of the fire is all too familiar to local firefighters. This is the third fatal fire they've responded to at the building, with previous deaths there occurring in August 2020 and April 2021 .
Deputy Chief of Life Safety Jon Otis said both of the previous deadly fires were determined to be accidental.
"This is a tragic event for our community," Consie said.
While no damage estimate is yet available, Otis said, "Looking initially at the condition of the building, it's likely it would be a candidate for (demolition)." He noted that more than half of the apartment building's roof was destroyed.
Otis said the building was a legally licensed rental property with no open code violations on file at the time of the fire.
People displaced by the fire are receiving assistance from the local Red Cross.
Duluth Fire Chief Shawn Krizaj was out of town attending training at the time of the incident, but he issued a statement that said: "My condolences go out to the families of people who were injured or lost their home or lost their life in this catastrophic event. I'm extremely proud of the efforts of our firefighters and all of our partner agencies."
Krizaj heaped special praise on the two firefighters who sustained injuries, saying: "I would like to express my thanks to them and their families for going above and beyond, sacrificing their own safety for service to our community."
Consie said the Duluth Fire Department received assistance from a number of partners Saturday, including the Duluth Police Department, Mayo Ambulance, the city public works department, Minnesota Power and Red Cross.
This story was edited at 7:13 p.m. with information from a fire department press release and word of a second fatality, and at 5:20 p.m. with additional information and quotes from the fire department's press conference. It was originally posted at 11:54 a.m.
The 49-year-old man has been living in Duluth since 2012.
One person has died following a structure fire early Tuesday morning in Duluth's East Hillside neighborhood.