Cover I-35 in Duluth? It's been done before
The landscape architect who designed parks above the interstate wants to better connect downtown with Canal Park.
We are part of The Trust Project.
DULUTH — The future of travel on Interstate 35 through downtown faces a key hurdle later this summer.
That's when the Minnesota Department of Transportation is expected to release the results of its Fifth Avenue West Bridge planning study.
The future of the four-lane bridge over I-35 is important because it's being confronted by grassroots concepts seeking better connectivity between downtown and Canal Park.
"I-35 just slices right through the city," said Brian Daugherty, president of Grandma's Restaurants in Duluth.
The funneling of visitors and residents via Lake Avenue, and feeder routes like Harbor Drive "aren't all that interesting," Daugherty added, calling it "indisputable" that I-35 negatively impacts the way people interact with the city.
One existing concept from the Duluth Waterfront Collective favors creation of an at-grade parkway that would replace I-35 through downtown.
Now, from Grand Rapids, Michigan, comes another alternative. Semi-retired landscape architect Kent Worley, 83, contends the state ought to cover I-35 with green space, like it did through the tunnels in eastern Duluth.
"The separation this roadway causes between Canal Park and downtown is absolutely unnecessary and wrong," Worley said. "I'm convinced air quality in that area is as unhealthy as can be, and I want to turn that around."
Worley wants to cover the four lanes of interstate, mechanically ventilate it, and "plant the bejeebers out of it."
"I would plant that so green it would be the talk of the Northland," he said, envisioning connecting trails, lunch break exercise space and an overall "place of beauty."
"There would be new elevated viewing options people would have," Daugherty said. "It would take advantage of that unique quality of our city."
Worley has submitted his concept to MnDOT, and has been acknowledged. He's also proliferated his thoughts widely to leaders throughout the city. He doesn't have a website or any fancy renderings — only an idea he's calling "Downtown Duluth Greenway."
So who's Worley and why does his opinion matter?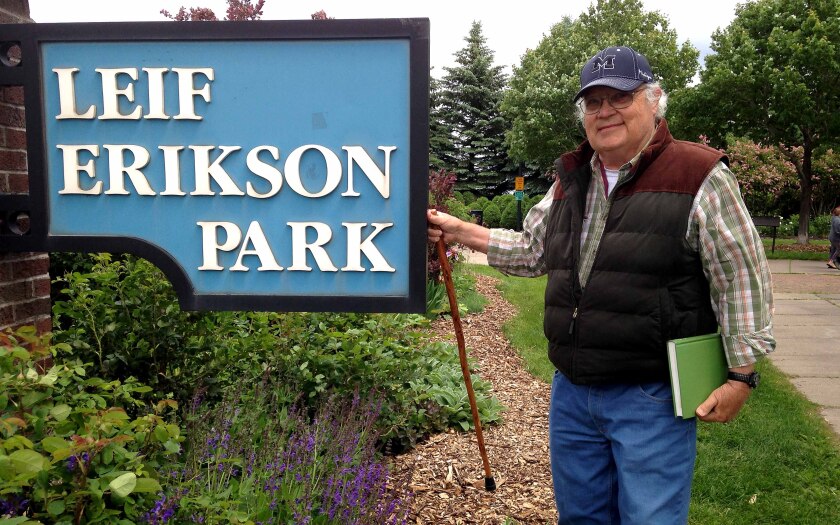 "Kent Worley is a worthy champion, and a credible figure in the history of Duluth," Daugherty said. "We are an extremely ripe candidate for such a good idea."
Worley worked at the Duluth firm Architectural Resources, Inc., for 40 years, overseeing the formidable years of the interstate's arrival into the city, culminating with the opening of the Leif Erickson Tunnel to complete the roadway in 1992.
"I was the one who conceived and worked on just about all of the eastern parts of I-35 — beginning with working to try to keep MnDOT from building it into the lake!" Worley said.
Once the vision to put I-35 on concrete columns 20 feet above the water was discarded, Worley helped to design the green spaces above the tunnels in places such as Leif Erickson and Gichi-ode' Akiing parks.
"It was an amazing experience, and MnDOT turned out to be very cooperative," Worley said. "There are some wonderful and capable people at MnDOT."
All told, about three-fourths-mile of I-35 through downtown is currently already covered. Worley doesn't see why it can't happen again.
"Leaving the freeway as it is, is not going to let people cross between downtown and Canal Park," Worley said. "I want people to freely move between those two areas."
According to a MnDOT survey about the Fifth Avenue Bridge, 24% of commenters sought better pedestrian and bicycle infrastructure.
"Duluth needs to start following the example of other great cities and invest in long-term solutions for walkable and bikeable urban areas," one commenter said.
"The Depot should be visible from the waterfront and the waterfront should be visible from the Depot," another commenter wrote. "The overpass completely obstructs this viewshed."
The News Tribune asked district engineer Duane Hill, who supervises MnDOT's Duluth office, about alternative concepts for I-35 during the agency's summer construction kickoff March 31.
"This whole project is a planning project to explore ideas," Hill said of the Fifth Avenue West Bridge study.
Results of MnDOT's $200,000 study into the Fifth Avenue Bridge are expected in June. Hill said MnDOT had planned to engage specifically with the Duluth Waterfront Collective, whose parkway concept has gained community and media attention across the past several years.
When asked about covering the roadway versus turning it into an at-grade parkway, the founder of the Duluth Waterfront Collective, Jordan van der Hagen, said the more alternatives the better.
The Duluth Waterfront Collective believes it can better connect downtown and Canal Park for less money than rebuilding the interstate.
"It's great to see different people coming together to throw ideas in the ring," van der Hagen said. "I don't think we've found the perfect solution yet, but more and more people are realizing that we can do better."
Covering the roadway with infrastructure to create green space would be expensive. And so-called "freeway lids" or "land bridges" have already been cast negatively by political conservatives who dismay at the cost and downplay any negative impacts the introduction of freeways have had on neighborhoods.
But a future repair or rebuild of the Fifth Avenue West Bridge that maintains the status quo won't address concerns like Daugherty's.
"There's just not user-friendly or inviting access to Canal Park," Daughtery said. "The resistance to something like this is going to be, 'Show me the money.' But on a conceptual level, there's not a lot not to like."
For Worley, the choice is simple.
"There are three options — and keeping it as is, is really short-sighted," he said. "The parkway is one bold step, and covering it and letting people move safely between the two is the third, and best, option obviously."
State, local agencies tab accessory dwelling units of 800 square feet or less as solution for homelessness.
Lacking union guarantees, the $36 million project failed to move the County Board to act, but the city says it will forge ahead.
Districts north and south will feature seven seats up for election in November. What are these boards and why are they important?
Reconstruction of the Garfield Avenue interchange and Highway 53 ramps will dovetail with ongoing reconstruction, ending years of potential delays.