Ordean East Middle School climate club sets its eyes on solar energy
The Duluth Climate Club has spent three years researching solar energy and how it can benefit Duluth Public Schools.
We are part of The Trust Project.
DULUTH — During the past three years, a group of Ordean East Middle School students have been researching, learning and lobbying the Minnesota Legislature. Their passion is solar power.
The club started when some of the founding members entered into an international video competition through Climate Smart Municipalities . They worked with students from Germany to make videos about solar power and how it would apply to their schools. This led to the group of girls starting the Duluth Climate Club in hopes of reducing the carbon footprint of Duluth Public Schools.
"Once we decided we wanted to work on solar panels, we made this whole presentation," said Leila Hoeschen Ehrbright, a freshman at East High School. "We did a bunch of research and talked to people and really dug deep about what it would look like to get solar for our school."
After getting all the leg work done and creating a presentation, the club invited district administration and Duluth School Board members to come to their club. Hoeschen Ehrbright said their ask at that time, in February 2020, was for the whole board, as a whole, to accept their proposal to add solar panels to schools in the district.
"We didn't really get results at that presentation and following that presentation, that is when COVID-19 (was declared a pandemic), so we took a pause for a little bit," she said.
But the group didn't give up. They instead started looking into lobbying the state Legislature for the Solar for Schools program to get grant money for solar projects. Maddie Yapel, an eighth grader at Ordean East, participated in the climate and energy finance and policy committee hearing over Zoom with her teacher Tanya Jackson to lobby for the legislation.
"I spoke about why we think solar would be beneficial to our school and many other schools in our district," Yapel said.
She learned that getting legislation passed takes a lot of time and how to properly write an email.
"I learned that you have to greet them in the email," Yapel said, laughing. "I also learned that you really have to push them if they don't respond, and to keep trying."
All of their hard work paid off as the bill was signed into law in June.
"I would say our club was definitely a very large reason that the bill passed for Solar for Schools, because of our lobbying efforts," Yapel said.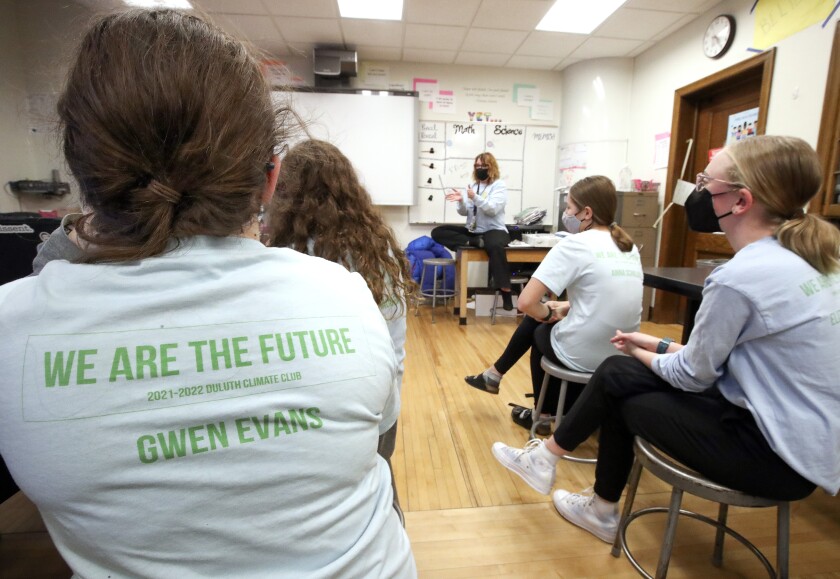 Over the school year, the Duluth Climate Club has grown quickly. Gwen Evans, a sixth grader, said she joined the club after Jackson chose Greta Thunberg as the subject of "Famous Friday."
"We do this thing called 'Famous Friday' in Ms. Jackson's science class where we talk about a famous mathematician or scientist," Evans said, adding Friday was Greta Thunberg. "So we started asking questions and it just went on and on like the whole class period. So at the end of the class, I was super-inspired to join."
Anna Schiller said she heard about the club from her sister, Kate, who is one of the founding members of the club.
"She would talk about it all the time and I thought that it would be a really fun thing to go and help keep the club going," Anna Schiller said. "It was something that I wanted to help with and do the work."
Schiller brought with her a friend, Eliza Schuchman, who said she was overwhelmed when she started.
"But once I started getting into it, I realized it was something that was worth getting involved in," she said.
Schuchman said she started really diving into the club and research of solar power after sitting in on a meeting with the Minnesota Department of Commerce discussing the Solar for Schools program.
The Duluth Climate Club spoke at the Dec. 21 Duluth School Board meeting during public comment. The club read letters from supporters of the Solar for Schools program as well as information regarding how much money solar power on schools could save the district.
The club members asked the School Board during public comment to consider applying for the grant. The first-round deadline is at the end of the month. The School Board discussed moving forward with applying for the grant at a committee-of-the-whole meeting Jan. 6. They came to a consensus that there wasn't enough time to apply for the first round but would consider looking at the second round of applications which is due this summer.
The club was told Monday afternoon what the School Board decided, but it's not deterring the group.
"We took it as good news," Jackson said. "It's a small win."
The application process is extensive, but the group is willing to put the application together. In the meantime, the group has been asked to do solar assessments for other organizations. They will be meeting with the project manager of the new administrative and transportation buildings planned for the Central High School property on the hill to discuss options on that property.
"This is an amazing group of young people," Jackson said. "I take zero credit for their accomplishments. I'm just so proud of them."