Carlton County egg farmers monitor avian flu cases
While lower temperatures have slowed bird migration through Carlton County, egg farmers in the area are taking precautions to keep their flocks free of the latest cases of the avian flu.
We are part of The Trust Project.
WRENSHALL — Farmers raising poultry in Carlton County have been keeping an eye on the latest cases of avian flu in Minnesota.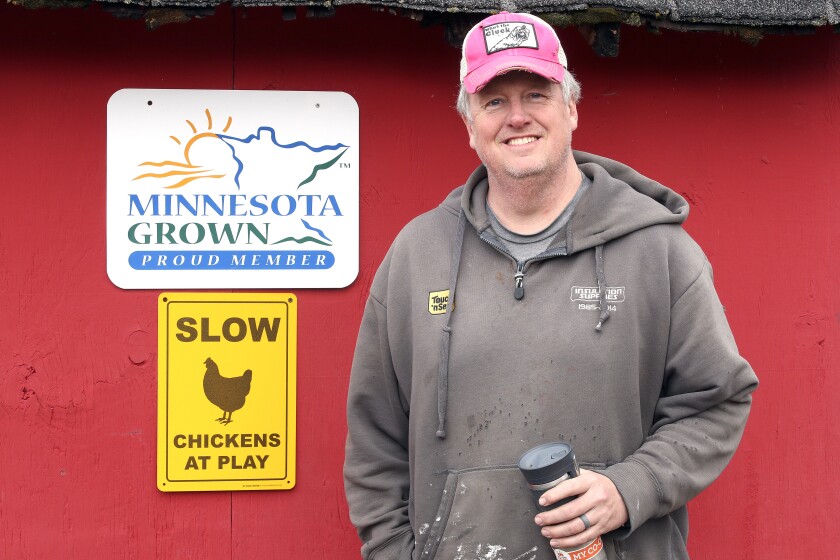 Thus far there have been 60 reported infected sites in Minnesota, according to Minnesota Board of Animal Health data, with the first case reported in Minnesota on March 25. The sites are located south of the Twin Cities and west of the Northland.
Jason Amundsen, owner of Locally Laid Egg Company in Wrenshall said he has implemented some procedures to keep his flock safe.
"The issue with this year ... is it is a highly contagious strain of influenza, which means it can jump from wild birds to turkeys and to laying hens," he said. "So that is the concern."
Amundsen has roughly 22,000 chickens on his six farms, and to keep them safe from the possible spread of the virus from wild birds, he has been keeping them inside.
"We are trying to respect that (the virus), even though we have built our brand on chickens going outside," he said.
For the size of his operation, Amundsen said his risks are lower than larger corporations that have chickens in the hundreds of thousands.
Charges in Carlton County, where the man was arrested with 11 pounds of methamphetamine, were dropped after federal charges were filed.
"Since our flocks are so much smaller and there is so much geographic dispersion between them, our risks are a little bit lower," he said.
Amundsen said the restrictions in place from the state have prevented the transportation of birds.
An April 28 news release from the Minnesota Board of Animal Health extended the ban on poultry exhibitions until June 1.
While it does not have a large affect on his business as he sells eggs, Amundsen said he has not been able to plan his usual pullet sale.
However, he said he's hopeful that it is getting to the tail end of virus with spring and summer weather approaching, as the virus can not withstand any kind of heat.
Linda Glaser, assistant director for the board of animal health, said in the news release the state has been responding to the virus since the first reported case in March.
"We appreciate the patience of flock owners as we extend this pause on poultry events to continue evaluating the risk (avian influenza) poses to their birds while at home or on the road at a fair or other event," she said.
Glaser added the state is monitoring the fairs coming up in June, and hopes the extension of the ban will suppress the virus and allowing things to proceed as planned.
Lori Gamble, owner of Promised Land Farm, said there is always the possibility of the virus passing through the area.
"It is always somewhat of a concern," she said.
The chickens at Promised Land Farm are kept within an electric fence and away from ponds on the property to keep them away from wild birds.
"(We are) being aware of our biosecurity," she said. "Doing what we can to minimize potential losses."
Lower temperatures this spring have resulted in fewer migratory birds passing through the property than usual, Gamble said.
"As birds come north the potential (for infection) increases," she said.
Gamble said having a ban on transporting birds has not affected her farm, but should the restrictions change, it could bring problems.
"Potential to stop products, even eggs, that would change things for us," she said.