Beargrease descendant keeps legacy alive
You might see the great-great-granddaughter of John Beargrease collecting banners at Billy's or at the big finish in Grand Portage.
STURGEON LAKE — It's a big week for Marcia Eiynck.
You might see the great-great-granddaughter of John and Louise Beargrease collecting sponsor banners at Billy's in Duluth, the Beargrease 120 finish at the Trestle Inn in Finland or at the sled dog marathon finish in Grand Portage.
"I am also in charge of the online silent auction that's open and accepting bids through Friday (Feb. 3)," she said.
Eiynck was named the 2023 Changemaker of the Year by Marbleseed, a nonprofit that supports farmers in sustainable, organic farming practices for the work of her company, Beargrease Botanicals .
News Tribune coverage of the nearly 300-mile race that takes teams up the North Shore and ends in Grand Portage.
Along with being a descendant of Grand Portage Band of Lake Superior Chippewa, Eiynck's also the Agricultural Division director for the Fond du Lac Band, a naturopath and a dog musher.
She learned the sport and to train sled dogs while living in Hovland. In 2021, Eiynck and a team of six dogs raced the 40-miler. In News Tribune coverage of that race, she said she felt like a natural when she stood on the sled runners and she thinks of her great-great-grandparents.
"I'll be out there, the cold wind whipping my face, and think, 'He literally did this every day while trapping furs, and delivering mail.' And I'm out here having fun," she said.
Today, Eiynck keeps four sled dogs similar to Beargrease, with one big difference: "We just go around having fun, though, not racing or carrying mail," she said.
Eiynck talked about that time she went all-out fangirl on a musher, how folks can honor the North Shore's Indigenous heritage and more.
"Trail Mail," operating for 15 years, has mushers deliver mail by sled to recognize John Beargrease's legacy.
Q. Share your earliest memory of attending the marathon.
A: The earliest memory I have of attending the marathon was in my early 30s. I don't remember going as a child. My grandma and grandpa always volunteered, and after it was too much for them, my Uncle Mike started volunteering. He is the one who got me interested in learning more about that part of our heritage. I think it was 2009 when my husband and I went to our first race, and we've been hooked ever since.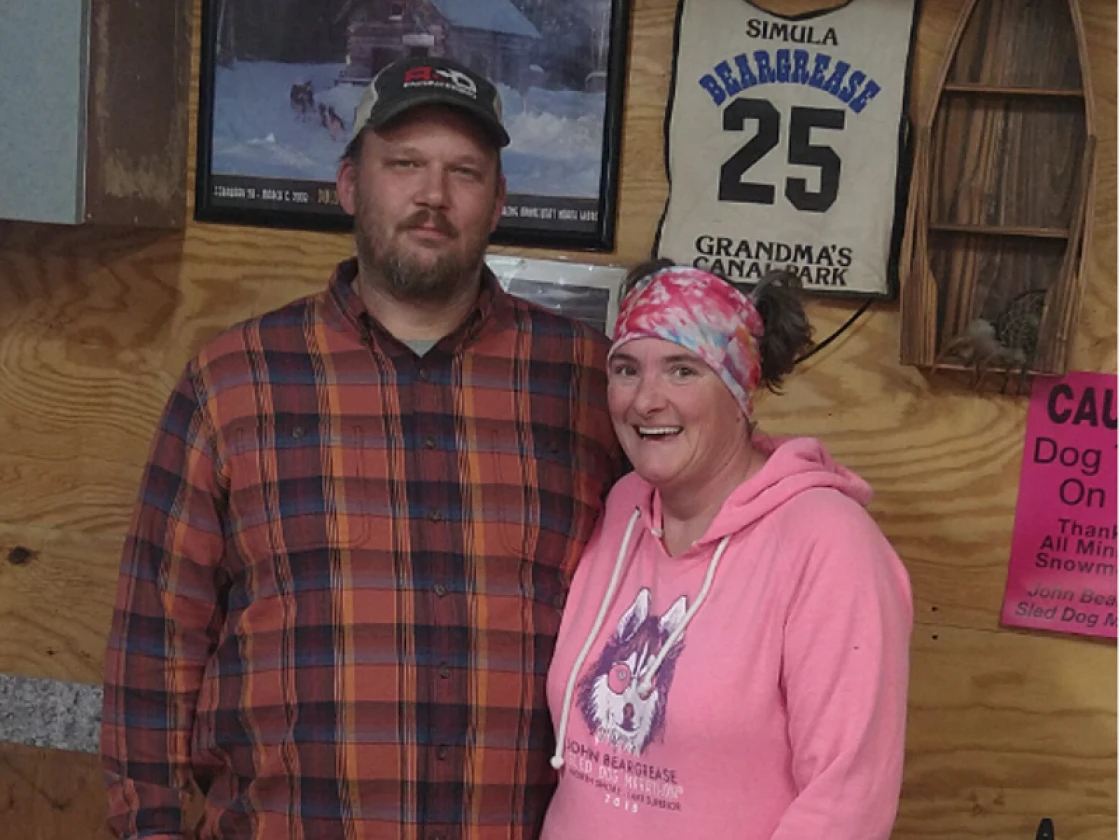 Q. Any interesting family stories about your great-great grandfather that marathon fans may not know?
A: Most marathon fans may not know John Beargrease and his wife, Louise, had 13 children, many of whom did not survive through childhood. There are rumors that John had a second wife and a few more children. This was not common in the old ways, but definitely not unheard of. An Anishinaabe who was a great hunter and provider was held in high regard and could afford to have many children and a couple of wives.
Q. Growing up as a descendant, do you feel responsible for carrying on your ancestor's legacy? If so, how do you balance that with your goals and passions?
A: It's important to me to make sure that when the John Beargrease Sled Dog Marathon is happening, the culture and the spirit of Beargrease is represented and remembered.
I definitely feel more responsible for carrying on the legacy of John Beargrease the older I get. It actually fits right into my life naturally as I am always learning new things to keep life spicy and interesting.
Q. You've rejoined the Beargrease board of directors. List the different hats you've worn behind the scenes. Which is the most challenging, the most gratifying, and why?
A: My husband and I followed the whole race up the shore around 2009. I was fan-girling over the mushers on the trail. I still get a little fan-girly. Last year, I was talking with Ryan Anderson after he won the marathon and a tiny piece of chicken strip came out of my mouth. I thought I was going to die of embarrassment.
My husband and I then started volunteering at road crossings, which we did for several years. I think they're the most challenging to work because, day and night, in a couple or a group, you're in charge of making sure dog teams get safely across the road.
When we didn't want to stay up all night next to a bonfire anymore, I ran and was appointed to the board of directors. It's really hard to stay engaged, focused and helpful if you live in the woods three hours away. I am also more of a "doer" than a "sayer," at least I was a few years ago, so I was only on the board for two years.
From there, I found DoodleDog Kennel 3 miles from where I was living in Hovland. I reached out and was thrilled those ladies agreed to teach me how to mush.
The John Beargrease Sled Dog Marathon starts Sunday, Jan. 29, in Duluth.
I mushed in the Fun Run up the Gunflint Trail in March 2020. I kept training with DoodleDog Kennel and ran a team of their dogs in the Beargrease 40 in 2021. I had aspirations of training until I could run the entire marathon before I turned 50.
Life and age got in the way, and now I'm happy to have my own small kennel to go hike, ski, dogsled and walk with for fun.
I'm back on the board and feel like this is the right place for me for the foreseeable future and as long as I keep getting the votes, I will stay on the board. We are all volunteers, and are expected to contribute all year and have boots on the ground during the race.
Being on the working board is the most gratifying. All the planning, debates, different ideas and personalities culminate in a big fantastic marathon of each year.
Q. You've trained sled dogs and run the Beargrease 40 and the 5- to 6-mile Fun Run. (Am I missing anything?) What have these experiences taught you about yourself?
A. These experiences taught me a lot about myself.
Out there on the trails, training mostly at night because we all have day jobs, it was so peaceful and I was so content. I felt really connected to my ancestors and thought of my great-great grandfather John Beargrease often. It felt like I was supposed to be there, reflecting on my life and soaking up the quiet scenery.
Many times, I was brought to tears out there on the trails because I had never felt so peaceful or connected to my culture.
Mushing also taught me that I am stronger than I thought I ever could be, and I think the sled dogs have trained me more than I have trained them!
Q. Outside the marathon, how can folks honor the Indigenous heritage that built the North Shore?
A. Folks should definitely acknowledge the land that they now live on. Remember those that stewarded the land for thousands of years before the settlers came. To learn about the lands, please visit land.codeforanchorage.org . Enter your city and state or zip code and it will give you a list of the Native peoples who inhabited the ground where you live.
I also encourage people to visit John Beargrease's gravesite in Beaver Bay, Minnesota. Stop in at any of the museums up the shore, and especially Grand Portage National Monument and the Grand Portage Museum to learn more about our history and culture.
The shift speaks the ingenuity of these business owners and a welcoming community. "That's a very Duluth-y thing," said Tricia Hobbs, the city's senior economic developer.