After redistricting, two former 7th Congressional District candidates are now living in the 8th District
One will run in the 8th while the other has suspended his campaign to think about it.
We are part of The Trust Project.
DULUTH — Before Tuesday, Ernest Joseph Oppegaard-Peltier III, 33, of Bemidji, had been a candidate for northwestern Minnesota's 7th Congressional District.
But then, at noon that day, new congressional boundaries for the state were released, with the western end of the 8th Congressional District pushing farther west to include Oppegaard-Peltier's residence.
Now, Oppegaard-Peltier is running for the 8th District seat as a member of the Democratic-Farmer-Labor party, Federal Election Commission filings show .
Reached by phone Tuesday, Oppegaard-Peltier, a member of the Turtle Mountain Band of Chippewa in North Dakota, believes he is best suited to represent a district that includes all seven of Minnesota Anishinaabe reservations.
"I look at the field and I don't see any candidates with any Indigenous interests on their platforms or even in their talking points," he said. "And that's shameful to see. So I'm in it to represent our tribal communities and our allied communities."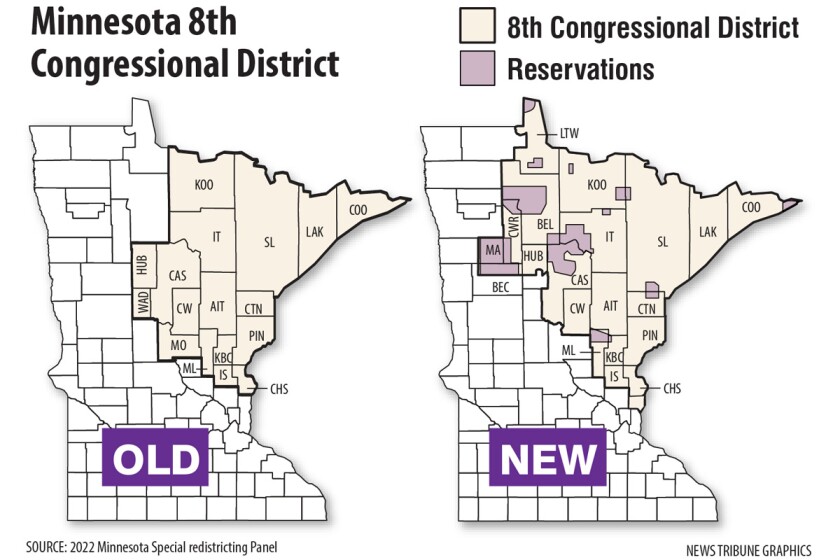 In the race, he joins incumbent Republican Congressman Pete Stauber, of Hermantown, and Theresa Lastovich, of Chisholm, the only other DFL candidate in the race so far.
The western expansion of the district means the White Earth Band and Red Lake Nation join five other Anishinaabe bands' reservations already in the district.
The redrawn lines also mean DFLer Reed Olson, of Bemidji, who had been running for Congress in the 7th District as a Democrat, now finds himself living in the 8th District.
Olson, a Beltrami County commissioner, told KAXE radio on Thursday that it would take time to decide whether he'll run in new district or not.
"Now I've suspended my campaign in the 7th. … I haven't formally declared that I'm going to run in the 8th. I'm going to take some time to kind of assess and reach out to people and probably make a decision in a couple of weeks," Olson said.
Once a DFL stronghold, the 8th District is expected to favor Republicans again in the November election, even with the new borders.
Stauber has out-fundraised the other candidates by a substantial amount, with $1.3 million raised in 2021 and $818,000 cash on hand at the end of the year, according to Federal Elections Commission data. Reed raised almost $46,000 last year, while Oppegaard-Peltier raised almost $9,400 and Lastovich raised $712.
Lastovich could not be reached by the News Tribune on Thursday for comment on the status of her campaign.
In its 2021 uniform crime report released Friday, Aug. 12, the state Bureau of Criminal Apprehension reported 201 murders, an 8.5% annual increase, and a 21.6% increase in violent crime. The previous murder record was set in 2020, when Minnesota had 185 murders — a 58% increase from the 117 reported in 2019.