Kozy building spared by appeals court
A judge relied entirely upon economic considerations in clearing the way for the historic building to come down, a panel concluded Monday, sending the case back to district court for further proceedings.
We are part of The Trust Project.
The historic building that once housed the Kozy Bar and Apartments in downtown Duluth won't be meeting the wrecking ball quite yet.
The Minnesota Court of Appeals on Monday gave a reprieve to Pastoret Terrace and Paul Robeson Ballroom, reversing a judge's ruling that had cleared the way for demolition to begin on the structure at First Street and Second Avenue East.
A three-judge panel sided with the property's former owner, Eric Ringsred, who said city officials failed to undertake due diligence in considering proposals to rehabilitate the 1887 Oliver Traphagen-designed building, which was condemned for human habitation after a fire in 2010.
"It's a big win for the plaintiffs in this case and for preservationists in Duluth," said Miles Ringsred, an attorney and son of Eric Ringsred. "Dr. Ringsred has been crusading on these issues for a long time. The city seems to like to pick and choose when it's convenient to protect historic assets. We hope this will give them a little guidance to take that more seriously."
The ruling sends the case back to 6th Judicial District Judge Eric Hylden for further proceedings. City Attorney Rebecca St. George would only say that officials are "reviewing the next steps in the legal process."
"The city of Duluth remains committed to doing everything within our power to seek a resolution that improves the neighborhood and benefits the community," Mayor Emily Larson said in a statement. "We have chosen an intentional and aggressive path to stabilize our downtown, increase safety for workers and residents and provide a neighborhood backdrop befitting the Clayton Jackson McGhie Memorial."
DEDA must maintain property
Eric Ringsred, lacking insurance on the building, was unable to make any repairs before losing the property to tax forfeiture in 2015. It was then purchased by the Duluth Economic Development Authority, which marked it for sale and issued a request for proposals to rehabilitate the structure or, alternatively, demolish it and construct new housing.
DEDA received two rehabilitation proposals: one from a Pastoret, LLC, which planned to build affordable housing units, and the other from OCH Bookstores, LLC and Hoeft Builders, which sought to redevelop the property into 40 market-rate housing units.
But DEDA rejected both proposals, finding that neither provided sufficient financial feasibility to move forward. The agency further expressed concerns about the housing mix, low job creation and lack of commercial development or increase in the tax base associated with the projects. Officials then sought to move forward with demolition.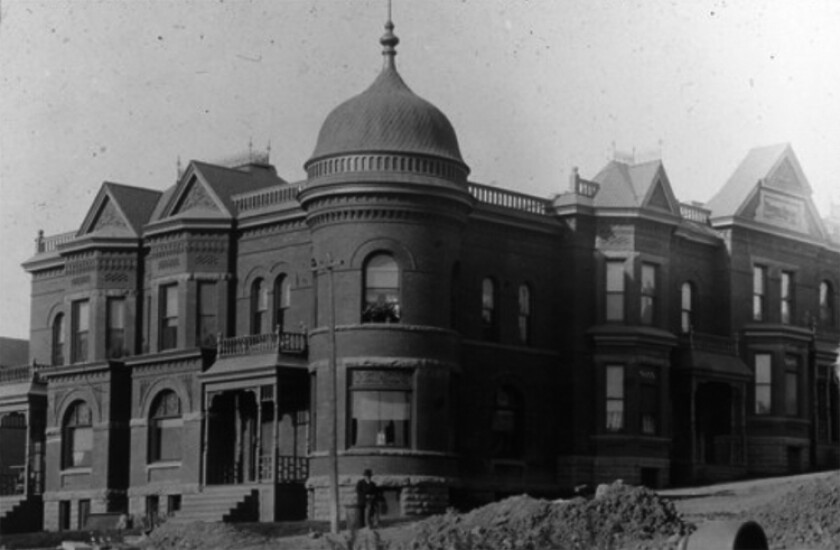 Ringsred and an organization known as Respect Starts Here challenged DEDA's actions under the Minnesota Environmental Rights Act, as the property is listed on the National Register of Historic Places as contributing strictures to the Duluth Commercial Historic District.
After a three-day trial, Hylden cleared the way for the building to come down , writing in an October 2019 decision that there were no "feasible and prudent alternatives to demolition." Without a well-financed developer, he said, the blighted building would likely remain in a permanent state of disrepair.
But the judge's review was too limited, the appeals court said. Under the Minnesota Environmental Rights Act, economic considerations alone can't justify the decision to demolish a historic structure.
"While the court described DEDA's concern about the proposals' financing as 'not merely an economic consideration' because potential funding shortfalls could prevent any rehabilitation of the property from being completed and create a scenario where the property continued in its neglected state, the possibility of such a development does not transform economic considerations into non-economic considerations," Judge Heidi Schellhas wrote in the 10-page opinion.
The panel instructed Hylden to restore a temporary injunction against demolition and impose a requirement that DEDA "perform all maintenance and repairs necessary to prevent the property's further deterioration."
Miles Ringsred said he expects to file a motion with recommendations on measures the city should be required to take to prevent further deterioration. Because a trial was already held and the appeals court ruled that the city failed to establish an "affirmative defense," the attorney said he doesn't anticipate a renewed order in the city's favor.
"Unless there are any new developments, I don't see how they'd be able to meet that burden," Miles Ringsred said. "So then the question is what happens next. The city could move forward and develop it themselves as they did with the Norshor (Theatre), or they could put out another request for proposals and actually give them a good look this time. They'd have a pretty high burden to not accepting one of those at this point."
It was unclear whether the city will ask the Minnesota Supreme Court to restore Hylden's original ruling or pursue any further defense in district court.
"We will review all of our legal options to see our case through," Larson said. "Our staff within the City Attorney's Office have worked extremely hard on this case, and remain committed to doing so. My deepest gratitude goes out to them as they continue their commitment to this case."
City, newspaper seek dismissal of other lawsuit
In a separate case, the city and News Tribune have both asked a judge to dismiss a defamation lawsuit served by Ringsred this spring alleging a decadeslong "conspiracy" to undermine his preservation interests and damage his professional reputation.
Ringsred, an emergency room physician and frequent litigator of issues involving historic buildings, claimed "harassment and retaliation ... in the form of defamatory statements in the news media," citing statements from city officials published in the newspaper regarding the Pastoret Terrace and other projects as far back as the 1990s.
The complaint takes issue with factual statements, fails to demonstrate how Ringsred's rights have been infringed and contains allegations that are outside the statute of limitations, Assistant City Attorney Elizabeth Sellers said in her dismissal motion on behalf of the city and former City Attorney Gunnar Johnson.
"The complaint contains no factual allegations indicating the alleged retaliatory actions were tied in any way to (Ringsred's) exercise of First Amendment Rights," Sellers wrote in July.
The newspaper is further protected by legal privileges to report on judicial proceedings, official actions and public meetings, attorney Robert Stock argued on behalf of the News Tribune, Forum Communications Co. and reporter Peter Passi.
"Defendants cannot be charged with defamation just because (Ringsred) does not like that (the newspaper) republished the city's position," Stock said. "Plaintiff's claims are legally insufficient and must be dismissed."
Ringsred, representing himself, has not filed any response to the dismissal motions. Judge Shaun Floerke has scheduled a hearing for Sept. 30.
This story was updated several times with additional information and responses to the decision, along with other litigation involving Ringsred. The final version was published at 5:15 p.m. Aug 31. The initial version was posted at 10:54 a.m. Aug. 31.