Hotel kitchen fire forces evacuation in Canal Park
There were no injuries as Duluth fire crews battled a kitchen fire that traveled in ductwork up four floors of Pier B Resort.
Nobody was injured when a commercial kitchen fire forced the evacuation of a Canal Park resort and hotel Friday afternoon.
As firefighters worked the scene, Pier B resort guests mixed outside the hotel. Next door, visitors streamed into the Bentleyville holiday lights display.
"We think it's out," said Matt Johnson, the acting assistant fire chief at the scene. He described the Duluth Fire Department being called to the resort (800 W. Railroad St.) by an automatic alarm.
"There was black smoke coming from the roof when we arrived," Johnson said, describing how the fire started in the kitchen and traveled up an exhaust hood, sending the fire traveling up the ductwork to the fourth-floor roof. About a half-hour after their arrival, crews continued to pour water from the roof down through the exhaust outlet, and assess hot spots between the floors.
Johnson confirmed there were no injuries to report. The fire department estimated there was $75,000 in damages to the kitchen and building, according to a news release late Friday.
Lisa Shi, 37, of Plymouth, Minnesota, was a hotel guest with her husband and three children.
"We had been swimming when we heard the alarm," she said. "We saw smoke and didn't grab anything. We just got out."
Another guest loaned her a coat and shoes, while her children and husband took refuge in another guest's vehicle.
Shi noted her fourth-floor room right below where firefighters were pouring water onto the roof.
"I hope we'll be able to get our stuff," she said.
About an hour after the alarm sounded, firefighters invited guests back into the lobby, while saying they could not go to rooms until given an all-clear.
"Crews are still looking for (fire) and continuing to apply water from the roof access," a Duluth Fire Department tweet said.
Gay Allworden, 62, of Excelsior, Minnesota, said the evacuation was "orderly," and that the alarm sounded at roughly 4:45 p.m., just as darkness fell and visitors began to converge on the holiday lights next door.
"We're here to see the lights," Allworden said. "We're being tourists."
This story was updated at 8:30 p.m., Nov. 26, 2021 to include the damage estimate. It was originally posted at 6:10 p.m., Nov. 26, 2021.
1
/
8:
Duluth Fire Department crews work at the scene of a commercial kitchen fire at Pier B Resort in Duluth on Friday, Nov. 26. The fire had traveled through an exhaust hood to the roof on the fourth floor. Dan Williamson / Duluth News Tribune
2
/
8:
Pier B resort guests gather around a fire after they were forced to evacuate the building due to a fire in the facility's commercial kitchen on Friday, Nov. 26, 2021. Dan Williamson / Duluth News Tribune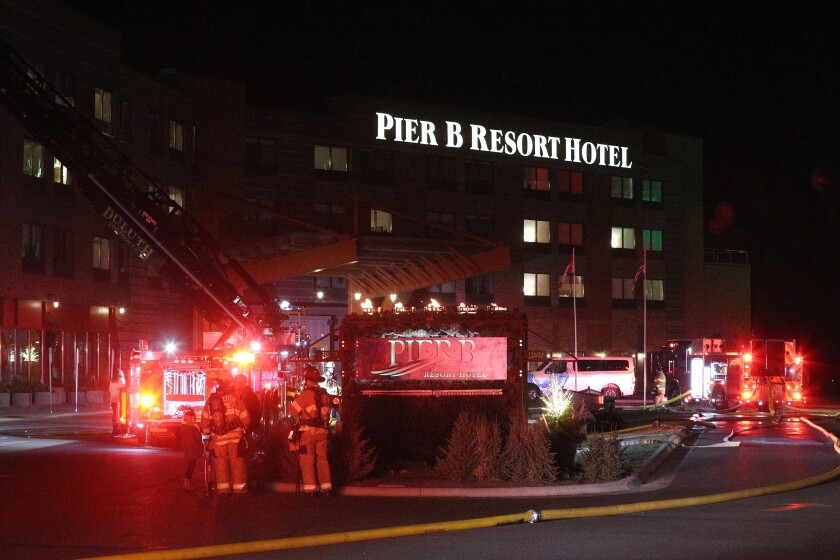 3
/
8:
Duluth Fire Department crews work at the scene of a commercial kitchen fire at Pier B Resort in Duluth on Friday, Nov. 26, 2021. The fire had traveled through an exhaust hood to the roof on the fourth floor. Dan Williamson / Duluth News Tribune
4
/
8:
Pier B Resort guests gathered around fire pits outside after they were forced to evacuate the building due to a fire in the facility's commercial kitchen on Friday, Nov. 26, 2021. Dan Williamson / Duluth News Tribune
5
/
8:
Members of the Duluth Fire Department worked at the scene of a commercial kitchen fire at Pier B Resort in Duluth on Friday, Nov. 26, 2021. Dan Williamson / Duluth News Tribune
6
/
8:
The extension ladder of a Duluth Fire Department truck was extended to the roof on the fourth floor of Pier B Resort in Duluth on Friday, Nov. 26, 2021 after a commercial kitchen fire traveled through an exhaust hood. The fire forced the evacuation of hotel guests. Dan Williamson / Duluth News Tribune
7
/
8:
A member of the Duluth Fire Department carries a floor squeegee while walking toward the main entrance of Pier B Resort in Duluth on Friday, Nov. 26, 2021 after a fire in the facility's commercial kitchen forced the evacuation of hotel guests. Dan Williamson / Duluth News Tribune
8
/
8:
Guests at Pier B Resort in Duluth were evacuated after a commercial kitchen fire on Friday, Nov. 26, 2021. The fire had traveled through an exhaust hood to the roof on the fourth floor. Dan Williamson / Duluth News Tribune