Here's what happened this week in the Northland
Judge rules Duluth's fire-damaged Kozy building may come down
Decision cites crime, blight, threat to public health posed by structure
Mother bear killed: Authorities unsure if same animal was responsible for Duluth Heights dog attacks
Following recent reports of bear aggression involving dogs and the subsequent death of a toy poodle named Gizmo, a female bruin was euthanized Sunday morning in Duluth Heights.
Attorneys: Miller, UMD reach tentative agreement to settle lawsuits
The deal, which has not been finalized, would resolve state and federal claims from the former women's hockey coach.
Duluth man accused of 'brutal' assault hours after being released from prison
Daniel Kriesel has a violent past and spent much of the past decade in custody. He's now accused of stabbing and beating his wife on the same day he was released from prison.
Catalyst Content Festival offers how-tos and networking ops
The five-day event, in Duluth for the first time, brings creators and executives together in a "destination wedding"-like setting
St. Louis County gives go-ahead for downtown Duluth apartments
With $700K in local subsidies secured, the $11 million First Street Lofts at the corner of Lake Avenue and East First Street figure to open sometime in 2021.
Recently disarmed WWII bomb revives memories for Superior man
"Seventy-plus years later, this still exists. It's a danger," Winterscheidt said of the bomb found in a village about 17 miles from where he grew up near the German border with Belgium during World War II.
Coffee and wine bar coming to Duluth early next year
The Blue Rock Coffee and Wine Cafe will open in early 2020.
Beargrease joins international sled dog racing championship circuit
"We have a great story to tell, and we get a chance to tell that story to an international audience."
Study: One in 10 Minnesota kids obese
That's one of the best marks in the nation, but a state expert says it might be an underestimate
St. Luke's opens women's breast health center
Breast cancer is among the leading causes of cancer deaths in the U.S.
Stauber solicits residents' thoughts on small business
In a survey mailed to 8th District households, the congressman says he's committed to "rolling back burdensome regulations."
Man's prison term in home invasion overturned
The Minnesota Court of Appeals found that circumstances didn't warrant a prison sentence of more than double the presumptive guidelines for Guy Robert Franklin Rabold, 28, who was convicted in a 2015 Rice Lake home invasion.
Ely-based Legacy Toys to open store at Mall of America
Legacy Toys, which is based and was founded in Ely, announced it's opening a new store in the Mall of America.
Superior parks commission continues to debate smoking ban
Superior's Parks and Recreation Commission is considering a smoking ban in recreational spaces, but for two months commissioners have been at odds on how to implement it.
Superior warehouse takes step toward historic listing
Twohy Mercantile Building, known as the Bayside Warehouse, was built in 1894
DNR: Proposed natural gas power plant could harm groundwater
Regulators say plant's wells "likely to deplete groundwater," requests more info from power companies
NRRI aims to prioritize carbon capture potential in Minnesota forests
The University of Minnesota Duluth Natural Resources Research Institute hosted a discussion Tuesday on forest carbon capture opportunities in Minnesota.
MPCA says it won't support U.S. Steel's call for Dark River reclassification 'at this time'
The Minnesota Pollution Control Agency will not support U.S. Steel's request to reclassify portions of the Dark River, which sits at the foot of the company's Minntac tailings basin, unless the mining and steel-making company can provide the agency with more information.
Timeline for hiring consultant for Duluth schools superintendent search pushed back
Also, the Duluth school district was recently informed by its food service provider that it may not be able to fulfill its contract with the district.
St. Louis County gains in 'win for public lands'
Years in the making, a donation of almost 1,600 acres by the Minnesota Deer Hunters Association figures to be made official later this month.
WLSSD collects $7.1 million in state loans
The loans will fund two improvements at the wastewater treatment plant.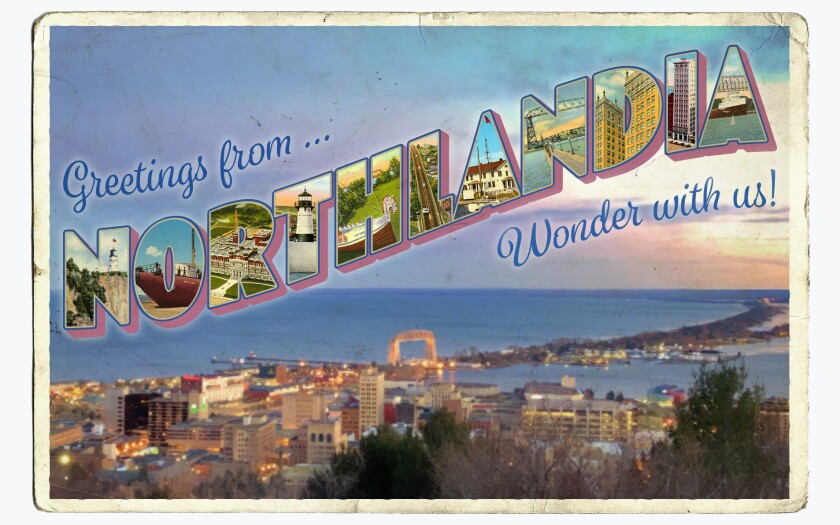 Northlandia: A seal and a polar bear walk into a bar …
Northlandia: A seal and a polar bear walk into a bar …
Feisty, the harbor seal that escaped from the Lake Superior Zoo during Duluth's historic 2012 flood, is alive and well under the New Mexico sun.
Sam Cook column: Coping with bearanoia in the not-so-wild West
All you can do is to be prepared, then just go.
The Memo: Over 80 forfeited properties to be auctioned and more
And yes, despite it being October, there is something about taxes in here.
2019-20 UMD men's hockey season preview: Bulldogs embrace pursuit of NCAA's first three-peat in 66 years
2019-20 UMD men's hockey season preview: Bulldogs embrace pursuit of NCAA's first three-peat in 66 years
Instead of ducking and dodging questions about three-peating, the Bulldogs are embracing what's before them, starting with head coach Scott Sandelin.
College women's hockey: Bell adds offensive element to UMD, Canadian blue lines
Junior out of Manitoba made the move this offseason from forward to defense both with Bulldogs and with Hockey Canada
UMD women's hockey team signs cards and banner thanking veterans
UMD women's hockey team signs cards and banner thanking veterans
The University of Minnesota Duluth women's hockey team spent Tuesday morning signing cards and writing their thanks on a banner in an effort to support veterans and current service members, organized by the American Red Cross.
Prep soccer playoff preview: Hermantown rises to the top in 7A
The Hawks have done more than compete, going 12-3-1 this season to earn the No. 1 seed in this week's Section 7A playoffs.
Dance fever: 'Dance TV' is theater-slash-party starter
A new original production, which plays today at Brewer's Garage, is a behind-the-scenes look at a televised dance show — and all its hot gossip.
Cauliflower crust pizza, separate toasters and other tips for life without gluten
Cauliflower crust pizza, separate toasters and other tips for life without gluten
Diagnosed with celiac disease at 77, Duluthian Sue Majewski wants other people to know how to cope.
Vegan Cookbook Club: Plant-based milks offer a variety of tastes and health benefits
The variety of vegan milks available might surprise you. And for the more adventurous among you, try making your own!
Pop-up art show opens this week in Duluth
Embassy 35 is among a handful of exhibitions currently showing at Twin Ports art spaces.