Grand Marais comes together to mourn loss of 3 downtown businesses
Relief accounts and GoFundMe campaigns have been created to support the affected businesses.
GRAND MARAIS — The afternoon after a fire destroyed three businesses in downtown Grand Marais, Kelsey Kennedy, a somber shop-owner, scanned the rubble to see if the sign from her friend's store survived the blaze.
"I think that a lot of us are grieving, but I think we're also feeling ... a lot of gratitude for this community and the way that it is," Kennedy said. "In hard times we all support each other."
Kennedy's gift shop, Picnic & Pine, her close friend's gift shop, White Pine North, and The Crooked Spoon Cafe all burned down in the Monday afternoon fire fueled by gusting wind. All three businesses are on Wisconsin Street.
Kennedy and the owners of White Pine North were participating in a conference call with Grand Marais' business coalition, trying to figure out how their stores were going to survive the summer, when they got the news about the fire.
"They said that 'The Crooked Spoon is on fire' and I knew my store was going down because they share a wall," Kennedy said.
As the daughter of Grand Marais shop owners, Kennedy grew up in her parents' shops, Beth's Fudge & Gifts and Birchbark Books and Gifts. Picnic & Pine, which was heading into its fourth summer, was Kennedy's chance to make something her own.
"It kind of became my little baby because it's a little store," Kennedy said. "It really was the epitome of my family — the pictures on the outside were pictures of my family. It wasn't like it was a brand; it was just us."
Also on Tuesday afternoon, Collete Mueller stood with her daughters by what used to be The Crooked Spoon, the restaurant she served at since the day of its opening 14 years ago.
"I had all three of my babies in my belly all those years," Mueller said, after wiping back tears. "Everybody in there had such history. We all knew everybody and their stories and their families. For 14 years we watched babies grow up and people pass away. It was just a close-knit community from all over."
The Crooked Spoon, which usually opens for the season around Mother's Day, had partially opened over Easter weekend to offer curbside service.
Adjacent to the strip of buildings that burned on Monday, Sven & Ole's Pizza remained untouched by the flames, but not without smoke damage.
While crews fought the fire, pizza shop owner Sid Backlund steeped in worry for most of the day, uncertain if the flames would reach his shop, too. Though he's grateful his shop survived, Backlund expressed remorse for what the young business owners who lost their shops are going through.
"You might not know somebody really well — I get kind of emotional — but it's just sad. It's just sad to see," Backlund said.
He said the community will do whatever it takes to help the affected owners get back into business.
Backlund, who opened the pizza shop with his brother in 1981, said the business owners put out by the fire are all young people who have brought in fresh ideas he's learned from.
"All these guys work very hard. I think they'll be back — we'll be back," Backlund said. "It would be nice if it wasn't with all this other stuff going on."
Backlund said he hopes to get Sven and Ole's open for curbside pickup again by Thursday, after the shop's power is restored and the smoke treatment is completed.
Jan Sivertson, of Sivertson Gallery, across the street from the destroyed businesses, was also having smoke damage assessed in her shop Tuesday.
Looking ahead to summer — the tourist town's busiest season — Sivertson said the situation looks bleak for the business community, also trying to survive the COVID-19 pandemic.
"These were three young family businesses. That's really devastated the downtown culture," Sivertson said. "I'm really sad and sick about that."
In response to the fires, Grand Marais State Bank set up relief accounts for all three businesses lost in the fire. Anyone can donate to the accounts.
At least two GoFundMe campaigns are raising money for the affected businesses. As of Tuesday evening, Grand Marais Fire Relief Fund had raised more than $10,000 and The Crooked Spoon Cafe Fire Recovery Fund had raised nearly $8,000.
1
/
12:
large pile of debris is all that remains Tuesday after a fire destroyed three businesses on Wisconsin Street in Grand Marais Monday. The businesses were Picnic & Pine, The Crooked Spoon, and White Pine North. (Clint Austin / caustin@duluthnews.com)
2
/
12:
Sid Backlund of Grand Marais, owner of Sven & Ole's, talks about Monday's fire that destroyed three neighboring businesses. A brick wall and a metal roof are credited to saving his building. Backlund remarked, "We have a building. We are lucky, we have been spared." (Clint Austin / caustin@duluthnews.com)
3
/
12:
An old photo sits Tuesday among the debris of White Pine North, one of the three businesses on Wisconsin Street in Grand Marais that were destroyed by Monday's fire. (Clint Austin / caustin@duluthnews.com)
4
/
12:
A burned up van is among the remaining debris from Monday's fire on Wisconsin Street in Grand Marais. The fire claimed three businesses; Picnic & Pine, The Crooked Spoon and White Pine North. (Clint Austin / caustin@duluthnews.com)
5
/
12:
Jan Siverston (left), owner of the Siverston Gallery and Kelsey Kennedy, owner of Picnic & Pine, talk Tuesday about the fire that destroyed three businesses on Wisconsin Street in Grand Marais. Picnic & Pine is one of the businesses that burned. (Clint Austin / caustin@duluthnews.com)
6
/
12:
The scene Tuesday on Wisconsin Street in Grand Marais. A fire destroyed three businesses on the street Monday. The businesses were Picnic & Pine, The Crooked Spoon and White Pine North. (Clint Austin / caustin@duluthnews.com)
7
/
12:
Sid Backlund of Grand Marais, owner of Sven & Ole's, talks about Monday's fire that destroyed three neighboring businesses. A brick wall and a metal roof are credited to saving his building. Backlund remarked, "We have a building. We are lucky, we have been spared." (Clint Austin / caustin@duluthnews.com)
8
/
12:
The Sivertson Gallery is across the street from the three businesses that burned on Wisconsin Street in Grand Marais Monday. The galley sustained significant smoke damage from the fire. (Clint Austin / caustin@duluthnews.com)
9
/
12:
The remains of the buildings on Wisconsin Street in Grand Marais that were the home to Picnic & Pine, The Crooked Spoon and White Pine North. A large fire destroyed the businesses on Monday. (Clint Austin / caustin@duluthnews.com)
10
/
12:
During a snow squall Kelsey Kennedy (right) of Grand Marais, the owner of Picnic & Pine, talks to a person while looking at the pile of debris left after a fire destroyed her business on Wisconsin Street in Grand Marais Monday. (Clint Austin / caustin@duluthnews.com)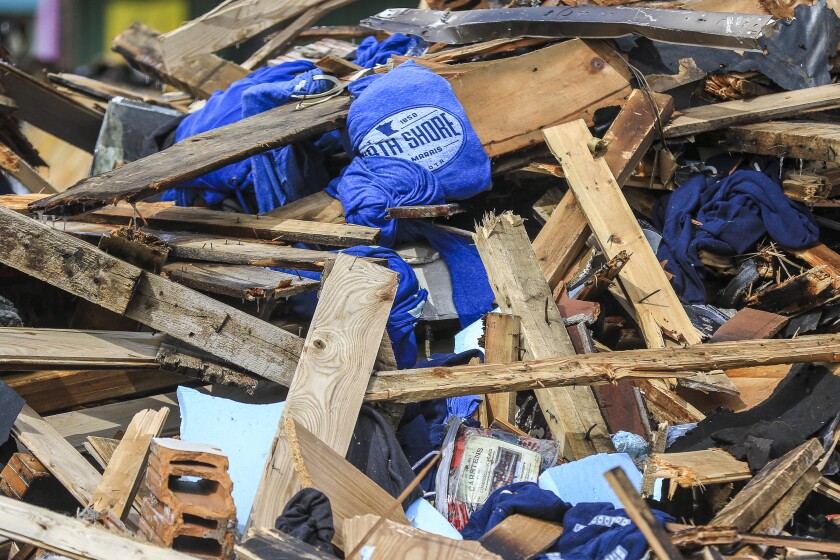 11
/
12:
T-shirts are scattered through the pile of debris Tuesday that was once White Pine North a gift shop that burned during Monday's fire on Wisconsin Street in Grand Marais. (Clint Austin / caustin@duluthnews.com)
12
/
12:
A large fire destroyed three businesses Monday in the town of Grand Marais on the north shore of Lake Superior. (Clint Austin / caustin@duluthnews.com)