Forced to build new jail, Itasca County navigates economic woes
With critical businesses in the area idling and the local tax base shrinking because of the pandemic, the county must still forge ahead with a project that is expected to cost about $60 million.
The Itasca County Board spent nearly two years studying the needs of the county's jail — convening a task force, soliciting expert assessments and receiving public input at 28 town hall meetings.
The effort was to culminate with a special board meeting in late March, when commissioners were expected to vote on a final plan to build a new facility that would serve the county for at least the next several decades.
Then the pandemic hit, bringing economic turmoil to a county that was already grappling with how to pay for a once-in-a-generation expense.
"We didn't just wake up one day and say, 'Hey, you know what would be a cool project? Let's build a jail,'" Board Chair Ben DeNucci said. "We don't really have a choice."
The Minnesota Department of Corrections in April 2018 ordered Itasca County to vacate its current jail, citing deteriorating physical conditions, operational limitations and increasing inmate populations.
Initially given a September 2021 "sunset date," the county was recently granted an extension to May 2023.
Facing that deadline, the board voted earlier this month to advance a plan to construct a new jail adjacent to the existing facility in downtown Grand Rapids. Under the plan, three buildings on a neighboring block would be purchased and demolished to make way for expansion of the current complex.
While details of the project continue to be worked out, the roughly $60 million project could also include renovations on parts of the existing courthouse, law enforcement center and jail complex. But the full scope remains unclear, as does the question of how the county will fund it.
"People are stretched here," DeNucci said. "But we had to make a decision to keep on the timeline of the project."
DOC: Jail deteriorating, inefficient
The current jail dates back to 1982, with an annex added in 1997. It has an operating capacity of 97 beds, but the county's needs often surpass that, requiring some people to be transported and housed in other jurisdictions.
A DOC inspection in 2017 found 15 violations at the facility, many related to "significant problems with heating, ventilation and air conditioning systems." It additionally lacks adequate space for medical services, programming, recreation, storage and intake operations, the DOC found, and has a linear design that is too staff-intensive.
The building has already exceeded its expected lifespan. The National Institute of Corrections states that a 24-hour jail should remain operational for approximately 25-30 years.
The county has housed out about 35 inmates per day in recent years, according to a task force report. Allowing for peak times and potential future growth, it has been recommended the county essentially double its jail capacity to as high as 180-200 beds.
On the other hand, the county even looked at the possibility of eliminating its jail altogether, relying solely on other jurisdictions. But that was expected to be costly, as the county would still be on the hook for all transportation and housing costs, as well as constructing and operating a secure holding area in the courthouse.
Debate centered around two options: expanding the downtown campus or starting anew in a green space near the Grand Rapids-Itasca County Airport.
Commissioners Burl Ives and Davin Tinquist lobbied for the green site, arguing it would be financially prudent for the county to stick to its mandate of simply building a new jail and considering the possibility of moving courts, law enforcement and other county offices to the site later.
"I just hope the board thinks about how taxpayers are going to pay for this," Ives said. "Our budget is going to be less and less and less as time goes on, unless we have some great economic surge in jobs and businesses."
But DeNucci and fellow commissioners Terry Snyder and Leo Trunt advanced the downtown plan, which calls for an expansion across Northeast First Avenue and renovation of some facilities on the existing two-block campus.
The Vanity Cleaners, Northland Flooring and old Northprint building would all be purchased and demolished. The county has also been engaged in discussions with the city of Grand Rapids about the possibility of relocating its fire hall on that block, though that property is not currently included in the plan.
"I believe downtown location is important for the city, the law community and our businesses," DeNucci said, also citing long-term savings in keeping existing offices in place. "In my mind, the green option just creates a chain reaction of multi-million projects."
Sales tax favored, but approval needed
While a public survey showed split opinions on the site, 72% of residents expressed support for funding the project with the help of a local-option sales tax. Officials have estimated that more than 50% of the county's sales tax revenue comes from non-residents, who would help pick up the tab.
But the Minnesota Legislature must give the county permission to place a sales-tax referendum on the ballot. DeNucci said the board aggressively lobbied for that in St. Paul, but with the Legislature failing to take up any tax bill this year, they'll be shifting their attention to 2021.
Absent the approval of a sales tax, the project would need to be funded through property tax increases, which Ives said would burden already-struggling residents and businesses. The UPM Blandin paper mill, a major employer in the county, has been idled since April. The indefinite, and possibly permanent, closing of the Verso mill in Duluth also has put a dent on Itasca's crucial timber industry.
"We're going to be putting this on our homeowners and our business owners because we can't get a local-option sales tax," Ives said. "I'm really concerned about that."
Judges ask for courthouse upgrades
Also an issue is the Itasca County Courthouse, which was constructed in 1950 and is said to be in need of significant upgrades or replacement.
The courthouse's three judges — Heidi Chandler, Sarah McBroom and Korey Wahwassuck — warned the county not to overlook its legal requirement to provide "suitable facilities for court purposes" in an October letter co-signed by 9th Judicial District Chief Judge Tamara Yon.
The judges described courthouse security as a "serious concern," bemoaned crowded court calendars that pack the hallways and stretch late into the night, and pointed to violations of the Americans with Disabilities Act. They said the building lacks adequate restrooms and meeting facilities, has serious heating and air conditioning issues and literally shakes when semitrailers pass.
The county could stand to receive a fourth judge with adequate space, they said. Without a significant renovation or expansion, the current courthouse could be deemed "unsafe or unfit," allowing the judges to designate another location to hold court.
"To be blunt, this means that the Judicial Branch would ultimately issue its own 'sunset' notice for the court facility similar to that received by the Itasca County Sheriff's Office for the jail," the judges wrote, asking commissioners to consider future courthouse needs in their jail analysis.
Final decisions yet to be made
DeNucci said there haven't been any final decisions about how the courts will fit into the construction and renovation plans, but he expects that to be addressed in the coming months. Options discussed by the board have included the addition of two courtrooms above the current jail annex.
With the pandemic upending operations, commissioners said there may need to be some reassessment of the court's needs. While there will always be a need for in-person proceedings, most hearings throughout the state have been conducted remotely via videoconferencing over the past three months.
But the judges cautioned that an era of social distancing has exacerbated the need for adequate space, telling the board to "avoid taking a piecemeal approach that is neither efficient nor effective."
"Failing to address the legitimate concerns raised by the judiciary, and the adequate need for space to allow for social distancing, seriously affects the suitability of the Itasca County Courthouse," the judges wrote in a letter earlier this month.
Commissioners said they hoped to "challenge" their consultants and architects to come up with creative solutions for all departments in designing the new complex.
"We can either open or squeeze anything we want into that project," Snyder said. "It's just a matter of what it's going to cost when it's all done."
1
/
3:
The Itasca County Courthouse and Law Enforcement Center. (Steve Kuchera / skuchera@duluthnews.com)
2
/
3:
The Itasca County Law Enforcement Memorial in Grand Rapids. (Steve Kuchera / skuchera@duluthnews.com)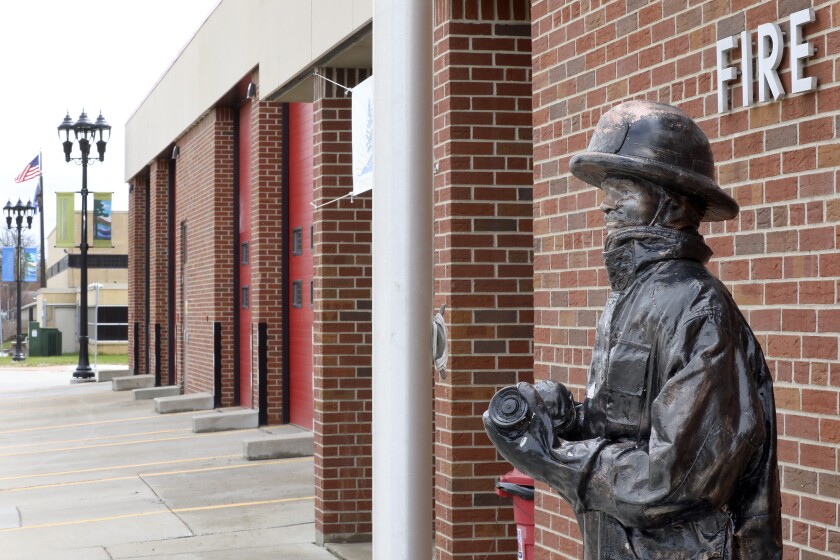 3
/
3:
The Grand Rapids Fire Department with the Itasca County Courthouse and Law Enforcement Center in the background. (Steve Kuchera / skuchera@duluthnews.com)