Fall weather could help contain Greenwood Fire, experts say
The Greenwood Fire was at 49% containment and covered 26,112 acres as of Wednesday.
We are part of The Trust Project.
Experts were optimistic about containment of the Greenwood Fire on Wednesday morning as weather conditions remained favorable, with lower temperatures and higher relative humidity. The fire was 49% contained as of Wednesday.
Rick Davis, an incident meteorologist with the National Weather Service, said intermittent rain has helped suppress some fire activity. According to a news release from responding agencies, no fire movement is anticipated on the surface, but hot spots continue to burn in the peat layer.
"Every day we go and the fire doesn't become active is better for the fire," Davis said. "It certainly looks like the next two weeks are very favorable weather conditions."
The Greenwood Fire has covered just over 26,000 acres, or about 41 square miles, since it was detected Aug. 15. Near the Jackpot Off-Highway Vehicle Trail, Fire Behavior Analyst and Fuels Specialist Patrick Johnson expects up to 90% mortality of many red and white pine, balsam fir and aspen birch trees. The region, with trees Johnson estimated to be about 70 to 100 years old, burned Aug. 23 during a hot, dry and windy period that encouraged the fire to grow by nearly 10,000 acres. On that day, 14 primary structures and 57 outbuildings were destroyed as the fire burned at least 800 degrees and flames reached 50 to 75 feet high.
"That was one of the most significant fire days that I've seen in my career here in Minnesota," Johnson said.
Most of the trees in the area won't be able to be salvaged. The charred remains will instead be left to become habitat for woodpeckers. However, the burned region of the forest is expected to be replenished with red pines, which depend on forest fires to clear brush from the ground to allow seeds to germinate. The trees that do survive will be good seed sources, Johnson said.
Many recreational areas within the Greenwood Fire closure, including the Jackpot Trail and the McDougal Lake Campground, are expected to remain closed to the public for a while for safety reasons. Johnson wasn't able to give a timeline of the closure, but stated that currently, falling trees pose a risk to public safety. Trees in the Superior National Forest with a shallow root system have had the brush covering those roots burned away. There have been many trees falling during high wind bursts during passing storms over the last few days.
Davis said he is able to predict when wind speeds will reach 30 miles per hour or higher, which allows fire crews time to vacate to safety until the storms pass.
Billie Washburn, division supervisor trainee, said crews have been clearing trees that fell Tuesday and blocked roadways as seasonal homeowners in the restricted area along Highway 1 were allowed to access their cabins beginning Wednesday morning.
"A lot of people see no fire and they're like, 'Why are these people still here?'" Washburn said. "There is so much work. The fire part is just a few days. There's so much work afterwards — there's lots of little smoldering spots that could kick up."
Washburn said the aftermath of the fire will require years of restoration work.
While the fire is 49% contained, it isn't expected to be fully controlled or out until snow cover.
Past prescribed burn shows advantages to Greenwood control
During a tour Wednesday morning, members of the media were shown an area of forest that was part of the Pitcha Pine Prescribed Burn on June 1, 2019. Because trees had been thinned and burned in a controlled setting to mimic natural fire systems, the area near Pitcha Lake Road was much less damaged by the Greenwood Fire when it reached the area Aug. 25.
Flame lengths only reached about 2 to 4 feet because there wasn't as much fuel to burn, and the fire did minimal damage to the trees and brush. Firefighters were able to contain the fire from that area because it was safer and more manageable for crews to access. The fire did not burn as deep into the forest floor, leaving some brush cover untouched and tree root systems sturdier.
"I would feel completely safe to camp right there," Washburn said of the site near Pitcha Lake Road.
Johnson estimates 5% mortality for trees in the stand, after about 10-20% mortality from the 2019 prescribed burn.
"There's going to be really good survival in these trees because of the work that we'd done before," Johnson said. "In the natural setting, a lot more of the forest would've looked like this."
He said a majority of the Greenwood Fire's acreage will look more like the charred Jackpot Trail because of fire suppression techniques used over the last century.
The Greenwood Fire remains active in the deep peat soil, and 341 personnel are onsite to work on containment.
"The hard work that the firefighters and the crews are doing, along with the good weather for firefighting — higher relative humidities, cloud cover and a little bit of rain — that helps get from that extreme fire activity into the creeping and smoldering now," Davis said.
1
/
13:
Grasses are starting to grow back after the Greenwood Fire burned through the area on Wednesday, Sept. 8, 2021, in the Superior National Forest near the Schoolmarm Creek along Lake County Highway 2 south of Isabella. The Greenwood Fire started on August 15, 2021. Clint Austin / Duluth News Tribune free
2
/
13:
Greenwood Fire personnel Billie Washburn, from left, Mike Almas, and Patrick Johnson walk through the forest affected by the fire Wednesday, Sept. 8, 2021, in the Superior National Forest near the Pitcha Lake Road west of Isabella. Currently there are over 340 personnel assigned to the incident. Clint Austin / Duluth News Tribune free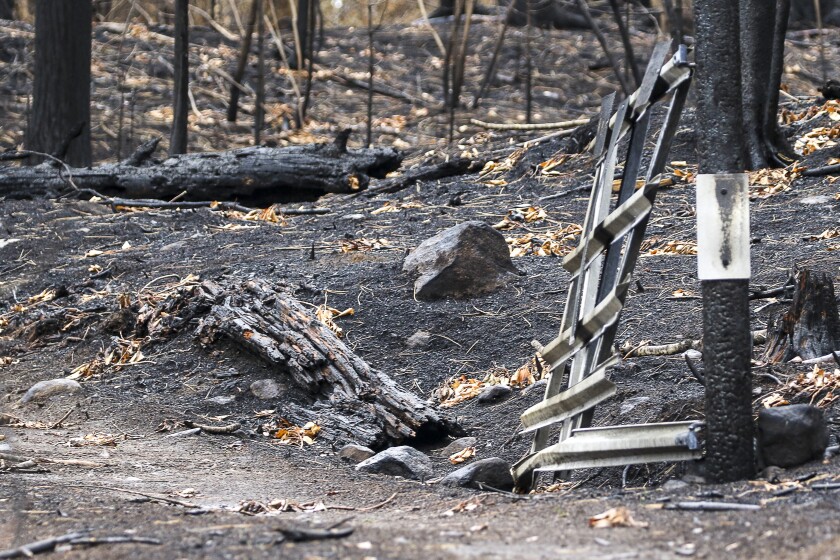 3
/
13:
The remains of a gate burned by the Greenwood Fire seen Wednesday, Sept. 8, 2021, in the Superior National Forest near Lake County Highway 2 south of Isabella. Clint Austin / Duluth News Tribune free
4
/
13:
A mixture of burned conifers and green trees create a kaleidoscope pattern of color and texture seen on Wednesday, Sept. 8, 2021, in the Superior National Forest near the Sand River on Lake County Highway 2 south of Isabella. Clint Austin / Duluth News Tribune free
5
/
13:
Rick Davis, incident meteorologist with National Weather Service, examines an area where grass is starting to grow Wednesday, Sept. 8, 2021, in the Superior National Forest near the Pitcha Lake Road west of Isabella. This area of the forest was subject to a prescribed burn in 2019 and as a result of a lower level of available fuels was present when the Greenwood Fire affected the area causing less damage to the trees in the forest. Clint Austin / Duluth News Tribune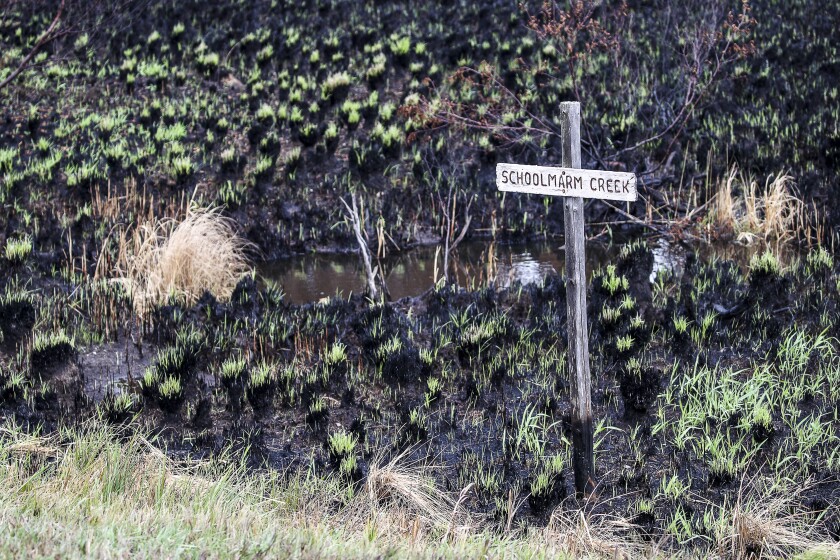 6
/
13:
A handcrafted wooden sign had survived the Greenwood Fire as of Wednesday, Sept. 8, 2021, in the Superior National Forest near the Schoolmarm Creek along Lake County Highway 2 south of Isabella. According to public information officer Dan DiCamillo a main reason the sign survived was because the area contained fine fuel such as dry grasses which allowed the fire to flash and move very quickly through the area. Clint Austin / Duluth News Tribune free
7
/
13:
Blackened tree trunks dominate the forest landscape on Wednesday, Sept. 8, 2021, in the Superior National Forest near Lake County Highway 2 and the Jackpot Trail OHV trailhead south of Isabella. The Greenwood Fire burned over an area that is 26,112 acres or approximately 40.8 square miles. Clint Austin / Duluth News Tribune free
8
/
13:
A piece of paper birch bark escaped the worse of the Greenwood Fire seen on Wednesday, Sept. 8, 2021, in the Superior National Forest near Lake County Highway 2 and the Jackpot Trail OHV trailhead south of Isabella. Clint Austin / Duluth News Tribune free
9
/
13:
A charred pine cone rests on the forest floor on Wednesday, Sept. 8, 2021, in the Superior National Forest near Lake County Highway 2 and the Jackpot Trail OHV trailhead south of Isabella. As of Wednesday morning the fire was 49% contained. Clint Austin / Duluth News Tribune free
10
/
13:
Landscape burned by the Greenwood Fire is reflected in the waters of the Sand River seen on Wednesday, Sept. 8, 2021, in the Superior National Forest on Lake County Highway 2 south of Isabella. The cause of the Greenwood Fire was a lightning strike. Clint Austin / Duluth News Tribune free
11
/
13:
A tractor trailer hauls a large bulldozer on Wednesday, Sept. 8, 2021, in the Superior National Forest near the Sand River on Lake County Highway 2 south of Isabella. Clint Austin / Duluth News Tribune free
12
/
13:
A wooden outhouse survived the Greenwood Fire seen on Wednesday, Sept. 8, 2021, in the Superior National Forest near Lake County Highway 2 and the Jackpot Trail OHV trailhead south of Isabella. The Greenwood Fire burned over an area that is 26,112 acres or approximately 40.8 square miles, destroying 14 primary structures and 57 outbuildings on Aug. 23. Clint Austin / Duluth News Tribune free
13
/
13:
An unburned pine cone rests on the ground on Wednesday, Sept. 8, 2021, in the Superior National Forest near the Pitcha Lake Road west of Isabella. The area was the site of a prescribed burn two years ago and was used as a backburn area to control the Greenwood Fire. Clint Austin / Duluth News Tribune free