ELECTION 2020: Absentee applications soar as Duluth says vote from home
Eighth Congressional District candidate Harry Welty challenged U.S. Rep. Pete Stauber to a debate, and Facebook says it's trying to do better as early voting for Aug. 11 primary starts Friday.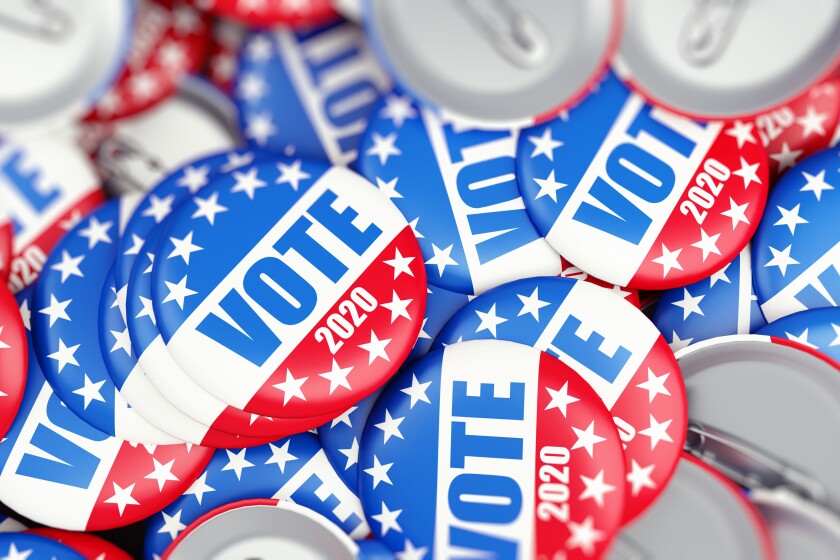 On a day when the city of Duluth encouraged its citizens to vote by mail, applications for absentee ballots were said to be soaring in St. Louis County as early voting begins Friday for the Aug. 11 primary.
"We're already getting slammed," Phil Chapman, St. Louis County director of elections, said.
So far, 7,002 people had submitted applications for absentee ballots through Wednesday. While no point-in-time comparison exists, the number already exceeds historic totals for absentee voters during a primary.
For the 2018 primary, Chapman said the county had a total of 3,662 absentee voters. Prior to that, the typical number of absentee voters in a primary election was between 1,100 and 1,200, he said. A general election typically draws about 15,000 absentee voters.
"We've got quite a few people voting absentee," Chapman said, adding that he thought Minnesota Secretary of State Steve Simon's waiving of a need to have a witness signature on the returned ballots would make it even more likely for the trend to continue.
Among the races on the primary ballot: Challengers in both parties are lined up against U.S. Sen. Tina Smith, U.S. Rep. Pete Stauber is being challenged for the Republican nomination by Duluthian Harry Welty in the 8th Congressional District, and, in St. Louis County, Ashley Grimm, Eric Erkkila and Joe Macor will vie for two spots in the general election for the open 3rd District seat representing western Duluth.
Also, Democratic Sen. Erik Simonson is being challenged by Jen McEwen, who received the Democratic-Farmer-Labor Party endorsement in Minnesota Senate District 7, encompassing Duluth.
Welty on Wednesday called on Stauber to debate about Donald Trump and the president's fitness for office.
"I would like to challenge you, Mr. Stauber, to a debate," Welty announced on his website, lincolndemocrat.com . "I would take the affirmative side of that argument and would leave it to you to defend President Trump."
The Stauber campaign did not respond to the News Tribune about whether it would take up Welty on his offer.
Meanwhile, the city of Duluth said COVID-19 was reason enough to vote absentee.
"Vote from home!" a city news release said. "Due to COVID-19, the public is strongly encouraged to vote by mail."
The city told voters to request an absentee ballot before July 10, in order to have it returned by Aug. 5 to ensure delivery before election day.
People can request an absentee ballot by visiting mnvotes.org , by emailing City Clerk Chelsea Helmer at chelmer@duluthmn.gov or by calling 218-730-5900. To obtain an absentee ballot, a person must fill out a form and provide the last four digits of their Social Security number, or the numbers from a valid Minnesota driver's license or a Minnesota-issued ID card.
Earlier this month, the News Tribune spoke with Facebook about the upcoming elections. The social media platform has been under fire in recent years for allowing rampant misinformation when it comes to elections.
But this month it is introducing a voting information center on its website with a goal of registering four million voters, and also turning over to users greater control over political ads.
"We've spent the last four years really investing in human tools and technological tools to be able to detect when bad things are happening," Facebook policy manager Lori Moylan told the News Tribune, describing 10,000 new hires aimed at shoring up security on the platform.
Last week, it began to block ads from state-controlled media outlets targeted to people in the U.S., and Facebook said it is rolling out tools in the coming weeks which will allow voters to turn off social issue, electoral or political ads from candidates, super PACs and other organizations marked with the "paid for by" political disclaimer.
Moylan said she expects more state and non-state actors will attempt to influence voters again in 2020 through the use of false ads and other items planted in users' feeds with the aim to manipulate voters.
"We can certainly expect to see more efforts like we saw in 2016," Moylan said. "We obviously know the Russians were trying to influence the outcome of the U.S. election by purchasing the ads."
Facebook receives billions of posts a day, making it the go-to platform for the politically motivated.
"The challenge is real when moderating content at the scale Facebook operates," Moylan said. "We have to stay incredibly vigilant."
The city of Duluth noted Thursday that voters also can begin to vote early in person at Duluth City Hall, 411 W. 1st St., Room 330, without an appointment to vote.
COVID-19 safety protocols are in place at City Hall and masks are available for voters.
Early voting is 8 a.m. to 1 p.m. Monday through Friday (closed July 3 and July 6); 10 a.m. to 3 p.m. Aug. 4; and 8 a.m. to 5 p.m. Aug. 10 — the last day to vote early.